University of Cape Town (UCT) researchers Professor Gina Ziervogel and Johan Enqvist, along with Environmental Monitoring Group (EMG) representative Siyabonga Myeza, have recently collaborated with arts-based collaborative Interfer to create a new mural along the walls of the UCT subway.
The mural depicts research undertaken by Professor Ziervogel and researchers at the UCT Environmental and Geographical Sciences department and the African Climate and Development Initiative (ACDI) on water governance issues in Cape Town. The mural highlights an informal settlement in a water container with a wave behind it, representing a city whose development is impacted by its water resources.
Interfer, that typically focuses on public and mental health issues, aimed to expand the scope of their work to climate change. Cape Town's extreme drought from 2016 to 2018 was a hard lesson in the vulnerability of urban communities to water crises. The drought exposed the City of Cape Town's lack of engagement with its low-income inhabitants and the unequal distribution of resources – both in terms of infrastructure and governance. However, the City has been willing to learn from the experience and build its resilience to future droughts inevitable due to climate change.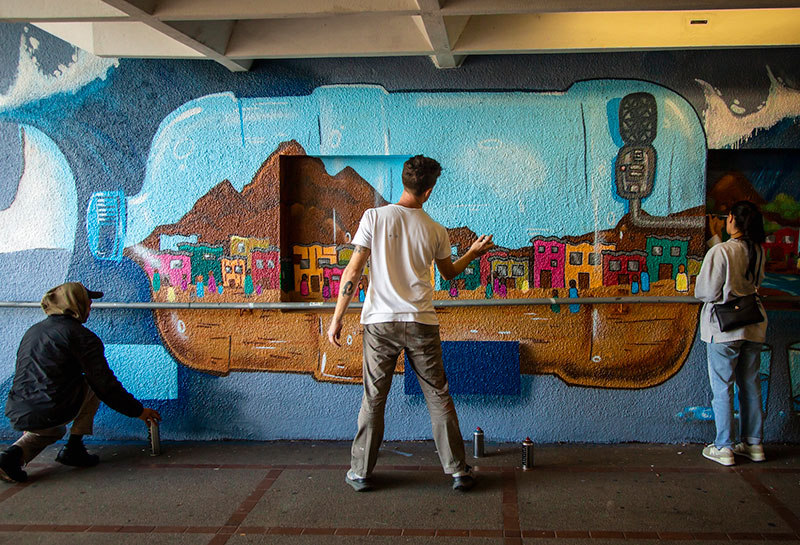 "It was exciting and deeply appreciative to see multiple voices in this production, including residents, researchers, different research tools, disciplines, and artists. We need more of these interactions and co-creation processes, which I believe are catalysts for social transformation," said Nabeel Petersen of Interfer.
Ziervogel worked to strengthen the City's water resilience through gathering and unpacking multi-sectoral perspectives and stories. This included the voices of community activist groups such as the Western Cape Water Caucus, local NGOs such as the Environmental Management Group, and the City of Cape Town. Her work has shown that partnerships across diverse sectoral groups is vital to build resilience to crises such as drought, that consider the social, political, economic and ecological perspectives. A key tool to this research was SenseMaker, which enabled community members' stories about water to be collected, mapped and analysed.
"The CoReCT project aimed to capture the lived reality of water struggles for low-income Cape Town residents. We believe that understanding this reality is central to developing responses that can reduce climate risk as well as address struggles around access to resources," Ziervogel explained.
Visualising real climate change stories
The mural helps visualise the stories of local community members' experiences of water and raise the awareness of UCT students of the city's vulnerability and resilience, and of new ways of conducting research that cross sectoral boundaries. Photos and videos produced around the mural will be used as an example of knowledge-into-art to encourage the City to open more spaces for public art that educates and raises awareness of critical local issues.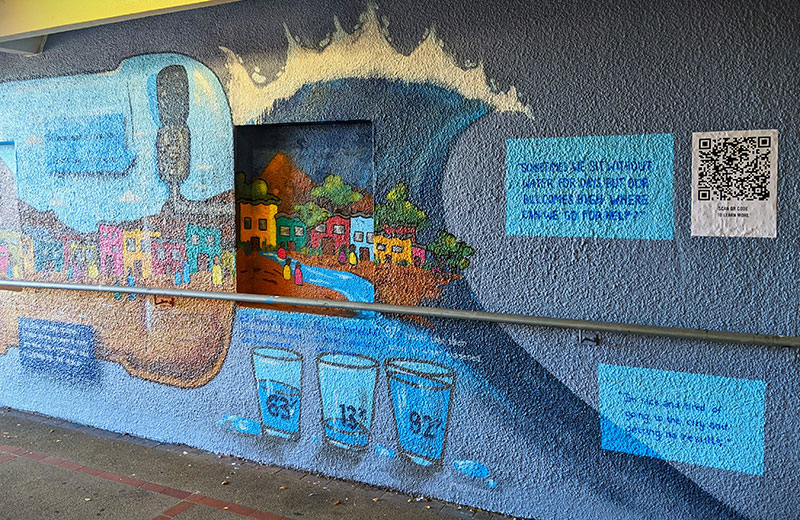 "Murals and art are a great way to move from the head to the heart when wanting to share environmental messages. Sharing information in a graphic format that captures a number of water-related issues will hopefully prompt students from [diverse backgrounds] to reflect on water access issues," said Ziervogel.
Along with the striking image, the mural creates a space for students and passers-by to engage with research from the CoReCT project and links to the official project webpage. This collaboration was facilitated through a grant from the Global Resilience Partnership as part of their #Art4Resilience project.
Special thanks to the artists who brought this mural to life: Jack de Jong, Mohamed Hassan, April Suling Sing and Nabeel Petersen.
---
This work is licensed under a Creative Commons Attribution-NoDerivatives 4.0 International License.
Please view the republishing articles page for more information.
---