The biggest change to South Africa's education system is being made by those who are leveraging their privilege, rolling up their sleeves to make their expertise and resources available to poor schools, Professor Thuli Madonsela said.
The former Public Protector, currently the holder of the Law Faculty Trust Chair in Social Justice and a law professor at Stellenbosch University, was speaking at the Vice-Chancellor's Open Lecture in the Sarah Baartman Hall on 21 August.
In her lecture, "Education and the complex shadow of our unjust past", Madonsela cited the example of how Partners for Possibility was working to change the country's schooling system, where huge divides persist, years after apartheid.
This is an organisation of private sector CEOs and executives who have teamed up with principals in struggling schools, sharing their expertise in leadership and governance and using their networks to modernise their partner school's resources. Already, over 1 000 schools have been helped.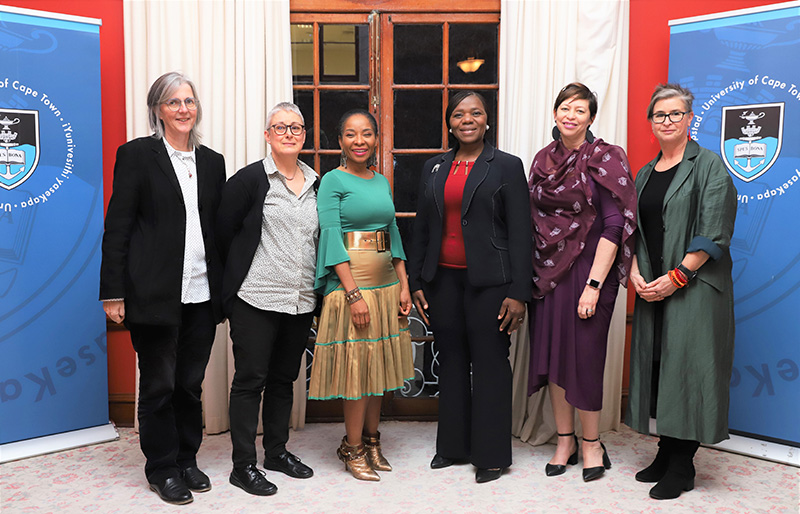 "They are saying, yes, we know it's not what we're supposed to do, and yes, we know government could do better, but the reality is that we have a problem right now and among us we have the power to [help] solve it."
This process of voluntary restitution was exemplified by Georgetown University in Washington DC in the United States where students of all colours decided to add a small amount to their fees to alleviate the university's debt and ensure that the descendants of slavery, on which the District of Columbia was built, could be educated.
All hands on deck
However, even those with few resources can help, Madonsela said, citing the example of a young woman who teaches coding in rural and township schools. Another student uses what she has, her car, to teach other young people how to drive.
Inclusive development involves everyone and doesn't leave anyone behind, she said, not women and especially not the poor who have been caught in a poverty trap; one of the shadows of the legacy of apartheid.
In introducing Madonsela, Vice-Chancellor Professor Mamokgethi Phakeng said: "We certainly have a long way to go as a democracy. But Professor Madonsela gives us an example of what's possible if we all commit ourselves to this vision."
The legacy of apartheid had resulted in sobering education statistics, Madonsela said.
"Professor Phakeng is celebrated as South Africa's first black female to be a PhD in mathematics education in 2002, almost a decade into democratic South Africa… Does it mean there were not enough black women to accomplish that before 2002? How's that possible, given the fact that the first black woman to get a PhD degree got it in 1901, Charlotte Maxeke at age 20. [Wilberforce University, Ohio].
"Curiously the entry in Wikipedia says she excelled at mathematics. So why are historically black schools doing badly in maths? Why are they not fairly represented in science, engineering and technology (SET)? Why do we have the divide in resources between historically white and historically black schools? I ask you: Does it have anything to do with the shadow of our past?"
Addressing the shadow
And how was it that the revered Constitution with its preamble that recognises past injustices and the legacy of vast inequalities – and its emphasis on a foundation of social justice, human rights and equity – had not been able to address that shadow in the past 25 years of democracy?
"Could we have done better? And what if we continue along these lines, what's at stake?"
"Could we have done better? And what if we continue along these lines, what's at stake?"
These answers were critical in the lead-up to the National Social Justice Summit from 29 to 31 August, with 64% of black South Africans and 48% of coloured South Africans living in poverty.
"Again, those patterns may have something to do with the shadow of the past. We have an epidemic of poverty with the poor likely to stay poor and only 2% of those likely to escape the poverty trap."
She added: "The achievement of equality and human dignity means very little to those left behind… As retired Justice Edwin Cameron said, 'The past is not done with us…' "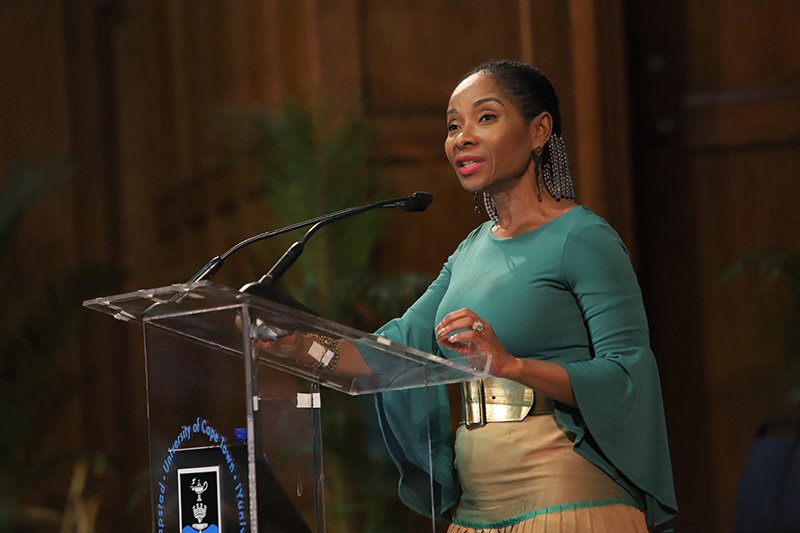 Open the inner circle
Hard work was not enough to break out of poverty and economic exclusion into "the inner circle", she said.
"So why has the VC broken through? Why have I broken through? Why have so many women broken through, despite discrimination? Because somebody opened the gap for us, lifted you, lifted me."
Her own mother had opened the gap for her by approaching her headmaster about obtaining a bursary for her daughter. And later the United Nations gave her a bursary too.
"It was strangers stepping in. Without privileged inner circle people opening out and pulling people in, it's not going to happen.
"Look at how we have dropped the ball. Why the terrible [education] stats, schools without toilets, Fees Must Fall? There is a clear discrepancy between the constitutional entrenchment of the values achieved in society and how we have progressed."
Inequality had to be disrupted, Madonsela said. This extended to programmes that aimed at reversing inequality in education, such as the National Student Financial Aid Scheme, which didn't consider students' entire "poverty profile" and extend aid to meet all aspects of their needs. Students were failing because they were going hungry and could not afford accommodation if they were not housed in residences.
"The shadow of our past is the primary reason education is not yielding the results..."
"The shadow of our past is the primary reason education is not yielding the results of freeing the potential of every person and improving the quality of life for each one."
While lawfare, public protest and the Office of the Public Protector play important roles in seeking justice, the biggest difference was being made by those who were leveraging their privilege.
Wounding systems
The school curriculum, based on 19th century Taylorism (after American Frederick Taylor who developed a factory management system to increase efficiency by breaking down production into specialised, repetitive tasks), would not work for 21st century South Africa and its needs.
"How do we change it to make sure we have innovative, critical thinking people – in villages and in townships, people who are ready to employ themselves? Creative teachers add their own innovation but in the broader system people are left behind.
"If we must teach people for the Fourth Industrial Revolution, you must align the education system with the challenges of our time; where you no longer need an army of people in our factories."
Madonsela said that in the black–white divide, there is an area of education people seldom think about: the psyche that the shadow of the past had left.
She remembers calling on her grade 4 son's headmaster after reading an excerpt from his history book, which referred to trekkers facing dangers such as "snakes, wild animals and natives".
"What is my son?" she asked him. "Is he a dangerous thing?"
Madonsela moved him to a school that did not teach history that way.
"But how many other schools continue to teach that? What psyche did it create among the children?"
That collective woundedness had remained and the education system was part of creating that trauma.
"But have we used education sufficiently to address woundedness? Because when trauma isn't dealt with it's transmitted into something else."
As a country, South African can do better, she added.
"We need an approach to growth in our economy and in our development as a country that balances growth and inclusion."
Everyone pulls
And as people begin to question the New Dawn heralded by President Cyril Ramaphosa, Madonsela said: "It takes a nation to build a successful nation. I've never heard of any team that only depends on the captain. Everyone needs to pull in a team. And sometimes the captain does not have all the solutions. Sometimes he harnesses the answers from the team. As South Africans we have to say: We have put solutions on the table, Mr President."
Change had begun to happen in isolated areas, she added, "but how do we ensure that lights all over the place combine to create a galaxy of stars?".
Former President Nelson Mandela and the women of 1956, who were remembered and celebrated again in Women's Month, had paved the way, she said.
Madonsela closed with a call to action.
"What about my generation, and the millennials and Generation Z? Social justice and climate change are the most pressing challenges of our time … and they're not going to be solved alone. They are going to be solved by you, me and all of us."
---
This work is licensed under a Creative Commons Attribution-NoDerivatives 4.0 International License.
Please view the republishing articles page for more information.
---