Co-hosting the biennial Kopano conference is an important milestone and marks a significant step in the University of Cape Town's (UCT) ongoing journey towards transformation, said UCT Vice-Chancellor Professor Mamokgethi Phakeng in her welcome address on Monday, 23 May – day one of the five-day event.
Professor Phakeng, who is currently in the United Kingdom, delivered her address via video conference call to approximately 200 delegates gathered at the Kramer Law Building on middle campus.
Kopano, which in Sesotho means "a family or community gathering to address an important issue", brings together LGBTI activists from southern Africa to analyse various changes that have recently occurred in the social, economic and political context, as well as in the LGBTI movements in the region.
It is an initiative of The Other Foundation – a southern African LGBTI community foundation that advances the equality, freedom and social inclusion of homosexual and bisexual women and men, transgender, intersex and gender non-conforming people. The foundation also supports LGBTI activists and ally groups to work effectively towards achieving lasting change by recognising dynamics on race, poverty and inequality, sex, national origin, heritage, and politics in southern Africa.
The theme for this year's community gathering is "Rollbacks, Resilience and Reinvention".
"Co-hosting Kopano is an important milestone in who we are becoming as an institution."
"Co-hosting Kopano is an important milestone in who we are becoming as an institution … Transformation never ends; when it comes to transformation, we are always in the process of becoming what we want to be," said Phakeng.
UCT is your ally
In her address, the vice-chancellor reiterated UCT's and her own commitment to the LGBTI community. She stressed that no institution in the world can fully develop and flourish while minority groups are marginalised.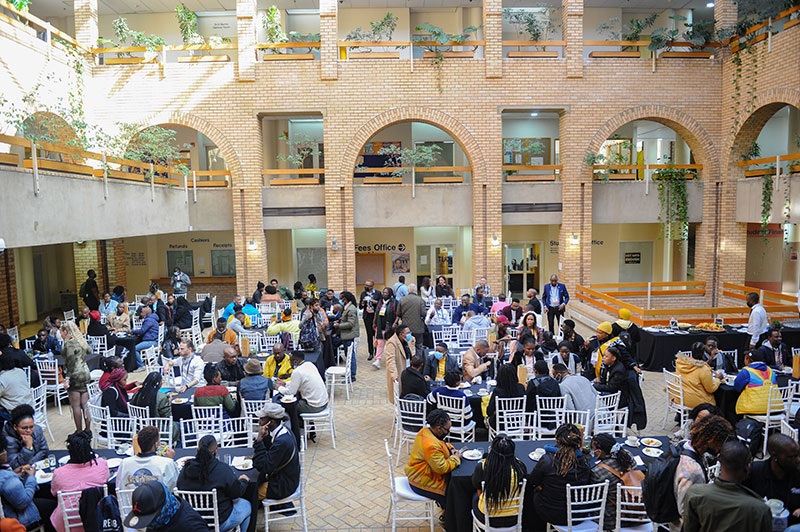 "By excluding certain groups of people or minority groups, institutions and countries hold back their own potential. We at UCT know that we are stronger when we stand together and include everyone in our midst," she said.
Phakeng told delegates to consider UCT and herself as their ally. But being an ally is no simple task, she added. It requires commitment and hard work and also means embarking on a listening, learning, unlearning and growing journey, together.
Attaining Vision 2030
UCT's Vision 2030 is a key in this process. Launched towards the end of 2020, the vision is underpinned by three key pillars: excellence, transformation and sustainability, and demonstrates the university's commitment to transformation.
"For our vision we committed ourselves to a massive transformation [purpose], which is to unleash human potential for a fair and just society," she said.
What a fair and just society means, Phakeng explained, is the willingness to build inclusive spaces, provide everyone with equal opportunities and support everyone in their individual journeys to help them to grow and flourish.
"The idea of this vision is that it doesn't matter how excellent we are as an institution and how many awards we [receive]. If we do not have transformation, our excellence will always be questioned."
A safe space
Phakeng assured activists that UCT is a safe space, and a space where new ideas are generated and put into practice. More than that, she said, the university is also a space where everyone can be who they want to be, say what they want to say, and share their ideas freely.
"We will never be able to achieve what we want to achieve without you as a community."
She urged the audience to make use of the gender-neutral bathrooms and encouraged them to hold their partner's hand while on campus, without fear of being heckled or discriminated against.
"I want you to know that we are a place for new ideas. My hope is that this won't be the last time we see you here [because] we will never be able to achieve what we want to achieve without you as a community," Phakeng said.
The conference includes various interactive workshop-type sessions moderated by facilitators, an art exhibition, a cocktail reception co-hosted with the Office of the Mayor of Cape Town, and a day at Robben Island to "mark our resilience".
---
This work is licensed under a Creative Commons Attribution-NoDerivatives 4.0 International License.
Please view the republishing articles page for more information.
---