A R7.9 million mass spectrometer, funded by the national Department of Science and Innovation (DSI), has recently been installed in a Geological Sciences laboratory and will serve as a national facility for researchers in South Africa and Africa.
More compact and significantly faster than its older, larger predecessors, the aptly named Attom can measure concentrations of elements with amazing speed and precision, according to Dr Robyn Pickering, who oversaw its installation at the beginning of June.
A specialist piece of scientific equipment, a mass spectrometer can identify tiny differences between various types of elements.
"Not all the atoms of a particular element have the same mass and we can tell a lot about how a rock formed, how old it is, or even say what an extinct fossil animal was eating by counting up the number of normal and different atoms (known as isotopes) of an element," said Dr Pickering.
Cutting-edge research infrastructure
While the most well-known example of a mass spectrometer's use is radiocarbon dating, Pickering said the new machine will focus on uranium lead dating. This is a similar concept but facilitates the dating of much older things, mainly rocks and minerals, that are millions of years old.
Funding of the 1030 kg machine was facilitated by a research umbrella body called Biogeochemistry Research Infrastructure Platform (BIOGRIP). BIOGRIP's mandate is to provide cutting-edge research infrastructure, including new, state-of-the-art equipment.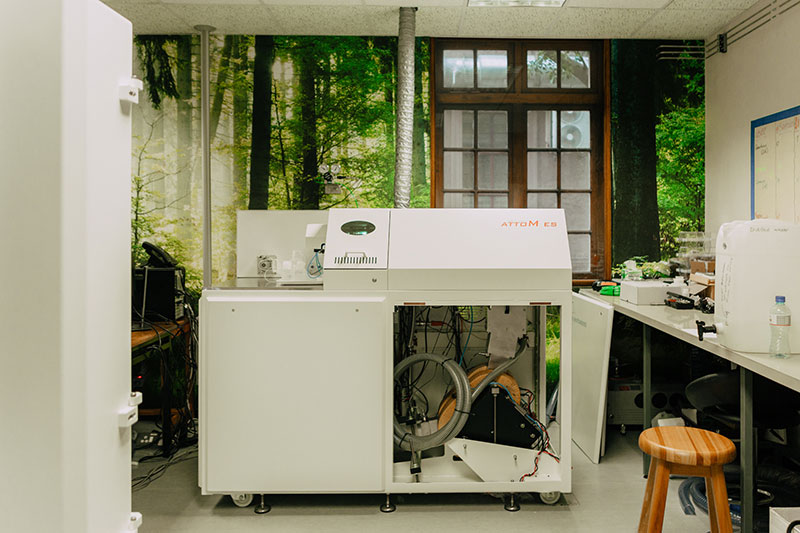 Pickering explained that this platform was a deliberate move on the part of the DSI to support research in South Africa by updating and diversifying the range of scientific instruments available for researchers.
"The idea behind BIOGRIP is to invest in infrastructure and equipment in order to keep bright young students and academics in South Africa and build capacity here, rather than lose people to overseas labs and universities," she added.
The Attom is a national facility, so [it] will draw users from all over South Africa, and indeed Africa, as it's the first machine of its kind on the continent.
"When the group of biogeochemists were writing the original proposal to send to the DSI, we had to start somewhere, so we structured the first three years of budget items around existing facilities in South Africa."
History of excellence
UCT's Geological Sciences department has existing facilities and a long-standing history of excellence in geochemistry. The department has also been the national leader in investing in new technology; it already has two older multi-collector mass spectrometers which have been instrumental in cutting-edge science for over a decade.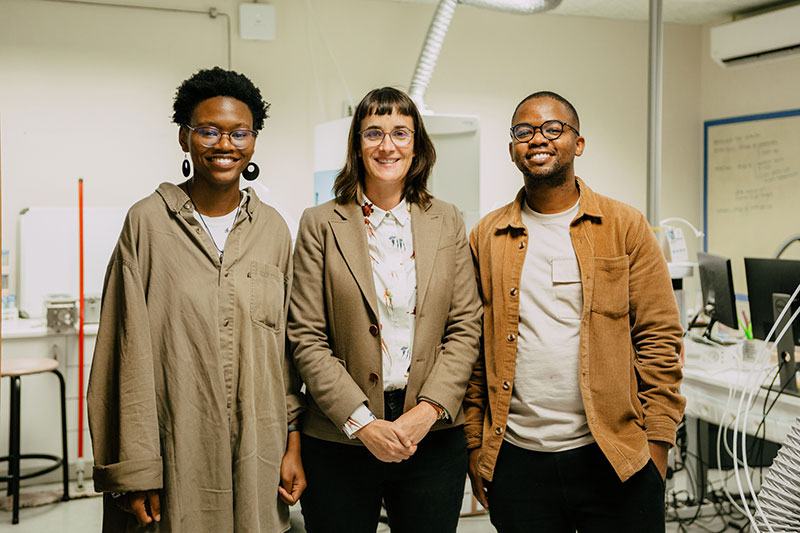 Pickering explained that while the new machine does similar analyses to the existing mass spectrometers, it does so at a higher resolution and is able to precisely identify more elements in less time. As a bonus, the newer machine is also easier to run. Comparing the technologies, she used the analogy of smart phones versus older cell phones. "Both can make calls, but a smart phone can do a great deal more in less time," she said.
As the beneficiaries of this new equipment, Geological Sciences at UCT has the responsibility of setting up this new facility, maintaining it and growing its user base.
"This is daunting but also very exciting and is the beginning of a new era for my research group," Pickering added.
This new instrument does not currently have a dedicated technician; however, the department is in the process of recruiting one. The appointed technician will receive initial training at the manufacturers, Nu Instruments, who are based in Wrexham, Wales, in the United Kingdom.
Research dream
As an isotope geochemist with specific interests in palaeonanthropology and archaeology, the new mass spectrometer is a dream come true for Pickering.
"My research in human evolution is all about ages and dating, working out how old rocks and, therefore, fossils are. This technology will be an incredible help in speeding up the currently lengthy process – we will be able to gather the same amount of data in an hour that used to take about a month!
"I am therefore looking forward to experimenting with samples and rocks which we didn't think would be suitable for dating, which, in the old days, were literally a waste of time. Now, with the new machine, we can do some quick experiments and see if this is the case. In this way we will push back the limits of our current techniques, which is very, very exciting!"
---
This work is licensed under a Creative Commons Attribution-NoDerivatives 4.0 International License.
Please view the republishing articles page for more information.
---