In the latest edition of the University of Cape Town (UCT) Human Evolution Research Institute's (HERI) Winter Webinar Series, two women palaeoscientists had the opportunity to share their experiences of carving out a career path in this field. Dr Dipuo Kgotleng, the director of the University of Johannesburg's (UJ) Palaeo-Research Institute and HERI #AdvancingWomxn PhD candidate Rivoningo Khosa delivered candid insights into their individual journeys to inspire those following in their footsteps.
Hosted by Dr Robyn Pickering, the director of HERI, and presented on the first Tuesday of every month, these digital events aim to bring together HERI students, members and followers to learn more about the institute's activities and outreach. Starting in June, a range of fascinating topics have been covered, but none quite as inspirational as this past week's edition.
During the one-hour webinar, Kgotleng and Khosa made use of visually rich slideshows to take the audience on a virtual journey through the ups, downs, twists and turns of their individual career paths.
"The more we talk about and share other people's experiences, the more we can normalise what it's really like for everyone else."
Apart from being in her second year of her PhD candidacy under Dr Pickering, 28-year-old Khosa is also an isotope geochemist and landscape development specialist who currently works at the iThemba Labs in Johannesburg. Her presentation offered some frank insights into the challenges and joys of being an early career womxn scientist in her field.
Having completed her matric in 1998, Kgotleng was able to offer a view of a long academic and professional career that has spanned two decades, and continues to thrive.
"Everyone has their own journey, story and career path," said Pickering during the introduction to the session. "The very traditional, linear, normally white male, career path is actually not widely shared. The more we talk about and share other people's experiences, the more we can normalise what it's really like for everyone else."
Non-linear progression
Connecting with Pickering's introduction, Kgotleng emphasised the fact that career progress does not necessarily always happen in a linear fashion.
After completing her undergraduate, honours and master's degrees at the University of the Witwatersrand (Wits), Kgotleng decided it was time to find a job and gain experience outside of the academic setting that was so familiar to her.
"I felt like I needed more exposure and, at the time, I didn't see myself in academia," she said.
This led to a number of years working in different spheres of government, including as an archaeologist at the Taung Skull Heritage Site and the Vredefort Dome UNESCO World Heritage Site.
Although these jobs gave her the opportunity to gain experience and hone her skills, they also came with specific challenges.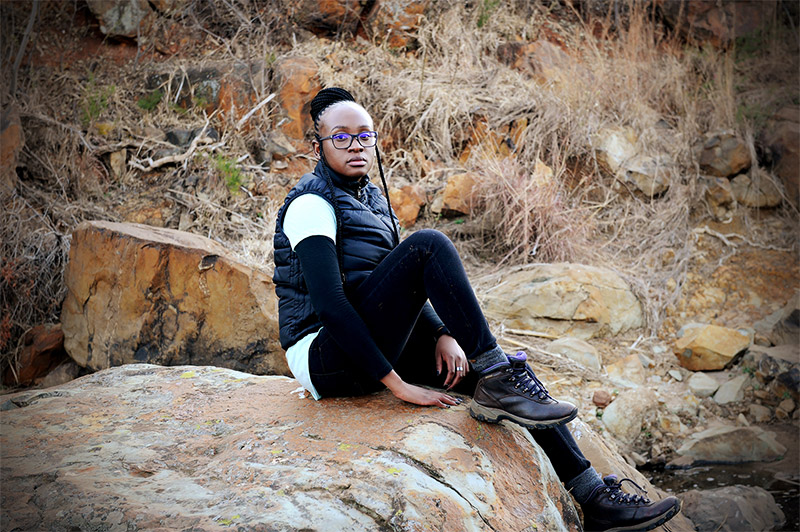 "There is a lot of red tape in government, which can be very counter-productive," Kgotleng said. "I also found that creativity was thwarted due to a culture of working almost exclusively off templates."
Although she had all but sworn off academia as a young scientist – which, at that stage was dominated by white men and racial prejudice – Kgotleng found her way back in 2018 when she was appointed as a senior lecturer at the UJ Palaeo-Research Institute. This second foray into academia has been so successful that she is currently the director of the institute.
Rising above challenges
An underlying theme in Khosa's presentation was the importance of rising above challenges, no matter how overwhelming they may seem.
One of the first big hurdles she had to clear as a young girl in grade 5, was her mother's untimely death, which left Khosa and her three older brothers in the care of her grandmother, her uncle and boarding schools.
"That phase of my life really encouraged me to be independent because I didn't really have a choice," she said. "My grandmother did raise me after my mother passed, but there was just a very big gap in the way our different generations saw things."
After excelling academically in high school, Khosa enrolled for Geology at Wits, where she encountered a few more big challenges, which included failing first-year chemistry, being excluded from second-year geology, and the death of her grandmother.
All of this led to her transferring to UJ, where she embraced having a second chance so enthusiastically that she completed her undergraduate, honours and master's degrees there. She has since gone on to become a junior research scientist at iThemba Labs, as well as a PhD candidate and #AdvancingWomxn fellow at UCT.
Dealing with failure
Both Khosa and Kgotleng shared experiences of being deeply traumatised by their first failures, especially after having been model students in high school.
"The experience of failure was a rude awakening – it's a very emotionally taxing space and it motivates you not to what to go there again," Khosa said.
"The first time you get an unsuccessful letter, it hits you," said Kgotleng. "And it hits you in a different way because you are so accustomed to doing very well at school. You can't help but wonder, 'When did I become a failure?'"
Fortunately, both women embraced their respective 'first failures' as important learning curves and have gone on to keep rising above and beyond both society's expectations of them and their expectations of themselves.
The last HERI Winter Webinar of the year will take place on Tuesday, 2 November 2021. The topic is "Women in Science Authors" and will feature Dr Rebecca Wragg Sykes. Visit the HERI website for more information.
---
This work is licensed under a Creative Commons Attribution-NoDerivatives 4.0 International License.
Please view the republishing articles page for more information.
---