As 2021 drew to a close, the University of Cape Town's (UCT) Department of Student Affairs (DSA) recognised some of the outstanding contributions made by student leaders and organisations for 2020 and 2021.
Aimed at honouring those whose efforts have driven the advancement of UCT's vision, mission and values – both within the university and its surrounding communities – the DSA offered 10 individual and 10 team awards.
Open to all students and student bodies, nominees were required to demonstrate consistent or impactful leadership in student governance or representation; social responsiveness, community engagement or mentorship; social entrepreneurship or innovation; leadership through the creative arts; or inclusive practices, team development or transformation.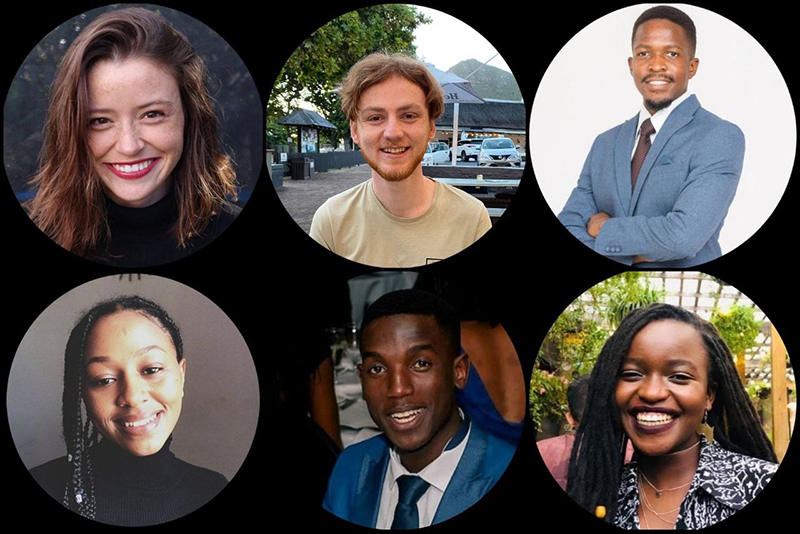 According to the DSA, the aim was to use the 2021 awards to celebrate students and student organisations that have risen above the challenges presented by the ongoing COVID-19 pandemic. These individuals and groups have contributed to efforts to adapt to the 'new normal' as they "supported the learning project, mentored other students or supported local communities".
An opportunity to reflect
Simosenkosi Tshambi, an individual winner, was recognised for establishing the U Can Too movement, which focuses on mental health and wellness, as well as his involvement in various mentorship programs, including Residence Mentorship, Commerce Education and Development Unit Mentorship and Inkanyezi Mentorship.
For Tshambi, the awards were an opportunity to reflect on his journey at UCT. "I saw this as an incredible opportunity to reflect and learn from what I have done since the beginning of my journey at UCT. Following a first year that ended with a deregistration, I have taken it upon myself to provide exceptional support and service to first year students.
"This is important to me as it allows me to give gratitude and appreciate all those that have supported me. More importantly, I saw the potential impact this could have on U Can Too which is opening doors to various opportunities," he said.
On his accolades, Tshambi said the award was simply a motivation to continue to support and inspire his peers. "This recognition is a powerful booster to continue having the highest level of dedication to carrying out the university's mission, as it adds to my belief that great work does get appreciated and recognised at UCT. I hope winning this award will inspire my mentees, teammates, and other students in general to give back and pay it forward."
Uplifting others
Humanitarian Affairs Peace Ambassador Rowyn Naidoo also scooped an award. His ongoing efforts to inspire his fellow students to uplift others, their communities and the country earned him an individual award in 2021.
Some of the highlights on Naidoo's long list of achievements include winning the Global Schmidt Futures Reimagine Challenge (run by former Google CEO Eric Schmidt), being appointed to the steering committee of the Talloires Network of Engaged Universities, as well as serving as the Humanitarian Affairs Peace Ambassador after attending the second "Peace Summit for Emerging Leaders" at the United Nations.
The award, Naidoo said, "serves to affirm that the work we do is meaningful and encourages us to keep going during difficult times of self-doubt and adversity".
A job well done
Also involved with the Talloires Network is Vuthlarhi Shirindza. As one of 40 global student leaders in the Talloires Network of Next Generation Leaders, Shirindza has had an opportunity to exchange ideas and strategies to address social issues like economic inequality and disease, and present recommendations for future action to a global audience.
In addition to this, Shirindza has chaired TEDxUCT, stood as the deputy chairperson for the Rural Support Network and acted as the student representative for the Rural Doctors Association of South Africa. She is also the co-founder of a pet telehealth application start-up.
All this hard work, she rightly believes, is deserving of recognition. "I entered the awards because I believed in all the hard work that I devoted myself to in my various leadership positions over the past year. I believed this was worthy of the recognition and honour from UCT.
"I entered the awards as a congratulations to myself for all the time, effort and work I had devoted and thought that entering the awards, whether I had won or not, would be a 'well done' to myself," she says.
While her own recognition would have been enough, receiving the honour from UCT and the DSA has cemented Shirindza's drive to continue to serve her university and fellow students.

"I am extremely grateful to have been awarded and very proud of myself that all my contributions have been honoured and recognised. It has reassured me that all my hard work and effort have been worthwhile.
"This award has encouraged me to continue being involved in various leadership positions, especially during tough questionable times, as well as to strive to uphold greater leadership positions in the future. My hope is that this award inspires other people to be as involved by taking their respective leadership positions in their societies, faculties and extended UCT communities," she said.
2020 and 2021 winners
The following individuals and teams were announced as winners of the 2020 and 2021 Student Leadership Awards in an online ceremony hosted on 30 November 2021.
2020 individual winners
Danelle Plaatjies
Isma Balde
Lance-Selae August
Imaan Sayed
Kabir Chagan
Shahid Nyker
Sharon Mogale
Mufaro Nduku
Sana Salduker
Declan Dyer
Robyn Kamau
Andrea Tonelli
Rowyn Naidoo
Savannah Verhage
Katelyn Pye
2020 team winners
Undergraduate Academic Sub-council
Health Sciences Students' Council
Law Students' Council
Dining Hall Discussions
SHAWCO Health
Commerce Students' Council
UCT Moot Society
UCT Surgical Society
2021 individual winners
Mogammad Imraan Majiet
Simosenkosi Zethembe Tshambi
Vuthlarhi Shirindza
Yejin Jang
Regan Biden
Rowyn Naidoo
Khanyisile Mahlangu
Vuyi Qotoyi
Joy Lungile Magagula
Ammar Canani
2021 team winners
SHAWCO Health
SHAWCO Law
Roscommon
Academic Representative Council
Developer Society
Students for Law and Social Justice
Students Representative Council
Sports Students Union
---
This work is licensed under a Creative Commons Attribution-NoDerivatives 4.0 International License.
Please view the republishing articles page for more information.
---