Mluleki Majavu organised a celebratory event on 11 September 2021 to mark the completion of his studies towards a PhD from the University of Cape Town (UCT). UCT Vice-Chancellor Professor Mamokgethi Phakeng delivered an address via Zoom to the assembled guests in the Khayelitsha MPC Hall.
Majavu decided to organise this special event to inspire people in townships to pursue university education. UCT will formally confer the PhD degree on Majavu during the year‑end graduation season.
Having come from a poor, rural background, Majavu did not see himself graduating from a university one day, and the idea of obtaining a PhD seemed even more far‑fetched. Majavu's path to obtaining his PhD included working as a security guard by night and attending university during the day.
The aim of the event was to inspire residents in townships to pursue higher education.
Collective journey
The event was a festive occasion that brought together members of local communities, family, friends and colleagues of Majavu, as well as representatives from the different universities where he was previously enrolled. Proceedings started with a procession of graduates from other higher education institutions in the Western Cape, as well as from the University of the Witwatersrand (Wits), the University of South Africa (UNISA) and other institutions.
"A PhD is never a sole journey … It's the journey of family, friends and colleagues."
In addition to Professor Phakeng, speakers at the ceremony included Dr Michael Darko from the Cape Peninsula University of Technology (CPUT), Professor Vivienne Lawack from the University of the Western Cape (UWC), and Professor Uwe Lämmel from the University of Wismar.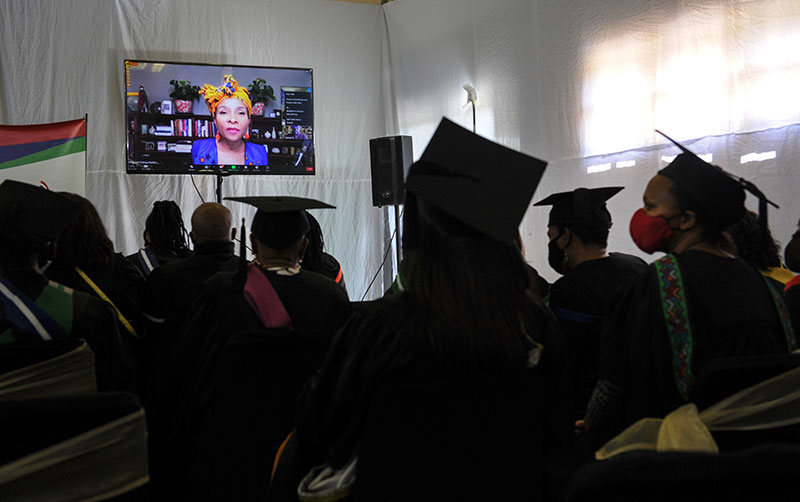 Phakeng, who joined the event virtually, congratulated Majavu.
"Your story of getting into higher education is a story of victory. I want to congratulate you for your vision," she said.
"I want to thank everyone around you who supported you because a PhD is never a sole journey; it's never the journey of one person who succeeds in getting it. It's the journey of family, friends and colleagues."
Bridging the divide
Majavu registered for his PhD at UCT in 2015. His area of focus was knowledge‑management systems in parastatal organisations. His PhD was supervised by Professor Michael Kyobe, and his thesis topic is "Non‑technical factors that influence the implementation of a knowledge‑management system in a parastatal organisation in South Africa".
He had originally hoped to have a celebration in his hometown in the Eastern Cape but decided instead to hold the ceremony in Khayelitsha. The idea behind the ceremony is to bridge the divide between universities and townships.
The audience at the ceremony included community leaders, Grade 12 learners, church leaders, and other graduates from various institutions. Members of the Majavu family, as well as colleagues from his employer, the Passenger Rail Agency of South Africa, and other educational institutions, were also present.
Majavu welcomed the opportunity to celebrate his achievement with his siblings; grandmother; his mother, Nozibhozo Caroline Majavu; and his father, Themeblani Roy Majavu.
Majavu is the first university graduand in his family. Since starting his tertiary studies, three of his siblings have gone on to pursue their studies beyond high school.
Further, as a result of his academic achievements, Majavu is motivating others to pursue higher education too. And to assist in realising these goals by providing mentorship and guidance to young people, the PhD graduand has established the Dr. Mluleki Majavu Foundation.
---
This work is licensed under a Creative Commons Attribution-NoDerivatives 4.0 International License.
Please view the republishing articles page for more information.
---