Laughter and tears became one as the University of Cape Town (UCT) celebrated the life of the late, great Professor Harry Garuba on Friday, 6 March. Family, faculty, students and staff came together at the Centre for African Studies (CAS) Gallery to remember and honour the 'lion of Africa'.
The memorial was jointly hosted by the Faculty of Humanities, the internationally acclaimed Garuba's academic home for over a decade; the School of African and Gender Studies, Anthropology and Linguistics (AXL); CAS and the Department of English Language & Literature (ELL). An official UCT memorial is expected to follow the funeral at the end of April.
Fond, funny and heartfelt memories were shared by many, from near and far. Tributes came in from all corners of the academy and the world, indicative of Garuba's impact, the lives he touched and the minds he helped mould.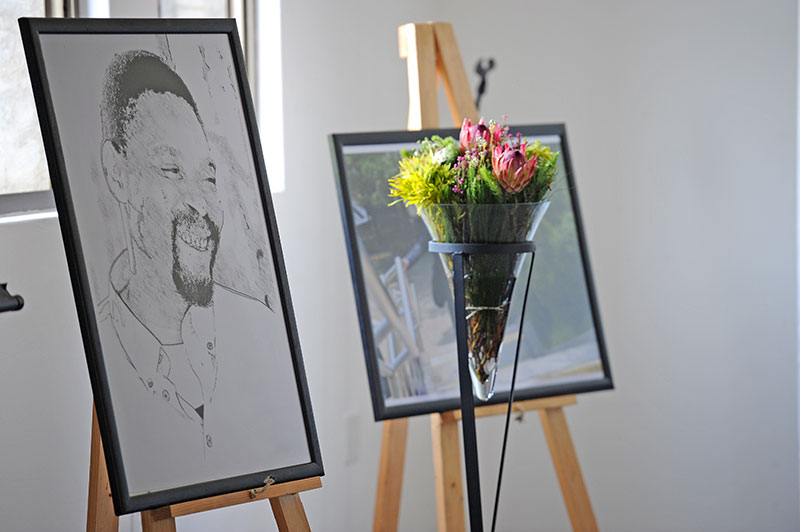 "Gentle giant", "highly evolved African soul", "Tata Garuba", "elder brother" and "worldly figure" were just some of the terms of endearment used to describe the Nigerian scholar and poet, who was born in Unemenekhua in the Edo State.
Among the speakers at the memorial were Dean of the Faculty of Humanities Associate Professor Shose Kessi; Garuba's colleagues from CAS, including the head of the centre, Professor Horman Chitonge, Dr June Bam-Hutchison and Dr Clemence Rusenga; head of Gender Studies in AXL Associate Professor Jane Bennett; the South African College of Music's Associate Professor Dizu Plaatjies; UCT Graduate School of Business teaching fellow and one of Garuba's first colleagues at the university, Professor Brenda Cooper; and from ELL, head of department Professor Sandra Young, Associate Professor Hedley Twidle and senior lecturer Dr Peter Anderson.
Students and staff from across the university as well as members of the public filled the CAS Gallery to pay tribute to the 'giant of Africa'.
Tributes were also read on behalf of Kenyan scholar Dr Wangui Wa Goro, chief executive of the Human Sciences Research Council Professor Crain Soudien, ELL senior lecturer Christopher Ouma, Aboriginal /Xarra Restorative Justice Forum and Emeritus Professor Ari Sitas from the National Institute for the Humanities and Social Sciences, among others.
'Ubuntu Harry'
Garuba's close friend, colleague and renowned scholar Professor Francis B Nyamnjoh from the Department of Anthropology urged everyone at the gathering not to speak of the African luminary, who passed away on 28 February, in the past tense.
"Harry defies death and dying," said the anthropologist, adding that Garuba was encumbered only by an unreliable body. "We can begin to see him as someone who is very much present with us, someone whose wisdom will continue to guide us, it will continue to direct us, as he's done before ... and we will all be better for it."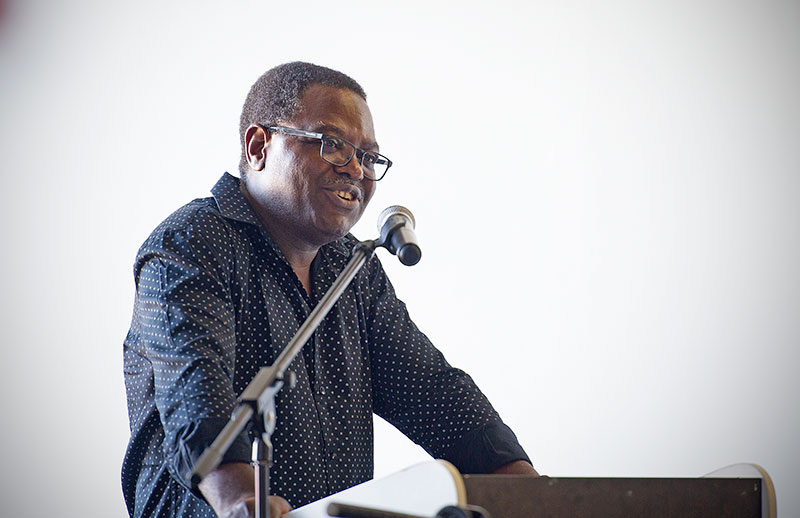 Nyamnjoh shared a popular memory of the masterful writer and poet's penchant for smoking. Garuba was well known for having a cigarette and a cup of strong coffee on the green bench outside of the AC Jordan building.
"I have felt very uncomfortable with smoking until I met Harry ... and then I started wishing I could take up smoking," he joked.
Garuba would "mobilise" smoking in between meetings and difficult circumstances, he said, adding that the cigarettes seemingly infused him with wisdom.
"If for no other reason than that, we should all take up smoking," said Nyamnjoh, much to everyone's amusement.
The anthropologist also made reference to Garuba's love for his family, urging everyone to commit to others in the same way. He recounted how, during a visit to Japan, Garuba had embarked on a frantic search for a T-shirt featuring BTS, a South Korean boy band, for his 14-year-old daughter Zukina. Desperate to deliver on her request, Garuba mobilised his Japanese network to help him locate the K-Pop band's merchandise and he eventually secured the prized T-shirt for her.
Nyamnjoh also spoke of his friend's "generosity of spirit", his capacity to accommodate everyone, his patient listening and his gentle soul.
"Harry is clearly everyone's Harry. And for that reason, I would like to rename him 'Ubuntu Harry'."
'Adoring, unruly' students
Speakers and attendees at the memorial made it clear that Garuba had indeed touched and impacted the lives of many, not least his students. Duduzile Ndlovu spoke on behalf of the professor's CAS cohort saying they were blessed to have experienced the "fatherly warmth", "kindness and safety" he had offered them.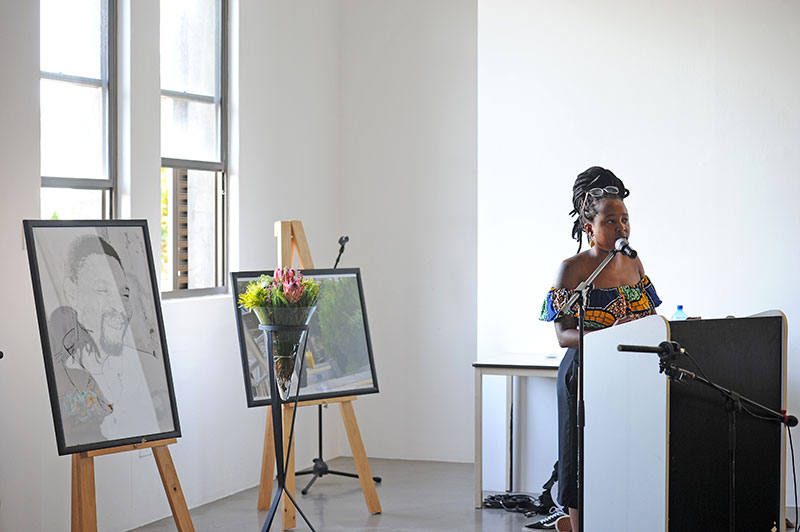 "I know that I speak for many when I say that Prof Harry changed and affected the lives of the students in the deepest and most profound of ways," she said.
"For some of us, especially the activists dismissed as delinquents and Fallists destined to be failures in this academy, Prof Harry was one of the few who gave us a chance when no one else would."
Ndlovu said Garuba's scholarship, pedagogy and his "relentless love for this continent and its people" created a space of learning and consciousness at UCT.
"In doing so, he gently but firmly guided us – the rejects and the arsonists and the criminals and the disruptors – towards the ever-elusive and unattainable positions of knowledge makers, worthy scholars and intellectuals," she said.
According to his colleague Dr June Bam-Hutchison, Prof Harry Garuba, who was also co-chair of the Curriculum Change Working Group, had an incredible ability to nurture young minds. She recalled his impact on the Fallists who came to his classroom straight from the 'battlefields' of 2015.
"For those of us who have remained on the margins, intellectually and otherwise, his embracing us meant more than I can ever hope to express in full."
Ndlovu ended by saying that Garuba's students will never stop learning from him, never stop needing his guidance, and that his teachings will live on forever.
"We will find guidance in your scholarship, comfort in your poetry, and strength and courage in ourselves, your students and your legacy," she said. "Love, your adoring and unruly students."
Many lives and hearts
Following the planned tributes and the spontaneous words from mourners, Garuba's older sister, Blossom, spoke on behalf of the family. Joining her at the memorial were Garuba's wife, Zazi, their son Ruona and Zukina.
Blossom Garuba said she was still expecting her brother to enter the room, wearing the smile that never left his face but still, it had not happened.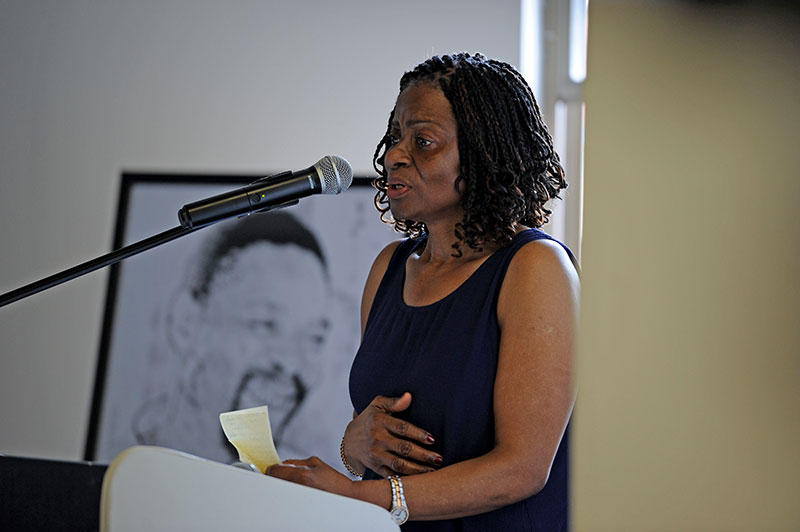 "So I'm here with a heavy heart," she said. "I want to thank you all for the support you have given to the family, for organising this, for all the messages and words of condolences … We thank you."
She recalled how growing up, her brother would spend all his time in the home library, reading and writing poems and plays. She also remembered fondly how he would join their father every morning at 06:00 to catch up on current affairs on BBC News.
"He knew what he wanted to do from an early age," she said.
He went on to touch many lives, including in his home village where he made sure many in his community had the opportunity to attend university. For those who could not afford to, Garuba either contributed what he could, or found a way to secure financial support.
"He touched so many lives. He loved his family dearly. He was passionate about his work. He motivated people, he inspired people," said Blossom.
"He was taken away from us too young when he had so much to give. But we thank God for his life because he touched so many hearts."
---
This work is licensed under a Creative Commons Attribution-NoDerivatives 4.0 International License.
Please view the republishing articles page for more information.
---