The Eastern Cape has, in recent years, experienced a severe drought, accompanied by negative socio-economic impacts across the region. University of Cape Town (UCT) PhD candidate Precious Mahlalela presented her research on the science behind the situation, and its consequences, at the inaugural "Ocean Meets Sky" symposium, hosted and organised by postgraduates from the Department of Oceanography.
For her master's, the budding oceanographer undertook research on the Western Cape drought. While working on it, she realised that the province's drought was not an isolated incident; other parts of the country were struggling with similar experiences.
"So, because … it's different climatic regions, it was interesting to see what other drivers for the different parts of South Africa were," she said.
Mahlalela's current research topic is "Interannual variability and trends in rainfall characteristics over the Eastern Cape region of South Africa".
An understudied region
The PhD candidate's attention turned to the Eastern Cape, an area that is generally understudied due to, in part, its meteorological complexity, which results from it being influenced by weather systems from both the midlatitudes and the tropics, its proximity to the Agulhas Current and its strong topographic gradients.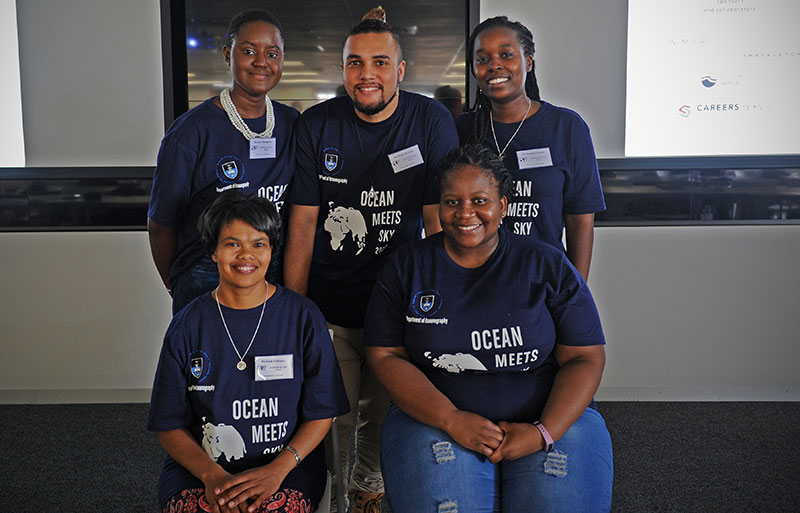 Findings
Mahlalela's research indicates that the spring season shows the most robust drought signal (a trend) since 2015, and that since 1981 there has been a significant decrease in both rainfall totals and the number of rain days in this season over the Eastern Cape.
Of course, there was the 2015/16 El Niño event, which Mahlalela believes could have contributed to the dry conditions experienced over the past few years.
"But El Niño is not an isolated event," she explained. "It has teleconnections with other modes of variability, so that's why we try to see what else might be the cause of the drought."
On examining the five driest springs occurring since 1981, she found that mid-level high-pressure anomalies were present over most of subtropical southern Africa, particularly in the Botswana high circulation system, leading to more subsidence over the land, less cloud band activity and unfavourable conditions for rainfall. Cooler sea surface temperatures were found in the Agulhas Current region, which are also unfavourable for the development of rain-bearing weather systems over the Eastern Cape.
Impact, importance
The severe drought since 2015 has had significant socio-economic impacts across the Eastern Cape. This drought may be part of a significant decreasing trend in spring rainfall, and one of the major impacts has been on the agricultural sector in the region.
"It's important to know if what we are facing is due to changes in climatic conditions or in the management of our resources."
Another major impact is evident in towns like Graaff-Reinet and Makhanda, which have been experiencing severe water shortages. The impact of water insecurity and drying seasonal rains has already made itself known. It is for this reason that Mahlalela believes her research is important.
"Water security is a threat in South Africa," she said. "It's important to know if what we are facing is due to changes in climatic conditions or in the management of our resources."
"[The research] helps bridge that gap so that we know what the science says, and we can do something about it."
What can be done?
Mahlalela had a few suggestions about what can be done in the face of drying conditions and the socio-economic consequences.
"I think at an individual level we should all be aware that water is a scarce resource and we need to use it responsibly," she said.
There also needs to be proper planning for water shortages and droughts, such as an increase in infrastructure with more dams being built for increased storage. There also needs to be an improvement in the management of resources and a solution to the leakages in pipe systems, she said.
"So, proper management of water, increased infrastructure and responsible usage among the community," Mahlalela reiterated.
---
This work is licensed under a Creative Commons Attribution-NoDerivatives 4.0 International License.
Please view the republishing articles page for more information.
---