The role of education in the prevention of heart disease was emphasised at the 2019 World Heart Day event on Sunday, 29 September, at the Two Oceans Aquarium, Cape Town. The event was hosted by the president of the World Heart Federation, the University of Cape Town's (UCT) Professor Karen Sliwa.
"Education not only results in better understanding of heart health and being able to identify symptoms, it also relates to especially the levels of education of women and their access to good primary healthcare services," said Professor Sliwa in her welcome address to a multidisciplinary gathering of clinicians, researchers and advocates.
Sliwa, the director of the Hatter Institute for Cardiovascular Research in Africa in the Faculty of Health Sciences at UCT, focuses her research on cardiovascular disease in African populations as well as cardiac disease in pregnancy.
Among women, rheumatic heart disease is a problem specifically linked to poverty and reduced access to health services. She gave the example of a young girl with untreated tonsillitis due to lack of primary healthcare services, which can lead to inflammation of the heart valves, resulting in rheumatic heart disease.
In pregnancy there is an increase in blood volume in a woman's body, resulting in increased pressure on the heart valves. For women with rheumatic heart disease, this increased pressure results in shortness of breath and may present an increased risk of death for the mother and/or child.
Sliwa also spoke of the link between air pollution and heart disease, with air pollution contributing to an estimated 25% of cardiovascular disease mortality worldwide.
The World Health Assembly has recognised this as a global problem and recently tabled a resolution on addressing rheumatic heart disease on a global scale.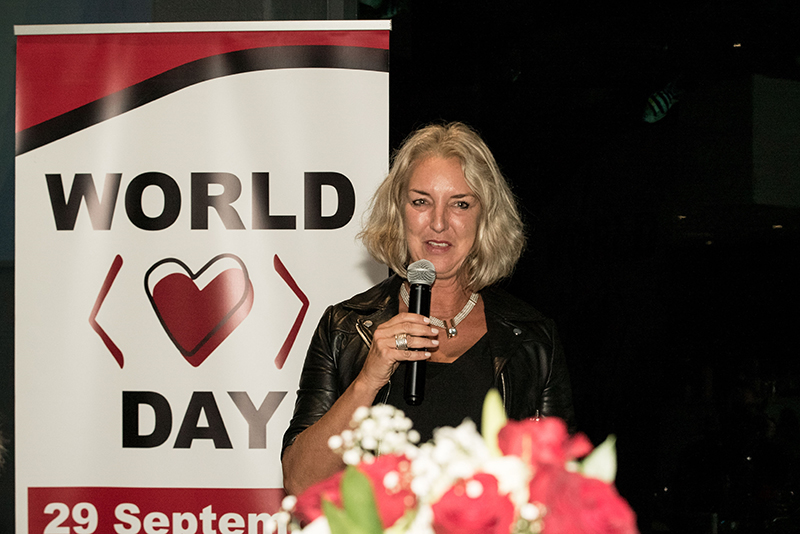 Fourth Symposium on Cardiac Disease in Pregnancy
World Heart Day coincided with the Hatter Institute's fourth symposium on Cardiac Disease in Pregnancy, which took place from 29 September to 1 October. A special session on rheumatic heart disease was held, which aligned with a new study commencing in 2019 – the Registry of Pregnancy and Cardiac Disease (ROPAC) sub-study on valvular heart disease.
Sliwa was delighted with the interest shown from a wide range of disciplines and countries. A total of 70 delegates, 24 of whom were speakers, attended the symposium – they hailed from Brazil, the Netherlands, Iraq, France, Germany, the USA, Nigeria, Mozambique, Botswana and South Africa.
"Our symposium is unique in that we have participation across a broad spectrum of disciplines, including obstetricians, gynaecologists, cardiologists, internal medicine specialists, anaesthetists and basic scientists," she said.
"UCT's responsibility as the top university on the continent should be to ensure that we do teaching and research for the continent."
Opening the symposium, UCT Vice-Chancellor Professor Mamokgethi Phakeng welcomed the special session on rheumatic heart disease because of the high levels of the disease in Africa.
She emphasised the role that UCT can play through Professor Sliwa's presidency of the World Heart Federation – which represents more than 200 cardiac societies and foundations globally – in steering the direction of cardiac research for the benefit of Africans.
"UCT's responsibility as the top university on the continent should be to ensure that we do teaching and research for the continent," she emphasised.
---
This work is licensed under a Creative Commons Attribution-NoDerivatives 4.0 International License.
Please view the republishing articles page for more information.
---