Despite the much-needed and welcomed move by the South African government to make sanitary products tax-free, many poor and working-class women and girls who menstruate continue to struggle to purchase what they need.
In response, more than 1 000 packs of sanitary products were recently donated to two local non-profit organisations as part of the University of Cape Town (UCT) Communication and Marketing Department's Transformation Committee (TC) work.
To collect the sanitary products, the TC implemented a two-pronged approach. They ran a drive at CMD, which also encouraged healthy competition between units, and partnered with Zwaanswyk High School.
Zwaanswyk, which is in Tokai, was excited to join forces with the UCT team. Learners immediately responded to the call for donations, bringing in half of the total contribution.
At the end of the campaign, the TC visited Zwaanswyk High School to collect the many bags and crates of sanitary products as well as to thank staff and learners for wanting and committing to making a difference.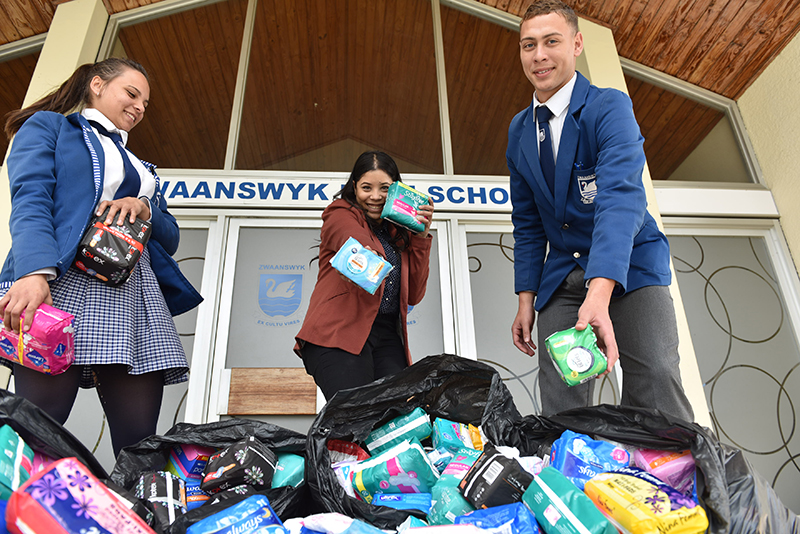 Then, in mid-September, the TC visited the Saartjie Baartman Centre for Women and Children (SBCWC) and Ons Plek Projects in Mowbray to hand over the donations.
"This campaign shows that no matter who you are, no matter your position at the university, you can make a difference."
SBCWC is a one-stop centre for women and children who are survivors of abuse. Their vision is the creation of a safe and secure society and a human rights culture where women and children are empowered to exercise their full rights.
Ons Plek, which opened in 1988, is the only residential child and youth care centre in Cape Town that specialises in developmental and therapeutic intake services for girls who have lived, worked or begged on the city's streets.
"This campaign shows that no matter who you are, no matter your position at the university, you can make a difference," said Aamirah Sonday, chair of the TC and member of CMD's media unit.
"We have heard Vice-Chancellor Professor Mamokgethi Phakeng call on members of the university to respond to the needs of our community, to meet with and engage with our community. In our own small way, we think this is answering that call and we are looking forward to doing this regularly."
If you would like to share transformation news from your faculty, department or student society, email newsdesk@uct.ac.za.
---
This work is licensed under a Creative Commons Attribution-NoDerivatives 4.0 International License.
Please view the republishing articles page for more information.
---