It was all things entrepreneurship at the University of Cape Town (UCT) last week, with students across faculties taking full advantage of the opportunity to fine-tune business ideas and connect with experts one-on-one.
Student Entrepreneurship Week 2019 (SEW2019), hosted by UCT Careers Service, took place across upper campus from 16 to 20 September. The jam-packed programme gave students the opportunity to learn from experts such as Cherise Dunn, co-founder of Africa Makes #3D4D and one of the Mail & Guardian's 200 Young South Africans for 2019; Lethu Tshabangu, founder of craft beer company Ukhamba Beerworx; and Zizipho Dyubeni, social media workshop facilitator and founder of Iqhayiya Digital.
Through the Entrepreneurship Marketplace they were also able to learn from their peers and see what they're up to, as well as having the opportunity to gain the in-demand skills of design thinking.
One of the highlights of SEW2019 was Social Impact Day, which was hosted in partnership with the Bertha Centre for Social Innovation and Entrepreneurship. On Wednesday, 18 September, the Robert Leslie Social Science Building was abuzz with talk of social entrepreneurship and the chance to change the world for the better.
Social entrepreneurship
Social impact organisations such as Dream Factory, Grassroot Soccer, The Underdog Project, U-Turn, Nal'ibali, The Trauma Centre, Gangstar Cafe and UCT's Knowledge Co-Op were on hand to convince students that social entrepreneurship is a worthy and rewarding path to follow.
Some of the non-profit and non-governmental organisations that exhibited during Social Impact Day.
Students were also able to connect with their peers who are already immersed in the world of social impact and entrepreneurship.
Kealeboga Ramaru, UCT master's student and volunteer at GRRRRL Camp, said she believes social impact work is the responsibility of all students.
"We come from communities of people and we should be able to feed back into those communities," she said.
"Especially with the state of the way things are in the country and the world, I think it's very important for students to be active."
"We come from communities of people and we should be able to feed back into those communities."
Fellow GRRRRL Camp volunteer and UCT student Ellen Wang agreed.
"I have a personal philosophy that if you can, you should. As students, we engage in intellectual stimulation and … conversations, but that's all talk," said Wang, who is studying for a postgraduate certificate in education.
"We talk about how the world needs to change, the community needs to change, but it's so hard for people to actually do something about it … So don't just talk; actually walk."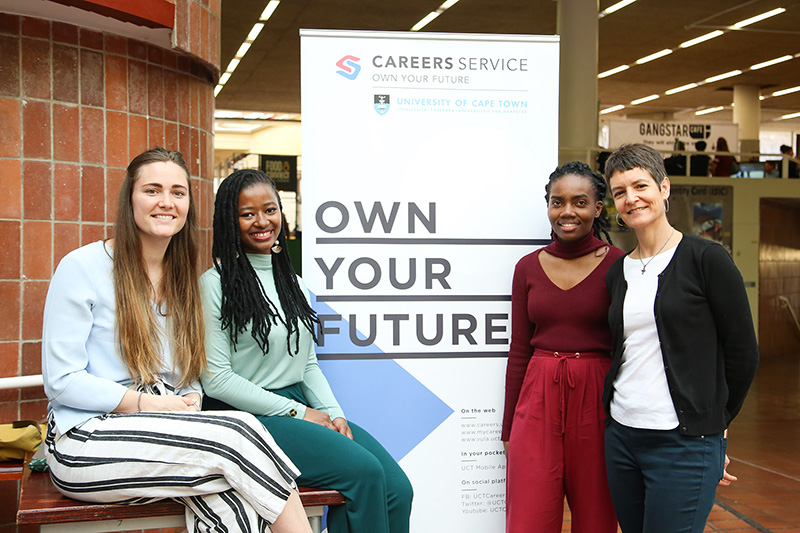 Networking opportunity
Ingrid van der Merwe, senior careers advisor at Careers Service, said Social Impact Day was a response to students wanting exposure to this type of work and these types of organisations.
"The intention is to bring these organisations together to expose students to what is out there, to be able to talk to people who are working in these organisations [and] to find out how they can be involved.
"It is also just a chance to network and find causes that they feel passionate about and know that there are organisations that possibly match what they are already interested in," said Van der Merwe.
She added that Social Impact Day was a chance to lift both students and organisations.
"The organisations are doing such great work. It's just really great … for them and us."
---
This work is licensed under a Creative Commons Attribution-NoDerivatives 4.0 International License.
Please view the republishing articles page for more information.
---