"We are running into a space where, increasingly, there are no big ideas. And that is a very dangerous space to be in because … where there are no big ideas, anything goes."
That was the warning from former deputy finance minister Mcebisi Jonas during his address at the University of Cape Town's (UCT) Graduate School of Business (GSB) on Tuesday, 10 September. The speech was linked to his recently published book, After Dawn: Hope After State Capture, the motivation for which was the lack of and need for big ideas to address the economic problems South Africa is facing.
Jonas was joined by GSB senior lecturer Athol Williams, who acted as master of ceremonies for the event, and Professor Haroon Bhorat, director of the Development Policy Research Unit in UCT's School of Economics. Bhorat was the respondent for the evening.
Because of the lack of "big ideas", Jonas – who turned down R600 million and a "promotion" to minister offer from the Guptas – said populists are filling the vacuum with ideas that are often "simplistic, narrow and shallow".
Populism is but one of the problems facing South Africa. There is also what Jonas termed an under-theorised and over-personalised transition; failure to understand and confront structural and systemic problems; a frustrated historic white elite and nascent black elite; difficulty in sustaining traditional wage increases and social grants; deterioration in public health services; a faltering education system; rising unemployment; and deepening inequality.
"It is then clear … the stage is set for disruption because this is not workable," he argued.
Jobs, growth and technological capacity
Should South Africa continue on its path unchecked, the country is likely to land up in what he called "destructive disruption".
"If we do everything in our power, focusing on the pertinent issues and big ideas, the country can be steered toward constructive disruption."
But, he said, there is hope: If we do everything in our power, focusing on the pertinent issues and big ideas, the country can be steered toward constructive disruption. He suggested seven areas on which to focus our energy and attention.
The first is that jobs must be placed at the centre of economic policy. Unemployment in South Africa is largely in the area of unskilled and low-skilled labour. As a country and economy, South Africa is uncompetitive when it comes to labour-intensive industries.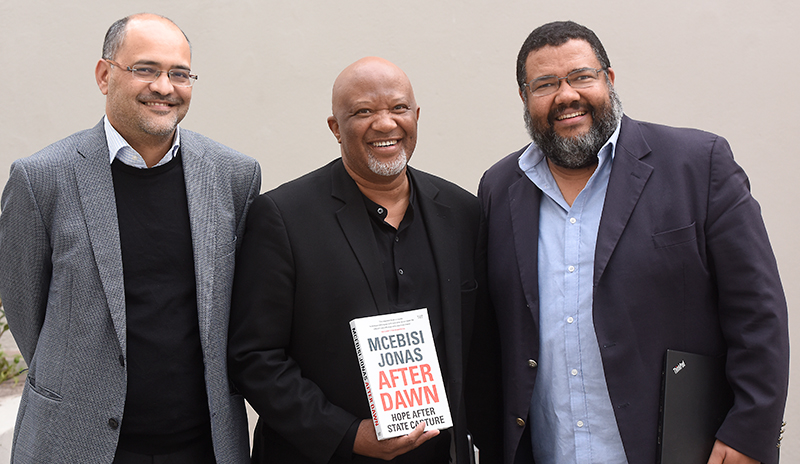 "If we are to solve the problem immediately, it is very important that we address the problem of raising the levels of competitiveness in the low-skilled jobs," said Jonas.
He suggested that, for 10 years, the government create a targeted and incentivised programme that kickstarts and stimulates labour-intensive industry in the country.
The second area on which to focus is inclusive economic growth. There must be a realisation that there cannot be growth if there is no investment and if the country is uncompetitive.
"What permeates what we argue is that growth is non-negotiable. If we can't crack growth as a country, we are going nowhere," he said.
Jonas stressed that the constraints to competitiveness and the blockages to investment need to be removed. Thus, policy certainty and deregulation are key elements here.
The third focal point is increasing South Africa's technological capability and shifting to a knowledge economy. In the same way that labour-intensive industry needs a stimulus, there must be a parallel push for competitiveness in the skills and jobs required for the Fourth Industrial Revolution.
Lack of competitiveness here is partly due to the country's inadequate education system but also because the innovation system is poorly developed.
"We need to invest more in our innovation capabilities in the country and support innovation in a more structured way than we have done before," Jonas said.
Education, wealth and the state
The fourth area that requires attention is education. While conceding that there was a lot more to say on this topic, he stressed that the country's dual education system requires urgent attention. He explained that attending a village school often translates into a "village education" and a "village job".
"This dualism needs to be dealt with. Our schools must function and they must function very, very well."
"Our schools must function and they must function very, very well."
Jonas added that if trade-offs are needed to achieve change and better outcomes in education, this must be done.
"Education is fundamentally important. It cascades and permeates every aspect of life."
The fifth area for attention and action is increasing the black share of wealth in the economy. Jonas said he often encounters two related arguments: one is that when an economy grows, transformation will follow. The other is that an economy must transform before there is growth. Both of these arguments, he said, are nonsensical and problematic.
"We must understand the interconnection between the imperative for growth and the imperative for transformation. Increase black share of ownership. That's inclusion."
The sixth area is around the state, its capacity and trying to reduce levels of corruption. To deal with corruption, equal effort must be applied to strengthening the capacity of the state and to improving the efficiency of levers within the state.
Politics and struggles
The last area relates to changing the nature of South African politics.
"Your political context can either constrain growth, development and transformation, or it can actually help … Politics matters in the economy," said Jonas, adding that it appeared that South Africa's political parties have, by and large, become self-serving and internally focused. Only after this are citizens considered.
"As civil society (we need to) come to the fore and entrench accountability through mobilisation and organisation."
"We need to shift this and really, as civil society, come to the fore and entrench accountability through mobilisation and organisation."
But, he said, this can only be done if people are organised, energised and properly led.
"It can only be changed if citizens are positioned in a manner that they can act together, united, and force action and accountability from public servants and politicians."
Before concluding, Jonas cautioned against taking a similar approach to mass action as was taken with the Zuma Must Fall movement.
"When you look at it, it was only about removing Zuma. It was not about ensuring that our schools work, it was not about ensuring that our economy generates jobs, our economy grows.
"We need to change the content of the struggles that we wage as civil society, and increasingly, more and more, focus on driving more substantive issues that face society."
---
This work is licensed under a Creative Commons Attribution-NoDerivatives 4.0 International License.
Please view the republishing articles page for more information.
---