A ritual cleansing ceremony, watched over by Khoekhoegowab linguists and activists and Khoe clanspeople, marked the historic launch of the University of Cape Town's (UCT) Khoekhoegowab language short course this week.
This is the first of four 12-week courses that will be presented at the university, thanks to funding from the Mauerberger Foundation Fund (MFF) and support from the Vice-Chancellor's Strategic Fund.
Khoekhoegowab is spoken by the Nama, Damara and Haiǁom ethnic groups, now living predominantly in the Northern Cape and Namibia. It's one of the continent's many endangered indigenous languages.
By introducing Khoekhoegowab language courses, UCT has underscored the importance of 2019 as the United Nations International Year of Indigenous Languages. Its mission is to raise awareness of the fragility of many of these languages, and establish a link between language, development, peace and reconciliation.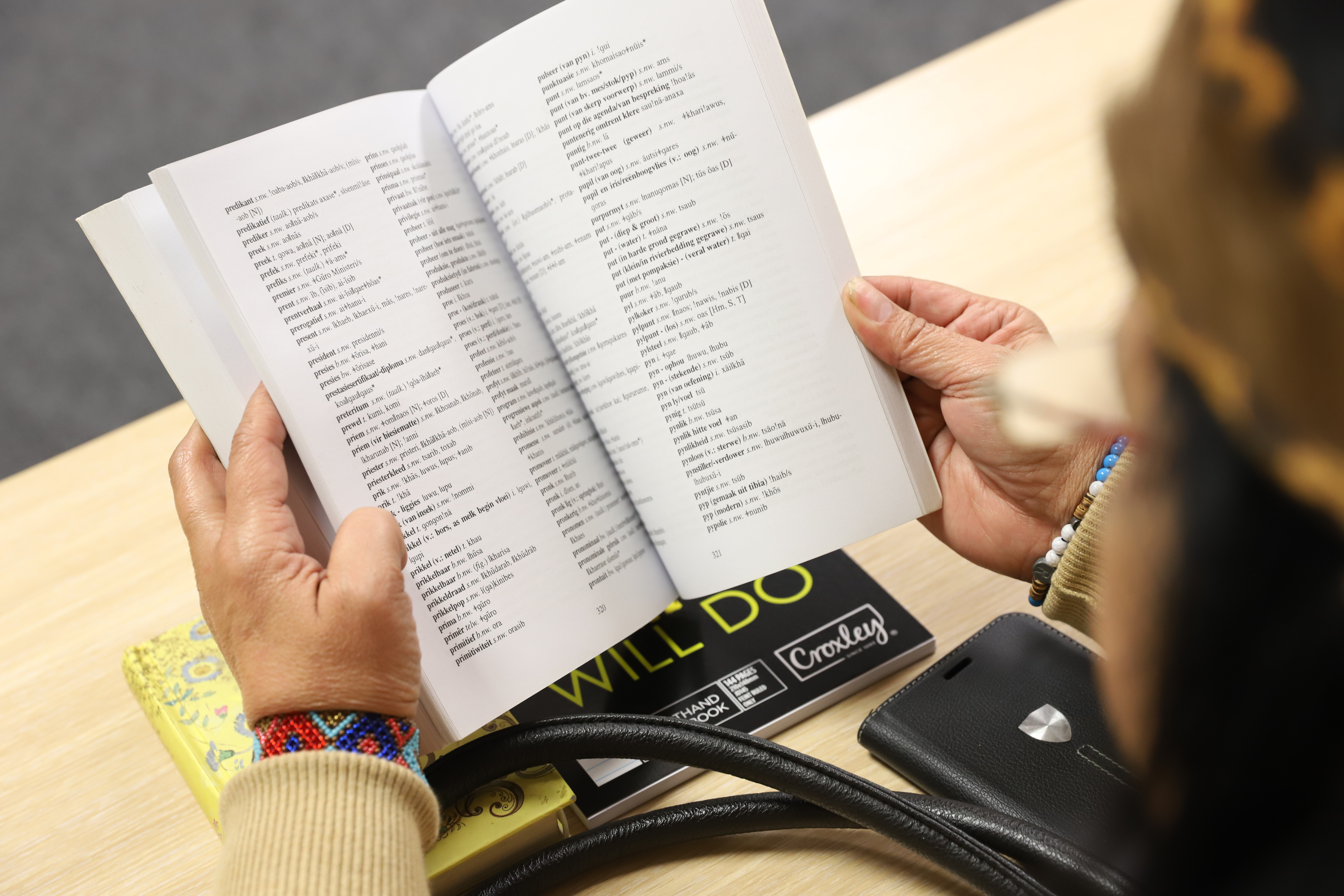 Extensive preparation
The course is the result of extensive work and consultation with key entities, led by the Centre for African Studies' Dr June Bam-Hutchison, and has been over a year in the making.
The foundation stone was the establishment of the /Xarra Restorative Justice Forum in the Centre for African Studies (CAS). The /Xarra Forum's Language Commission invited UCT's Centre for Extra-Mural Studies (EMS) and Multilingual Education Project (MEP) to partner them on the project.
It is now co-convened by EMS and CAS, supported by MEP.
The course is an important beacon for inclusivity and diversity at the university, which is built on land formerly inhabited by the indigenous Khoe people.
Places on the first course, which started on 10 June, were made available to members of the /Xarra Forum, UCT students and members of the West Coast community. The fee for fee-paying attendees has been reduced, in line with the ethos of assisting those unable to afford higher education, said EMS director and co-convenor Dr Medee Rall.
Teach your children well
The course's teachers are renowned in education and in the indigenous communities: Dorothea Davids, a first-language Khoekhoegowab speaker and teacher from Namibia and /Xarra Forum member, and Khoekhoegowab activist Bradley van Sitters. Both studied at the University of Namibia.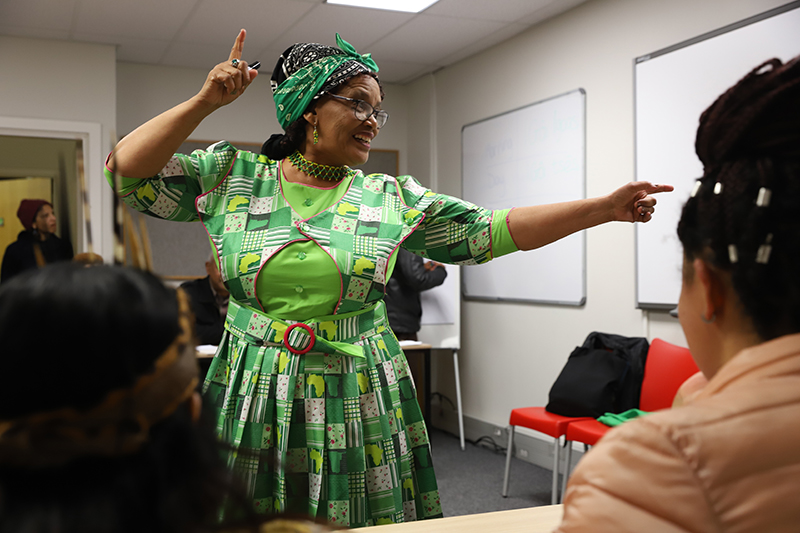 EMS, which offers adult education programmes to the university and wider community, will facilitate the standardisation, certification and course evaluation.
"This will enable attendees to be issued with a UCT certificate and transcript, in line with the university's academic standards," said Rall.
"The aim of the language programme is to have a reach wider than the attendance in the class. The course will be recorded and made available online, as will material and notes – also to extend the reach and meet demand for knowledge about this erased language."
Importantly, this will be included in the archive of the Centre for African Studies that holds records and preserves all the information related to the work it is doing with the Forum and various commissions. In this instance, it includes its partnerships with EMS and the Multilingual Education Project.
History in the making
Speaking at the launch, Bam-Hutchison, a co-convenor of the course, thanked MFF chair Dianna Yach for her unwavering commitment to the project.
"She didn't look left or right; she said, 'This is important… I'm going to make it happen.'"
MEP's Professor Mbulungeni Madiba added: "How far it has come. We didn't have funds, we didn't know when we were going to get money to run this. I'm so excited that the MFF came in to assist us, and I believe we should see something bigger, that will become a heritage centre."
Van Sitters, who conducted the cleansing ceremony in the Kramer quad, added: "This work did not happen overnight. This took a long, long time of preparation. We've encountered many obstacles; many challenges came our way. For us to stand here today is history in the making. So, our ancestors, the people that went before us – I know they are rejoicing, because that is what they have lost."
"So, there's a lot of memories of pain that we are enduring, and I'm glad that this is a circle that is now, today, activating those voices of restoration."
Yach said a seed had been planted, which she hoped would mark the beginnings of a cultural centre or heritage centre for the Khoe community that would go beyond language.
High demand
Response to the Khoekhoegowab course has been overwhelming, said Rall.
Safiye Yildiz, an honours student in human genetics, joined the course after she saw it advertised on a campus notice board. She speaks both Turkish and English, and is keen to add Khoekhoegowab to her linguistic skills.
"As a foreigner in South Africa, I want to make use of the opportunities provided, especially at the university, to enhance my knowledge regarding the country, the cultures and the people I engage with. One of the best ways to gain this is to learn the languages. I will also be attending an Afrikaans language course in [the] second semester."
Academic Dr Halim Gencoĝlu said that, as a historian, "I do believe that [the] history of a region can be properly learnt through the languages of the people belonging to the region".
"[The] Khoekhoegowab language ought to have been in the school curriculum long ago. When we understand and communicate with people from various communities, and recognise all minorities in society regardless [of] their belief and ethnicity, we can contribute to the spirit of Ubuntu."
The multilingual Gencoĝlu uses Arabic, Persian, English, Afrikaans, isiXhosa and isiZulu sources, "even if I am not fluent in all".
"Khoekhoegowab cannot be outside of this circle. Maybe I might not be fully fluent in Khoekhoegowab, because of its clicks or sounds, but I can learn its structure and cultural background. Certainly, these matters must also be re-examined in the decolonial context, which is what the University of Cape Town is currently doing."
Other responses poured in via email:
"… thank you for what you and the university are doing to revive and keep the forgotten language alive. Much appreciated. This is far more than just learning a new language."
"Could you please forward all relevant documentation and fees so that I can apply and make my ancestors proud?"
"I am a graduate student with a BCom degree. My ancestors are from the Griqua tribe. As much as I appreciate my heritage, I do not speak the language. I saw a post online that UCT will now be offering a course which aims at teaching the language again, and I am very interested. Could you please forward all relevant documentation and fees so that I can apply and make my ancestors proud?"
"I have just finished reading an article on UCT's plan to introduce a Khoekhoegowab short course, and I think that this is a genius idea!"
"Firstly, allow me to begin with sharing my excitement for the fact that there is finally an institution of higher learning offering a course on Khoekhoegowab. We are absolutely thrilled."
What's next?
Rall said plans for 2019 and 2020 include another four 12-week courses, starting in September. EMS will also offer a Khoekhoegowab foundation language course as part of the 2020 Summer School programme, as well as a course on the history and role of Khoekhoegowab. This will be presented by Bam-Hutchison.
---
This work is licensed under a Creative Commons Attribution-NoDerivatives 4.0 International License.
Please view the republishing articles page for more information.
---