More than 6 million of the country's children regularly go hungry, with dire consequences for their capacity to thrive – or even survive – according to the 2018 South African Child Gauge, which urges the government to move swiftly to address the gaps in family services.
These children live below the food poverty line which, in real terms, means their families cannot provide even the minimum amount of nutrition they need.
Worse, that is just one of a host of challenges facing South African families that are highlighted in the latest edition of the publication, released today, which calls on the government to turn its attention to boosting the capacity and the quality of family services.
The 2018 annual review of the situation of South Africa's children is published by the University of Cape Town's (UCT) Children's Institute (CI), in partnership with the Department of Science and Technology and National Research Foundation's (DST–NRF) Centre of Excellence in Human Development at the University of the Witwatersrand (Wits), UNICEF South Africa, and the Standard Bank Tutuwa Community Foundation.
The central question now, says the publication, is how to achieve good collaboration between families and the state so that children develop optimally, and no child is left behind.
"In general, the state recognises the diversity and multigenerational nature of many families, but in practice different departments have divergent views of what a family is, or should be, and who is assumed to bear responsibility for children," said Katharine Hall, senior researcher at the CI and lead editor of the 2018 issue.
So while families are indeed enjoying increased access to services in the post-apartheid era, it is essential that policies and programmes cater for families "as they are, without assumptions about what they should be".
"Only a quarter of all South African children live in nuclear families, as opposed to 62% in extended family arrangements."
Currently, the document says, only a quarter of all South African children live in nuclear families, as opposed to 62% in extended family arrangements. Another factor is the large number of single-person households (22%), created as adult migrants move to cities to seek work, leaving their children behind in the care of family members.
'Stretched' families
One of the publication's co-editors, Zitha Mokomane, an associate professor in the University of Pretoria's Department of Sociology, said that what the surveys cannot see is the extent to which family are "stretched", with members spread across different households.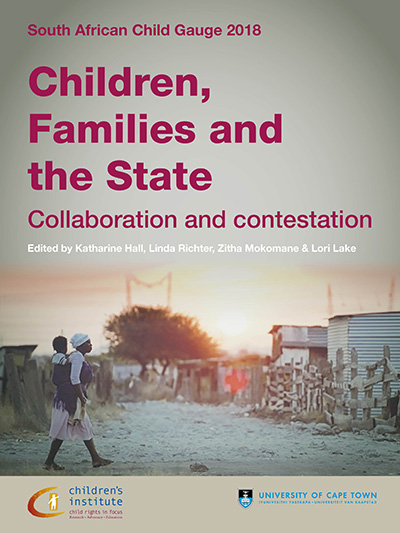 More than 7 million children live in households headed by a grandparent or great-grandparent, but this doesn't mean biological parents aren't present, or that those who are absent don't maintain contact with their children.
"Many absent parents see their children regularly and help support them financially, even when they live elsewhere," Mokomane said.
The Child Gauge identifies the high mobility of family members, which changes as families strategise to maintain homes, provide care for children and seek work, as a complication for the state in terms of targeting services and benefits to children or their caregivers.
As long as nthe frame of reference for policymakers is that of the nuclear family, it warns, the state's family policy will continue to ignore the lived experiences of care of many South African children.
An example is the Child Support Grant, which reaches more than 12 million children every month and which is designed to follow the child. Administrative systems however struggle to keep up with this movement and changing care arrangements.
"While it may not be feasible to align everything perfectly, policies and services still need to be sufficiently flexible to accommodate the dynamic nature of family structure and living arrangements," the document said, adding that this approach will help the state to target policies and programmes for children at risk, and their caregivers.
The authors are frank that the state has yet to meet its obligations in ensuring that all children in South Africa enjoy the basic rights provided for in the Constitution, pointing out that it has, in some cases, taken the courts to ensure these obligations are met.
Flexible policies and structures
"Given the large number of children in families too poor to provide even the basic entitlements to shelter, adequate nutrition and other children's rights, this is a huge responsibility for the state, which is the ultimate duty-bearer," they said.
A further complication identified in the publication is navigating the tensions between statutory and customary law, particularly because the latter doesn't give children individual entitlements outside the welfare of the family as a whole. This impacts in areas including child maintenance, custody and duty of support.
"The apartheid regime's deliberate and systematic incursion into family life has meant that the contexts in which children are cared for are often circumscribed by variables beyond the control of the family."
Nolwazi Mkhwanazi, a Child Gauge author and medical anthropologist who runs the Medical Humanities programme at Wits University's Institute of Social and Economic Research, expressed concern that decisions, opportunities and resources available for caring for children "are rooted in systems of inequality that are experienced along the lines of race, gender and class".
"The apartheid regime's deliberate and systematic incursion into family life has meant that the contexts in which children are cared for are often circumscribed by variables beyond the control of the family," she said.
As such, it is essential that the state's policies and programmes recognise that survival pressure and livelihood needs limit families' choices about childcare arrangements.
The authors cautioned too that while families have enormous potential to protect children, they can also be places of extreme risk for them.
They pointed to a national study of child homicides which found that three in every four murders of children younger than four occurred in the context of abuse by a caregiver at home. Although almost double the global rate, child murder remains relatively rare, with children more likely to experience or witness physical punishment and domestic violence.
The Birth to Twenty Plus study found that 99% of children had experienced or witnessed some form of violence, and more than 40% had multiple experiences of violence in their homes, schools and communities, with severe consequences for their health and development.
Stefanie Rohrs, a senior researcher at the Children's Institute, said although harsher forms of physical punishment are more strongly associated with negative outcomes, even "mild" forms of physical punishment such as spanking can lead to increases in child aggression, delinquent and antisocial behaviour, and have negative effects on child mental health.
Intergenerational cycle of violence
In addition, those who witness or experience violence in the home are themselves at risk of becoming abusive and neglectful parents, and at risk of exposing themselves to similarly violent situations as adults. This fuels an intergenerational cycle of violence, "and makes it critical and urgent to shift norms and strengthen responsive services".
Professor Shanaaz Mathews, director of the Children's Institute and a Child Gauge author, said the increased knowledge about the intersections and links between violence against women and violence against children suggests "it is imperative for us to stop addressing the problem in a silo".
"We need to start integrating prevention programmes to address both problems," she urged.
On the amount of time parents spend with their children, the Child Gauge authors said South African society is still plagued by inequality, with women accounting for 89.5% of total time spent on activities related to the care of children. They are also more likely to be unemployed. If they are employed, they are likely to be paid less than men.
"Where the state and families collaborate in the interest of children, they thrive."
"State income support for the family should be allocated in accordance with this pattern of gendered inequality," the authors said, adding that while the Child Support Grant is paid to primary caregivers of children, its value is so low that it cannot even cover the basic nutritional costs of a child, "let alone enable women to pay for childcare so they can work".
The authors said the time is ripe for renewed and conscious collaboration between the state and families to ensure that all children, but especially those who are vulnerable, receive care and support through state services, community inclusion and family support.
"Where the state and families collaborate in the interest of children, they thrive," said Linda Richter, Distinguished Professor, DST–NRF Centre of Excellence in Human Development at Wits, and a co-editor of the 2018 Child Gauge.
"This goal is too often distorted by short-term interests and distractions, but it is time for the state and families to align their efforts, and commit to improving the conditions for children."
---
This work is licensed under a Creative Commons Attribution-NoDerivatives 4.0 International License.
Please view the republishing articles page for more information.
---