One of the most challenging aspects of conducting academic studies is translating crucial findings for a wider audience. With the launch of a new publication, Tomatoes & Taxi Ranks: Running our Cities to Fill the Food Gap, the University of Cape Town's (UCT) African Centre for Cities (ACC) has made the topic of urban food security accessible and understandable to everyone – from primary school learners to policymakers.
The book is a collaboration between Jane Battersby and Vanessa Watson, both from ACC, along with acclaimed science writer Leonie Joubert, and is based on research conducted by the Consuming Urban Poverty (CUP) team.
Funded by the United Kingdom's Economic and Social Research Council (ESRC) and Department for International Development (DFID), and managed by the ACC, the four-year CUP project focused on the connection between poverty and the food system in three secondary African cities: Epworth in Zimbabwe, Kitwe in Zambia and Kisumu in Kenya.
This massive undertaking saw urban geographers, sociologists, economists and planners from the ACC, Copperbelt University in Zambia, the University of Zimbabwe and the Kisumu Local Interaction Platform (KLIP) join forces and work closely together.
"The key hypothesis of the CUP project was that if we want to understand the nature of poverty in African cities, then we should use the food system and food security [as a] lens," Watson explained at the launch on 6 November of Tomatoes & Taxi Ranks, during the Mistra Urban Futures Conference in Cape Town.
"So the answer is not in producing more food. It's in understanding the entire system, and particularly access to food."
Put simply, the project was aimed at unpacking the links between urban poverty and urban food systems, which includes the entire cycle of production, consumption and disposal, as well as household food security and local governance.
They looked beyond the fresh produce that leaves through farmers' gates, to consider how it eventually makes it way on to the plates of residents. The study also took into account the many forces and agents that shape food costs, the form the food takes when it reaches the dinner table, and whether this food ultimately satisfies hunger and fulfils nutritional needs.
A critique of the 'productionist' approach
One of the assumptions the CUP project challenged very strongly is the "productionist" approach to food security, which suggests that urban food security can be addressed by merely producing more food in urban centres.
During her introduction to Tomatoes & Taxi Ranks, Watson pointed out that South Africa, for example, produces more food than we can eat. Yet levels of urban food insecurity – even in a rich city like Cape Town – are incredibly high.
"So the answer is not in producing more food. It's in understanding the entire system, and particularly access to food, that is critical for us," she said.
Access to food involves a wide range of factors, from affordability and access to stores, to the effort needed to transport those purchases back home once shopping has been completed.
Spanning three different cities in three different countries, the study required collaboration of the highest order, as did the organisation and dissemination of information once the data had been collected.
Now drawing to a close, the CUP project also saw Battersby and Watson publish a second, academic document, Food Systems Governance and Poverty in African Cities. It is aimed at researchers who already have a deeper understanding of urban planning, food systems and governance in African cities.
With its engaging narrative style and striking images by photo journalists Samantha Reinders and Masixole Feni, and the addition of multimedia elements, Tomatoes & Taxi Ranks translates the fascinating findings of the CUP project into a digestible read accessible to an audience well beyond the borders of academia.
Since Joubert has served on the advisory board of the CUP project from the start, and has also published several books on food issues, they said the collaboration happened quite organically.
Tomatoes & Taxi Ranks also has a dedicated website where people can find out more about the project and download both books free of charge.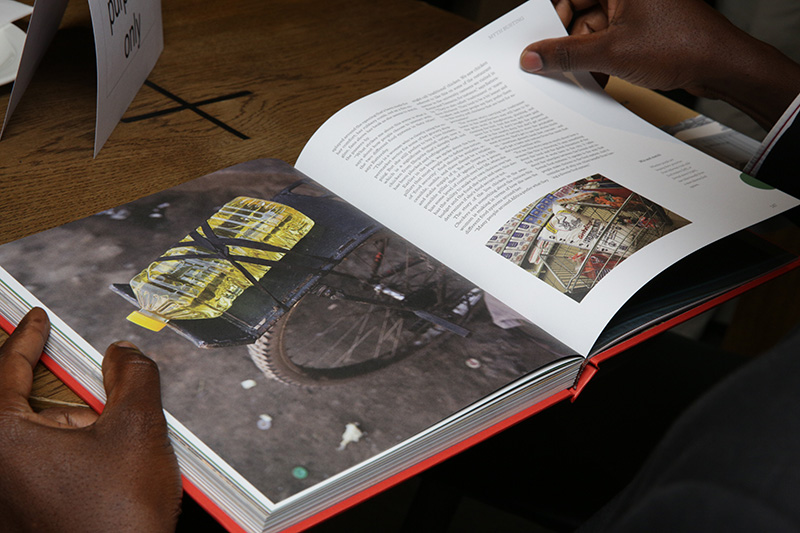 While both are also available in physical format, the ACC felt it important to make the information as easily accessible as possible.
"Policy briefs – yes, they have their role. But people are media-savvy these days. People watch YouTube videos all the time and you have to be able to get into that world of media to get your message out through those sorts of routes," Watson said.
She added that she hopes Tomatoes & Taxi Ranks will become a useful tool for school teachers, lecturers, policymakers and anyone with an interest in creating sustainable, fair cities on the African continent.
"I think the possibilities of where the message gets to – thanks in a big part to Leonie and her team – is just amazing," she said.
---
This work is licensed under a Creative Commons Attribution-NoDerivatives 4.0 International License.
Please view the republishing articles page for more information.
---