John Dawson, "Grumpy" to his granddaughter, used to joke that donating his body to the University of Cape Town's (UCT) medical school was just a ploy to get into university. He'd wanted to have "Finally got into university" tattooed on his body for students to discover when they dissected him in anatomy classes.
His son Gareth Dawson, of UCT's Communication and Marketing Department, said his father was known for his wry sense of humour. John died on 11 July this year after a long illness. Progressive, a dedicated socialist and a man of principle, he donated his remains to the Faculty of Health Sciences' body donor programme to benefit others.
These bodies, some belonging to indigent people whose remains are not claimed and are donated by the state, are essential to teaching second- and third-year medical students the rudiments of anatomy.
For John, it was the ethical thing to do. He also wanted to ease the stress on his wife, Vanessa, and family.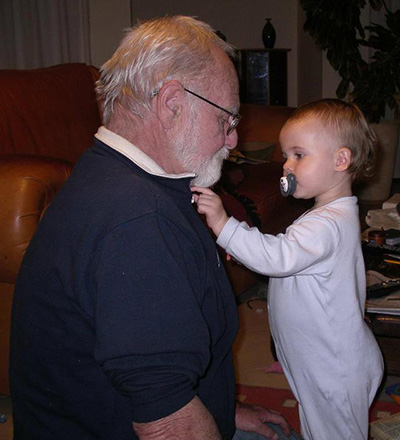 Born in 1941 to a poor family in Knutsford, a small town south of Manchester, John grew up in post-war Britain. After completing grammar school he became a bookkeeper in Manchester and later landlord of a pub/hotel in Knutsford. Years later he and his wife ran an audio company.
"We came to South Africa when I was 13. It was a difficult time for my parents. They'd sold their company in the UK in order to take up residence here and start a new life," Gareth recalled.
But while they were in the process of applying for residency the law changed, and they found that they couldn't work here.
"They'd sold everything to come to South Africa. That all took its toll on Dad. He also suffered from bad clinical depression in his later life and his health had been deteriorating for some years."
Life-giving gesture
Each academic year-end sees the faculty commemorating donors such as John and their "life-giving" gift to a new generation of doctors who will serve thousands of patients during their careers; no doubt many with clinical depression.
This year's ceremony at the faculty on 2 November, a gathering of students, staff and the donors' families and friends, was a poignant reminder of the significance of their bequest.
"It was so simple, so easy. There's no stress at any point," said Gareth.
He and his family were on holiday when John died. His mother had the number to call to have his body collected from their home.
"They covered him with a dark green velvet blanket, just as though he were sleeping, and left my mum with him for a time to say goodbye, asking for permission to cover his face before they took him to the UCT mortuary.
"It was unbelievably simple at a time when you're sad or upset, having something that literally doesn't take an ounce of effort was an incredible stress relief."
"It was unbelievably simple at a time when you're sad or upset; having something that literally doesn't take an ounce of effort was an incredible stress relief. The last thing I'd ever want to do would be to jump into arranging a funeral or a memorial," said Gareth.
The family will attend the commemoration ceremony for John in two years' time, when the next cycle at the medical school ends.
"So, you actually come back to reflect at a point removed from the initial sadness of someone passing."
Sense of closure
For Gareth, body donation is also about legacy.
"People often wonder: What am I leaving behind? What impact have I made on the world? Dad's died and got an extra two years of impact."
Following her experience and the respectful way John's body was handled, Vanessa and Gareth's grandmother, Sheila Stephens, have both become body donors – and actively encourage others to do the same.
For some, a sense of closure might be missed in the process. But that moment came for John's family when he died, said Gareth.
"Your body isn't who you are. It's something you exist in and I don't see why I'd want to say goodbye to a body rather than goodbye to his mind."
"We were quite prepared. Your body isn't who you are. It's something you exist in and I don't see why I'd want to say goodbye to a body rather than goodbye to his mind, or him as he was. For as long as someone remembers him the essence of his being carries on."
"Grumpy", the silent teacher
Although they were content with John's decision, explaining to his young granddaughter, Jonny, now eight, that her beloved "Grumpy" was going to become a silent teacher to young doctors, took some gentle words.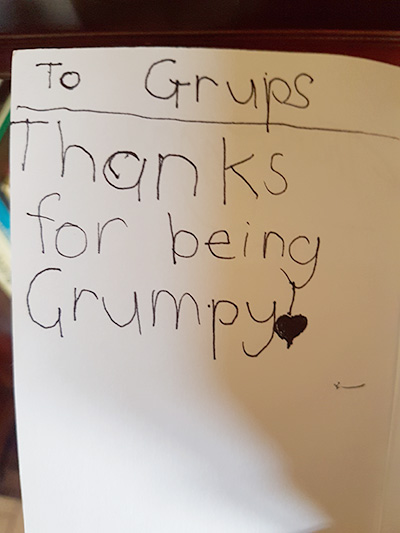 "As my dad suffered from depression, she knew that he would be happy and then sad. She knew he was sick and that he would pass away. She needed to understand that. He and my daughter had a lovely relationship … she thinks this is a great thing to do. She's very proud that he is now helping other people," said Gareth.
"Her words to her grandmother were, 'Dad's told me what Grumpy's done with his body; that's really good isn't it?'."
John's identity and history will never be known to the students who carefully dissect his body, layer by layer. Each donor is a respected silent mentor and teacher, whose final legacy to society is one of life, said Professor Graham Louw, who heads anatomy teaching in the dissection halls on levels 4 and 5 of the Anatomy Building.
This year's commemoration honoured 100 donors whose remains will also be used to train specialists in new surgical techniques.
"Technology is changing all the time," said Louw.
The ceremony is always personal and respectful: The students gather to share their thoughts in poetry, prose and often through music and performance.
"This is your first step in professionalism."
Addressing the students, Louw said: "We realise this is not the easiest part of your training, but I'm amazed how every year you professionally deal with [it]. How compassionate you are with your teachers. This is your first step in professionalism."
Professor Malcolm Collin, head of the Department of Human Biology, underscored the importance of dissection.
"A book can give you a 2D picture; a model helps but has its limitations. It's really when students dissect the bodies donated that they really begin to understand the structures within us. It's critically important."
Students Linda Cusens and Jenna Smith read their letter to the donor they'd named Samuel, or Sammy.
"We spent ages trying to figure out your life's journey through the tattoos and scars on your body: 'When I do go, no-one remembers. When I do go, no-one remembers. So why me?' And a second tattoo: 'The keys to freedom' … You played a key role in our education and we'll always remember you, Sam."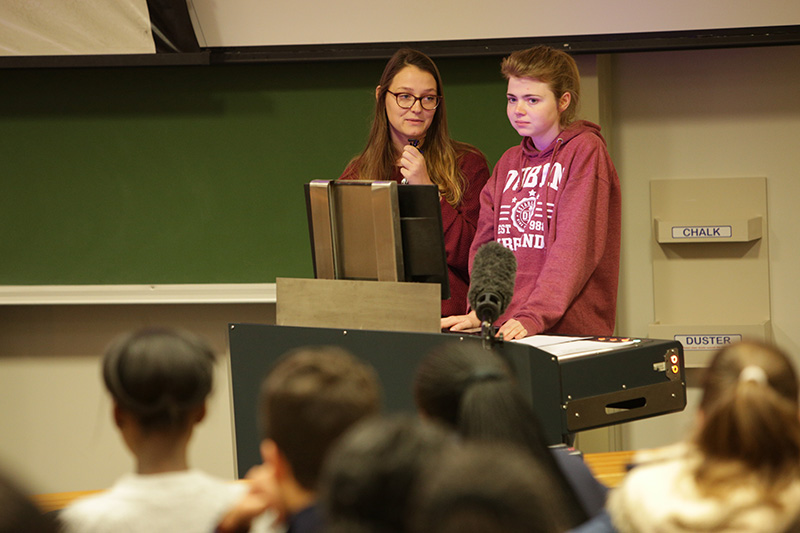 Karabo Sithole's letter to her body recalled their first meeting.
"It was in a cold, air-conditioned lab. You were veiled in a heavy, white plastic blanket. But I could still see your silhouette. I was nervous...
"We named you Robyn with a 'y'. And Rob for short. Your body told a story, Rob. The smattering of sunspots on your chest. The wrinkled trails on your skin. Your thin fingers and hands that were rigid to hold; remnants of grey hair and laugh lines told a story of a life long lived; days out in the sun for too long…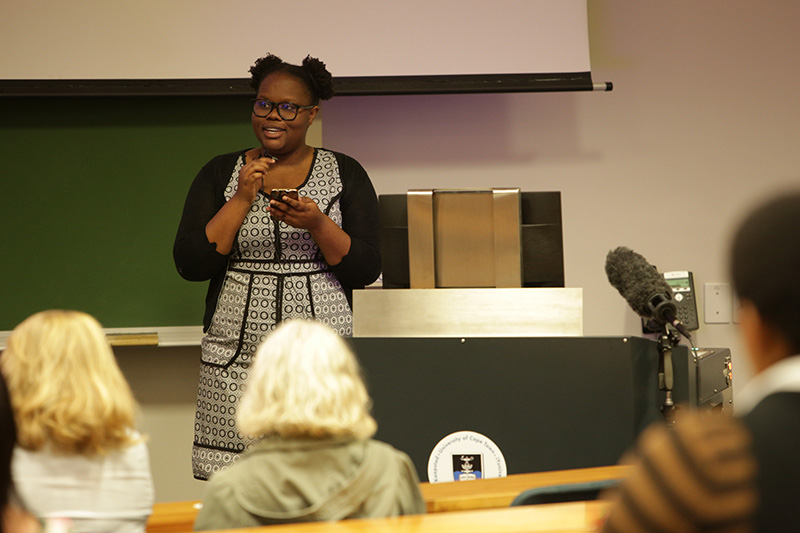 "It was amazing to see how large your heart literally was. Bigger than my fist … There were stitches on the back of your ribs; the metal that replaced bone, the bypass that gave blood to your heart, all the amazing discoveries that came to light, one by one, like treasure trails.
"I'd like to thank you, Rob. I never imagined it possible to be a giver, even after death. But that's what your body was: an endless source of knowledge, a priceless gift… Seeing you never became easy. A part of me still felt foreign in that space. But discovering the human body, your human body, and all its intricate wonders was more than just necessary and important. It was actual magic."
One family tribute came from Ingrid McDonnell, whose mother had donated her body.
"It's very heartening, knowing that you will treat her body with such respect. Thank you for having this ceremony … It's like closure in a way because you are the people who are going to be touching Mom."
Etienne Marais paid tribute to an alumnus who'd become a donor: "My best friend passed away recently. His wishes were to come back to his alma mater. He sat, perhaps not in these chairs that you sit in now, but somewhere on this campus. And he became one of the best doctors that humanity could have asked for … I cannot think of a better place for him to rest."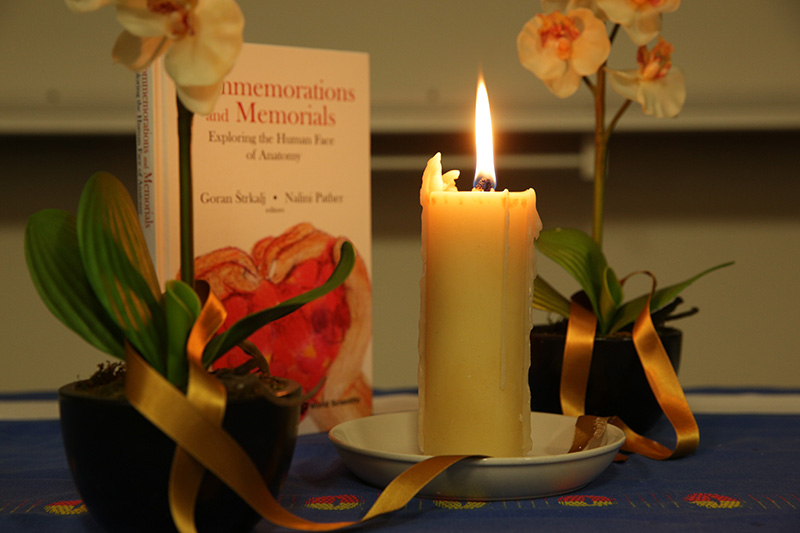 ---
This work is licensed under a Creative Commons Attribution-NoDerivatives 4.0 International License.
Please view the republishing articles page for more information.
---