It's critical for South Africans to expose the fault lines in our heritage – the shame, the errors and the evil – bringing them out for scrutiny rather than trying to sweep them under the carpet, said University of Cape Town (UCT) Vice-Chancellor Professor Mamokgethi Phakeng.
And UCT's new leadership is willing to reassess the institution's heritage in an effort to realign its future, she added in her keynote address at the UCT Graduate School of Business (GSB) Solution Space in Philippi on 29 September.
The event, in celebration of South Africa's cultural heritage and diversity, took the form of a special "Learning Lunch with the Vice-Chancellor", and included a proudly South African luncheon feast.
Since the start of her term as vice-chancellor earlier this year, Phakeng has worked hard to introduce herself and UCT to marginalised communities in a bid to cement links between the two.
"This space is important for us," she said of the Philippi satellite campus during her address. "As the new leadership of the university, we believe it is important that we are located where the people we serve are."
Of course, working to create greater inclusivity within UCT is no mean feat and requires a solid interrogation of the past, addressing both triumphs and failures, she conceded.
Finding the fault lines in our heritage
"We need to stare the part of our past that is not pleasing in the face: name it, debate it and understand it. So that we can overcome it, learn from it and ensure that the thread of mistakes is not [woven] into our future."
While this exercise is vital at a national level, it is equally important for individuals, communities and, of course, institutions, Phakeng said, using her speech to take guests on a journey into the heart of UCT's own complex heritage.
She said that for UCT to remain relevant and truly help build a better future for all South Africans, it has some serious work to do as an institution.
"As an institution, we have to own up to our complex past. We have to start telling the truth about the parts of the past that we are not so proud of."
Kicking off the process there and then, Phakeng recounted two of the darkest stories of rejection, betrayal and discrimination from UCT's embattled past.
The first was of Professor Archie Mafeje, whose appointment as a senior lecturer in social anthropology was unanimously approved by the UCT Council in 1968. But following significant pressure from the apartheid government, the Council rescinded its offer a month later. Even though the move resulted in widespread protest action and drew bitter criticism from UCT students and staff, the Council stood firm.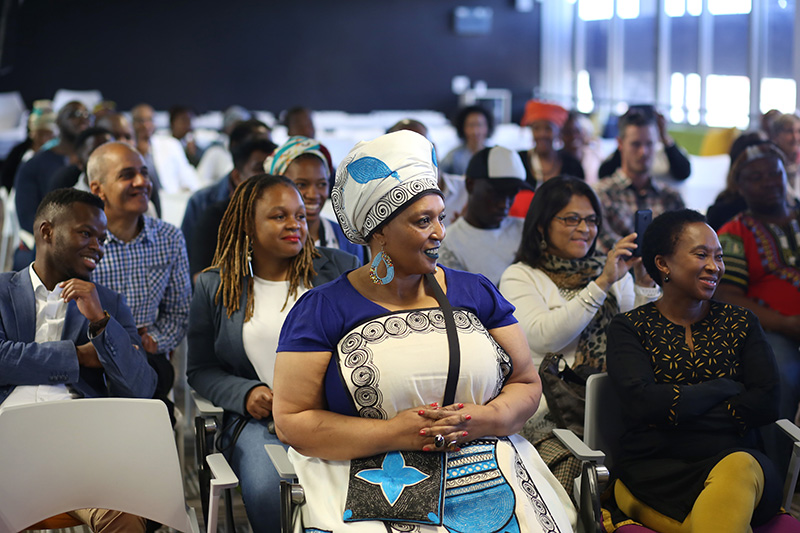 Mafeje went into exile in the United Kingdom, where he obtained a PhD in social anthropology from Cambridge University. He returned to South Africa with the advent of democracy, and although he tried to return to UCT, he was unsuccessful in his application for a position. He did, however, go on to earn the title of full professor at the University of South Africa (Unisa), where he taught until his death, aged 71, in 2007.
"We need to honour Professor [Archie] Mafeje's memory, to tell his story, to include it in the stories we choose to tell about UCT's heritage."
In 2008, UCT awarded him a posthumous honorary doctorate of social science, a move seen by many as too little too late.
"This is one of the shameful parts of UCT's history, but we need to honour Professor Mafeje's memory, to tell his story, to include it in the stories we choose to tell about UCT's heritage," Phakeng said.
She went on to share the story about Dr Stella Petersen, the first woman of colour to earn a master's degree in botany from UCT in 1947.
As an undergraduate, she faced racism and discrimination at the institution; her white classmates would not sit next to her during lectures. She strove for excellence, however, and ended up writing a groundbreaking master's thesis analysing the peculiar structure of the indigenous Oxalis species.
After being rejected for a botanical research position that she had already accepted at the Cape Technical College on the basis of her skin colour, Petersen was awarded the first South African International Foundation Research Fellowship to study at Syracuse University in New York, where she graduated with a master's in science education.
She then returned to South Africa, becoming the biology teacher at Livingstone High School, where she remained for 38 years.
UCT conferred an honorary doctorate in education on Petersen in 2011 when she was 88.
Ensuring that we don't repeat the mistakes of the past
"By telling the stories of Professor Mafeje and Dr Petersen – and the many other stories like them –we honour those who came before us," said Phakeng. "We also commit ourselves to making sure that it doesn't happen again."
Phakeng said that including narratives such as these in UCT's heritage recognises that the playing field has never been equal, and that much work is necessary to redress the imbalances of the past.
"We cannot move forward together as an institution until we stop, look at our past, acknowledge what's great about it, critique what's bad about it, and commit to moving into the future differently."
She concluded her address by reiterating the importance of having facilities like the Philippi campus of the UCT GSB Solution Space, so taking the university into communities that were marginalised in UCT's past.
"This space should challenge us as the leadership to make sure that our presence here is meaningful," she said.
---
This work is licensed under a Creative Commons Attribution-NoDerivatives 4.0 International License.
Please view the republishing articles page for more information.
---