Vice-Chancellor Professor Mamokgethi Phakeng has launched three substantial scholarships for women, focused on gender issues. The launch was part of a UCT National Women's Day event, For Womxn by Womxn, on 8 August, hosted at Graça Machel Hall.
Guests of honour were UCT Chancellor Graça Machel and former UCT Vice-Chancellor Dr Mamphela Ramphele.
Much of Phakeng's address to the over 200 top-level representatives of the business, political, diplomatic, academic, student, faith and civil society sectors was devoted to giving a voice to marginalised women in society, particularly queer and trans women.
Announcing the scholarships, Phakeng said that while these would target human capital development, they would also "help us rethink our views of gender in South Africa and give us new insights into ourselves and others in different communities".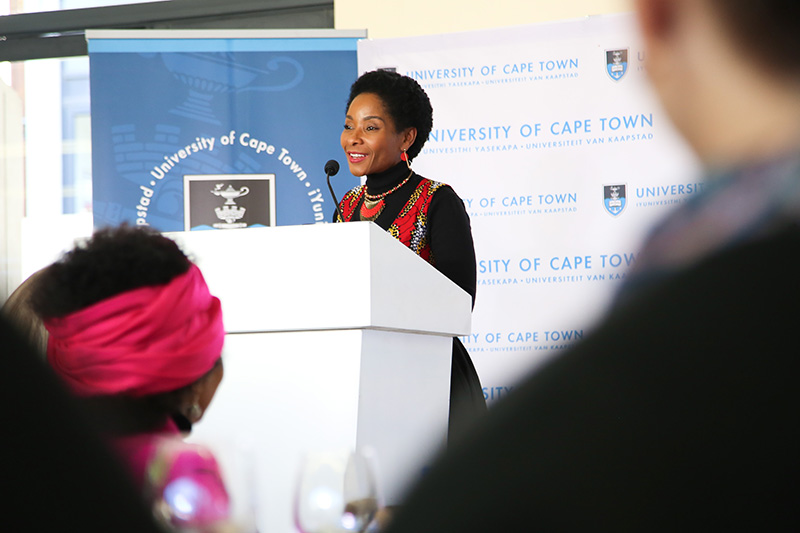 Call for proposals
The awards are up to R1.5 million a year for five years and are aimed at three areas of research.
The first, "Scholarship for womxn by womxn", focuses on areas of study where women are under-represented.
"The idea here is to grow the number of women in areas of study where women are in short supply. It's important that women are visible in all areas of study and not only areas of study that have to do with women issues," she said.
The second, "Scholarship for womxn by womxn on womxn", is for research in an area that focuses on women's issues and can include the intersection of gender with other marginalised identities.
The third, "Scholarship on re-imagining gender", will support research on transgender or nonconforming gender issues.
"These are people whose identities are outside the gender binaries many people are used to. We need to stop pretending that those people don't exist, and queerness is not African."
Later she raised the concern that "so many women and non-conforming genders are simply not seen, even on our campus and even by us as university leadership – and that is a problem we can address".
"As researchers and teachers, we can create the space for more women's voices to be heard – for their own advancement and for the advancement of others, to influence government policy and to help us learn how to make room for trans- and cisgendered women's voices and needs."
"So many women and non-conforming genders are simply not seen even on our campus and even by us as university leadership – and that is a problem we can address."
Phakeng said that while it was important to honour the Women's March on the Union Buildings in 1956, it was not enough to honour the past.
"We need to change the present and the future."
While gains had been made, too many women still bore the burden of inequality.
"Often, in forums like this, when you and I speak of women, we see a certain picture in our minds: women like ourselves, in our careers and families and spheres of influence, our places of worship, our children's schools, our neighbourhoods.
"But that picture can exclude many other women who deserve our notice – women who may be in our offices and communities, but are invisible, unheard, without a voice, without power."
Referring to the attacks on queer people in South Africa and the continent, Phakeng said more scholarship was needed on queerness "to inform how we should be doing our work and how we value each other, even coming from different points of view".
A voice to the marginalised
Phakeng said that these women, the silent majority, needed support and platforms to be heard.
"Our own young people are telling us this. The protests against colonisation and patriarchy and Western culture tell us we need to change our perspective, how we respond to students, to the knowledge we teach, to each other."
She said that the #MeToo movement had spelt change.
"At UCT and other campuses, students tell us they have lost patience with the inequalities they see in their homes and in society."
Education is one way of changing the world, Phakeng said, adding that she was proud of the role models UCT offered young women. Citing positive trends among the student and staff demographics, she said women were finding their place on the UCT ladder.
"Most importantly, we must ensure nobody is held back just because of their race, gender or sexual orientation."
Although fewer than 1% of students identify as transgender, they remain part of the UCT community.
"And we need to listen to them. As the UCT executive we want to develop a mutually beneficial relationship with the Trans Collective in our university … they are critical in the radical transformation of our campus."
The executive would work to ensure this group were fully involved, "not just for themselves, but to ensure that we live up to our vision of being an engaged, inclusive African university".
Vice-Chancellor Prof Mamokgethi Phakeng hosted a National Women's Day event at Graça Machel Hall, attended by residents, over 200 high-level guests as well as guests of honour, Chancellor Graça Machel and former VC Dr Mamphela Ramphele.
Phakeng said that launching three new scholarships was a gift to young women. Successful women had all received a gift from their mothers, sisters, grandmothers, aunts and their role models at school and during the struggle.
"That gift is the belief that they have something special to contribute; that they have talents and skills they can develop to reach their full potential. That they can get where they want to be. That is what I want every UCT student and staff member to know.
"As a university, as researchers and teachers, we can also give this gift to the world: creating opportunities for more of us, for more kinds of us, to have a voice. Women in positions of power and leadership have a responsibility to do the kinds of things that will build up our collective womanhood.
"I am committing UCT to that responsibility."
ʻWe failed'
Prior to Phakeng's address, Chancellor Graça Machel delivered a tour de force about gender violence and caring for the university staff. A visibly emotional Machel, who spoke without notes, said that the events of the past 10 days had left her in crisis.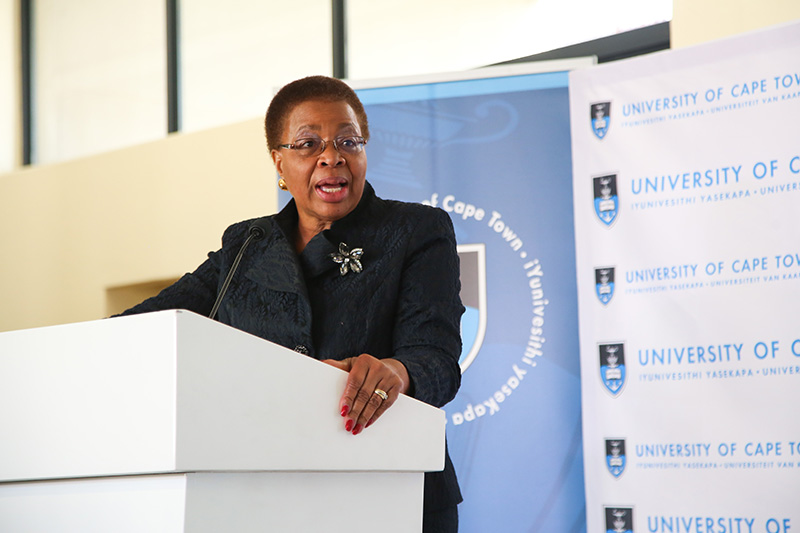 Machel said that the recent death of Health Sciences Dean Professor Bongani Mayosi had been "disturbing my conscience and consciousness in such a way that it is personal".
All the accolades she had received for her life's work would mean nothing, she said, if she were not able to address both the issue of gender violence in society and on campuses – and was unable to create places of caring for traumatised staff following the Fees Must Fall campaign.
Referring to the suicide of Rhodes University student Khensani Maseko after her alleged rape and the gender violence that dominated the news, Machel question the kind of women's rights for which she was advocating.
"After the events of the past few days, I have to admit, I am in crisis.
"I have been chancellor for the past 20 years and it never occurred to me to ask: ʻHow are we doing?', particularly after the turbulent times we had with Fees Must Fall. I knew that there were some of the management team, some professors, and some of the students who had been extremely affected by that. I knew… I did nothing …
"As Professor Phakeng put it, it was not wrong [the protests]. The point is what did we do to get a better assessment of the impact of that period on people, particularly those who were directly confronted with those situations?
"… we failed. We didn't do that. We dealt with the institutional issues, but we did not deal with the personal issues, which left people deeply affected, deeply wounded. And people have never recovered from that."
"We dealt with the institutional issues, but we did not deal with the personal issues, which left people deeply affected, deeply wounded."
Machel said it was no coincidence that the triumvirate of black women leaders – herself, Ramphele and Phakeng – were together at this juncture of UCT's history. There had been many transformations at the institution in their time. But in human relations, the university had not transformed. It would be unfair to believe the new vice-chancellor could transform the institution on her own.
Shoulders to stand on
Machel said she and Ramphele had to be the shoulders on which Phakeng could stand to do the things they had not. Together they committed to shaping initiatives such as safe spaces for women students to talk about relationships, sexuality and gender violence. The second initiative would be a system for the prevention of gender violence.
"Perhaps that's the assignment given to us, to find ways on campuses, first here in South Africa and then perhaps somewhere else on the continent, to begin to challenge this reality …
"It is the assignment you gave us, my beautiful daughter, when you invited us here, and we want you to know, these shoulders are here for you."
In her address, Mamphela said women leaders today could draw inspiration from Africa's richness as the birthplace of mankind and civilisation, and its traditions of science, biological science, maths, cosmology and leadership.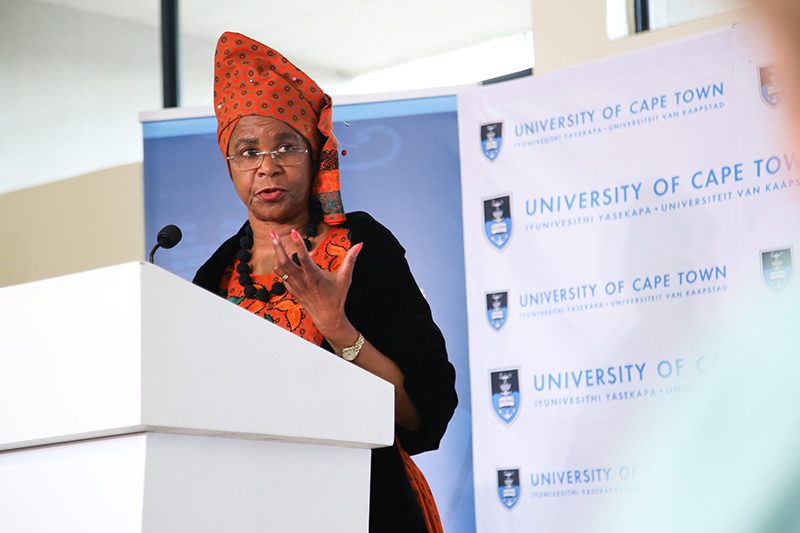 "The lack of knowledge of ancient African history has robbed the continent of the inspiration we need so desperately to inoculate ourselves against racism, sexism, chauvinism and injustices that still characterise our world view."
African culture had always been open to excellence in leadership, including by many queens: Queen Aminatu, a great Hausa warrior in Nigeria; Cleopatra and Nefertiti of Eqypt; Madeka, Queen of Sheba; Nandi, queen of the amaZulu kingdom; and Queen Ranavalona of Madagascar.
"You can't tell me that a continent with all those powerful women only knows patriarchy."
Ubuntu was also leading the way among great thinkers in economic development, who are turning to this ancient wisdom to "frame regenerative, inclusive development approaches in the light of extractive global economies as we know them today", she said.
" ʻThere I am because you are' is a profound statement of the inextricable interconnectedness of human beings."
Ramphele added that there was a need to draw from this rich heritage in order to frame "how to lead in a world in turmoil".
"Our VC has already taken charge of reframing our institution into a place where 'Nothing without us' will be the framing culture."
Women at UCT
The UCT executive currently comprises three women and one man.
Dean of the Faculty of Engineering & the Built Environment (EBE) Professor Alison Lewis is the only woman dean of engineering in the country.
31% of UCT professors are women; but while there are 76 woman professors, only 15 are black South Africans.
Just over 45% of full-time associate professors are women – those who are in line for promotion to full professors.
53% of full-time senior lecturers and 58% of full-time lecturers are women.
Four of five Junior Research Fellows at UCT are women.
Of UCT's eight P-rated researchers, five are women (all the country's P-rated women are at UCT).
53% of UCT's students are women and women students are the majority in the faculties of Health Sciences, Law and Humanities. Even EBE, a traditionally male stronghold, has just over 30% women students.
---
Womxn Research Grants
The information sheet and application form, as well as email addresses for applications and queries are available on the current funding opportunities page of the UCT Research Support Hub website.
Please note: the closing date is midnight on Wednesday, 5 September 2018.
---
This work is licensed under a Creative Commons Attribution-NoDerivatives 4.0 International License.
Please view the republishing articles page for more information.
---