To signal the University of Cape Town's (UCT) renewed commitment to cultivating inclusivity on and off campus, Vice-Chancellor Professor Mamokgethi Phakeng spent a day visiting a number of the health sites and community projects on the Cape Flats with which the university is involved.
These visits provided a platform for UCT leadership, health services partners and students to meet on common ground to discuss ideas and share future dreams.
The day's programme included visits to the Hanover Park Community Health Clinic (CHC), Mitchells Plain Hospital, Ubuntu HIV-TB Clinic in Khayelitsha, and the Desmond Tutu HIV Centre Emavundleni clinical research site in Crossroads.
With the first two sites providing learning opportunities for fourth- to final-year medical students, and the last two focusing on academic research, the visits provided a good overview of the work UCT has been doing in various communities throughout the metropole.
"As the new leadership at UCT, we felt it important to come and visit, connect with and get to know the people we work with in the community, the professionals who help train our students," Phakeng said.
These visits, she added, serve as an educational opportunity for the new leadership, and she hopes to make them more regular.
"We are interested in getting to know how the different health sites affiliated to UCT work, and the ways in which our students are learning and contributing."
"This is one of the things that distinguishes us as a university – this interaction in the community and paying attention to the root causes of health challenges."
Mutually beneficial to students and communities
During their internships, students not only get the opportunity to learn invaluable medical skills from professional clinicians, but also receive guidance in "softer" issues, such as communication and driving community projects.
Dr Renaldo Christoffels, family physician at the Hanover Park CHC, said his aim is to help the interns see patients with a range of pathologies quite common in the general population.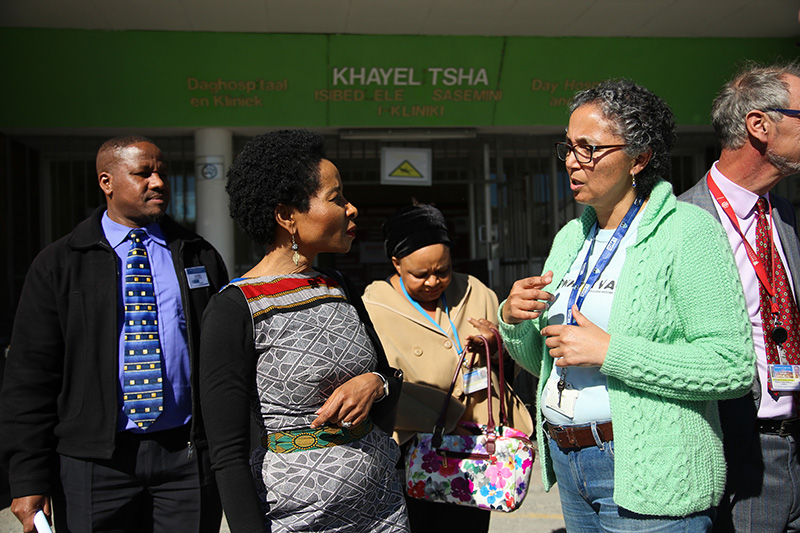 "Then, what we do is focus on the communication skills between [them] as future clinicians and the patient, and seeing the patient holistically in the context of family, community, etc," he said.
Mitchell's Plain Hospital site facilitator Christolene Beauzac-McKay said UCT students have played an integral role in initiating and running a number of successful community projects.
One of the most recent is the "Buddy-Buddy" system launched at local schools to help children deal more effectively with peer pressure that often contributes to substance abuse and teen pregnancy.
This system has worked so well that the Department of Education now hopes to roll it out to other schools.
"The students worked together with the Department of Education to develop a system where each grade 8 learner gets a grade 10 'buddy' upon enrolment," Beauzac-McKay explained.
"This alleviates the pressure, because they can have another person of the same age to talk to. When the grade 8 learner reaches grade 10, they take over the role of mentor."
Dr Ishaaq Datay, senior lecturer in health promotion at UCT, explained that they try to inspire students to become "change agents".
"This is one of the things that distinguishes us as a university – this interaction in the community and paying attention to the root causes of health challenges," he said.
Health Sciences Students' Council (HSSC) chair and fourth-year medical student Langa Twala was part of the group visiting the sites.
"As much as it is a cliché, many of us enter medical school with the ideal of helping people. So having these projects gives us a platform, opportunity and skillset to be able to do this in an organised and systematic way," he said.
Research partnerships are key
The university also plays an important role in expanding clinical research capabilities within communities.
The Ubuntu Clinic and Emavundleni Research Centre are in the first phase of running the promising HIV vaccine HVTN702 trial.
Adults aged between 18 and 35 who are at risk of contracting HIV have been recruited from the surrounding communities and will participate in the trial for 36 months.
According to public engagement manager Zandile Ciko, getting participants on board was no mean feat and required a lot of targeted community engagement.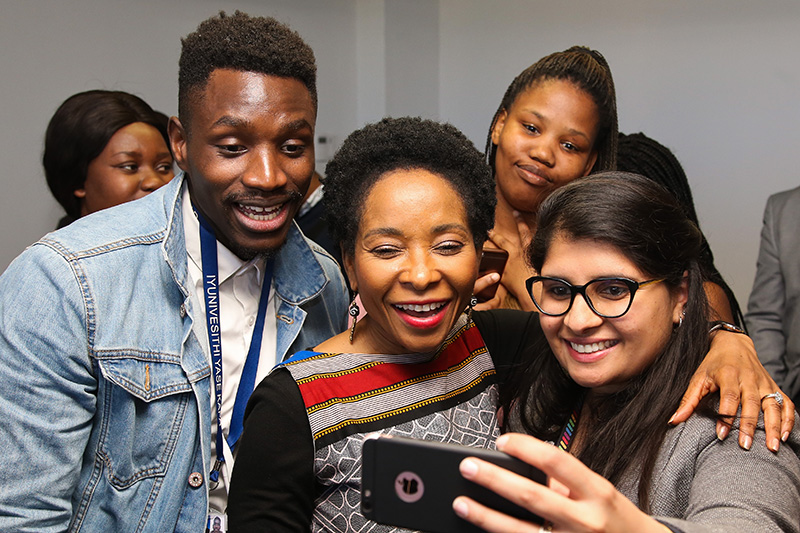 "We do a lot to engage with the community where they are and in ways that suit them best."
In the end, the participants were eager to join, partly because they will have access to a doctor on a relatively regular basis, but also because they want to be part of developing something that could combat HIV. Results of the trial are expected in 2021/22.
"The university leadership [will] set to work looking at ways in which UCT can partner with communities to assist in dealing with the challenges of crime."
Although UCT's Faculty of Health Sciences is making an impact, the health sites and local community representatives agree that they would like to see more involvement from other sectors of the university too.
Because many of these health facilities are located in areas where violent crime is endemic, there is a very real need for more social research to be done. This could help shed light on the driving forces and suggest potential interventions with a view to contributing to healthier overall communities.
Phakeng said that the university leadership would set to work looking at ways in which UCT can partner with communities to assist in dealing with the challenges of crime.
---
This work is licensed under a Creative Commons Attribution-NoDerivatives 4.0 International License.
Please view the republishing articles page for more information.
---