While the university moves forward in its campaign to achieve water sustainability into the future, UCT students and staff continue with water-saving efforts of their own.
Student society the Green Campus Initiative (GCI) has been pushing for the university to prioritise sustainability since its formation 10 years ago.
"Our vision is to have UCT a more sustainable and more environmentally conscious, aware and friendly institution," explained chairperson Refilwe Mofokeng.
Their work in this endeavour is threefold, spanning advocacy, thought leadership and applied knowledge through hands-on work. But encouraging students to get involved in the 'greenification' of UCT is not always an easy task, Mofokeng noted.
"We can inspire; we can talk, but how do we activate?" she said.
While saving water has already been a major thread in the society's 2018 activities, GCI is not directly involved in the university's high-level efforts to decrease usage and encourage water sensitivity. Nonetheless, the society has been quick to get involved and to put forward the student perspective wherever possible.
"GCI don't mind collaborating. We just want it done," said Fatima Mohamed, who heads up GCI's water-management portfolio.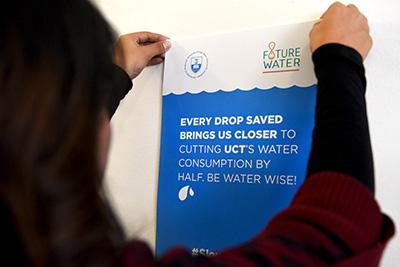 Driving water sensitivity
GCI members began their 2018 drive to promote water sensitivity on campus during Orientation Week. As part of a World Wide Fund for Nature (WWF) initiative, they asked students how they were using their allotted 50 litres per day, and how they were preparing for Day Zero.
GCI seeks to shape thinking around saving water. It continued this work during Water Week, which took place from 19 to 23 March. The week featured speakers from GreenCape, Guerilla House and UCT's Future Water.
"They apply their water-saving methods on different scales," reflected Mohamed. "But they were all talking about water sensitivity at the end of the day."
"Our vision is to have UCT a more sustainable and more environmentally conscious, aware and friendly institution."
"It is mostly to find out what people are doing, so we can spread that information … [and] just figuring out what it is we can do as a collective. It makes it more realistic, more attainable," she said.
To help in driving solution-based discussions, GCI also plans on establishing a water forum during the second semester. The forum will be open to anyone who is interested, and its results will be made public to the university. The purpose of this forum is to compile a list of pressing issues, and solutions to those issues, so that GCI can table these with the university.
The water-sensitivity campaign is one of GCI's three main projects for 2018. They are also working to build and maintain a permaculture food garden and to increase recycling at the university.
Know your usage
In order to implement meaningful water-saving solutions, the university needs to have an understanding of its current water use.
GCI is involved in a project that is mapping water use on UCT campuses. This had been a near impossible task, explained Mohamed, but the installation of new digital meters will make measurement far more manageable.
"We are still trying to figure out how exactly we are going to go about it," she said, but GCI's role will likely be in the capturing and collating of this data.
The project hopes to uncover what exactly UCT staff and students are using water for. If water use is high, users will be asked to account for this. The same questions will be asked of buildings that have been able to successfully cut down their water usage.
Finding the green
GCI society members are not homogenous in their green ideals. Within the GCI committee, some individuals are invested in going zero waste while others are prioritising conservation, battling plastic or saving water.
It was a love of sustainability that brought commerce student Mofokeng to GCI in her first year at UCT. While she plans to align her interests with her studies at a postgraduate level, "right now, being, working with people who are passionate about the environment and who actually want to do something about it [is what] I've loved the most about being a part of GCI".
"I think people don't even think about sustainability. It is something we don't think about until we have a crisis."
She is interested in the green economy and urban greening: looking at how sustainability and economics can be paired, and filtered down to all levels of society. Her pet project for the year is a recycling awareness campaign, which she hopes to realise in a rich visual format.
"I think people don't even think about sustainability. It is something we don't think about until we have a crisis," she said.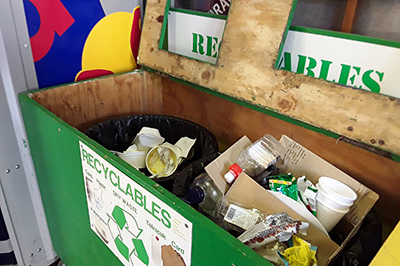 The campaign will be centred on displays and infographics that allow the UCT community to visualise their waste.
"I think the problem is, we use it, we throw it away and we forget about it. So, people aren't really conscious about it."
With the university's change to a different waste management company, the institution delved into its recycling statistics.
"[UCT] realised that recycling is at 6%, which is actually shocking. And people are very apathetic to it," Mofokeng stated.
Getting involved
Speaking to her own journey of going zero waste, Mohamed urges others to always be prepared. "You need a 'just in case' kit," she says. This means keeping a shopping bag with you, just in case, or taking a container to restaurants, in case of leftovers.
"It's about being that weird green person, and not being shy to do it," she said.
"I tried water-saving methods before the water crisis, and at first my sister was like, 'Ew, what are you doing? How can you not flush every time?'
"Just do whatever you can. Every small bit makes a difference and I think that's what people need to realise."
---
This work is licensed under a Creative Commons Attribution-NoDerivatives 4.0 International License.
Please view the republishing articles page for more information.
---