Poor adherence by the campus community to separating wet waste and recyclable material is turning the university's waste management system into an ecological mess. The situation needs urgent attention, say UCT's waste management contractors.
While the focus has been on water saving on UCT's campuses in recent months, the waste management system has been declining steadily over the past 24 months − despite the waste facilities and procedures in place, says Noelene le Cordier from Properties and Services.
The biggest problem is that wet waste − food and perishables − is being discarded in green-lidded bins meant for recyclable material. This contaminates the salvageable items and creates health hazards for UCT's waste contractors: Smart Waste and Waste Control.
Contamination creates significant seepage from the waste bags, breeding maggots and flies and other impurities.
Yellow and green flags
UCT follows a simple recycling regime: yellow-topped bins are for wet waste and the green-topped bins are for recyclable items such as glass, paper, plastics and metals. The two should not be mixed.
This is the reason the bins require specific plastic liners: black bin liners are meant for wet waste (in the yellow-lidded bins) and clear bin liners for recyclable items (in the green-lidded bins).
Wet waste is the biggest issue. In residences, waste food is collected and taken to AgriProtein's fly farm. The company rears fly larvae on an industrial scale. The organic waste feeds the larvae, which are harvested to make high-protein animal feed, replacing fishmeal products.
However, the public spaces on campus, such as food courts, are areas of concern for the sheer volume of wet waste and recyclable items generated. In both academic and Professional, Administrative Support and Service (PASS) departments, waste management procedures are often not followed in kitchens and rest areas or at work stations.
"The entire campus community needs to understand what is going on and what items can be recycled," says Le Cordier. "There is overwhelming evidence that the manner [in which] waste is being handled is causing direct contamination of potentially recyclable waste."
The problem has extended to general litter and is compounded by building and service contractors not removing extraneous materials, waste and rubble from sites on campus.
"Our gardens and maintenance team spend most of their time clearing litter when they should be attending to the gardens and landscape," says Le Cordier.
"Our gardens and maintenance team spend most of their time clearing litter when they should be attending to the gardens and landscape."
Each person on the campus should be asking: 'What can I do?' "
Legal implications
Efficient recycling is not only a green issue, says Le Cordier.
The waste management situation needs to reflect UCT's academic contributions to the areas of sustainability – a large body of scholarship on the subject, from poverty reduction to climate change and water management.
In addition, there are legal implications for UCT as a responsible corporate citizen and signatory to the Talloires Declaration, which commits the institution to sustainable practices that include energy and water savings and waste management and recycling.
Legislation also requires that all institutions and businesses recycle 75% of their waste. UCT is some way off the mark.
"This is not sustainable," says Le Cordier.
By recycling 75% of its waste, UCT could be generating an annual income close to R1 million.
Hats off to waste champions
There are many on campus who do follow sound waste practices. The student-led Green Campus Initiative is doing some sterling advocacy and education work in the university community.
Le Cordier strongly recommends that academic and PASS departments elect waste management champions to set up sustainable waste management practices in their offices.
The first step is to provide separate bins for recyclable items and wet waste (particularly in kitchens).
The Department of Molecular and Cell Biology has taken this message to heart. MSc student and Postgraduate Research Committee (PRC) chairperson Ash Parker reports that the committee has undertaken to make the department more environmentally conscious.
In 2016 the team secured 26 identical packaging boxes and spray painted "MCB" and recycling logos on the outsides. These were distributed to all labs and a system was established for waste to be regularly taken to the recycling unit. In addition, a recycling bin was placed in the tearoom to collect wet waste.
"Each lab now has two recycling bins: one for office paper only and one for general recycling of non-contaminated packaging. There are two large black bins dedicated to white paper and other recyclables on the fourth floor. The aim is to put one of each of these on each of our four floors."
The committee also ensures that recycling facilities are available at all its events.
They haven't stopped there. The committee has taken up the issue of water usage and has met with senior staff.
"We have spoken to the department at large with respect to better water management. Of the two ice machines in the building [ice is used in experiments], one has been shut down while the other has been placed on a timer so we don't produce unnecessary volumes of ice. Ice used for experiments is also now kept frozen in fridges for reuse rather than being discarded."
MSc candidate Nina Esterhuysen adds: "Each lab has their own recycling box supplied by the PRC, which is then emptied into one of two big black bins (a white-lidded one for office-paper recycling for which we receive a rebate, or a green-lidded one for all other recycling) by a member of the lab when it is full. One of our incredible campus cleaning services staff members, Michael Mcwabe, then takes the green-lidded bin to the waste depot."
To minimise waste, the Department of Accounting produces booklets for the department using excess paper waste. Incorrectly bound books are distributed to a school in Vrygrond for use as scrapbooks or exercise books.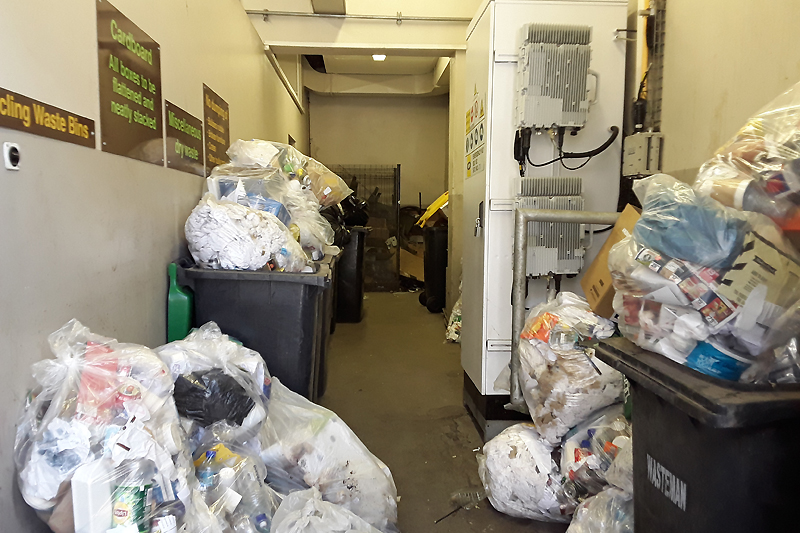 What you should know:
Bins with yellow lids are for wet waste. These should be fitted with black bin liners.
Bins with green lids are for recyclables: glass, metals, paper and plastic. These should be fitted with clear bin liners.
It is everyone's responsibility to keep wet and recyclable waste separate.
---
This work is licensed under a Creative Commons Attribution-NoDerivatives 4.0 International License.
Please view the republishing articles page for more information.
---