In the run-up to the June 2015 graduation, we profile some of the research done by PhD graduates from December 2014. Meet Penny Driver, who was working in financial mathematics for a merchant bank when a UCT talk on climate change inspired her to register for a doctorate in ocean and atmosphere science, looking specifically at rainfall variability over Southern Africa.
Breaking completely from her career in financial mathematics, Driver's research has provided a better understanding of the relative influence of different factors on rainfall variability over Southern Africa, which can in turn improve forecasting ability.
Driver's research reflects her interest in rainfall patterns – which holds significant sway over the livelihoods of the many people who live on the subcontinent.
Her thesis shows that closer attention should be paid to the Botswana high and the Angola low as these features are linked to both rainfall in the region and the El Nino Southern Oscillation (ENSO).
"There is evidence that the Botswana high may be closely linked to rainfall anomalies over Southern Africa during neutral ENSO years. Taking cognisance of this factor may help with forecasting, which is currently heavily reliant on ENSO."
There is a lot of debate surrounding predictions of this nature, Driver adds.
"Many studies suggest that extreme rainfall events are increasing and we can expect an increase in both drought and flood-type events."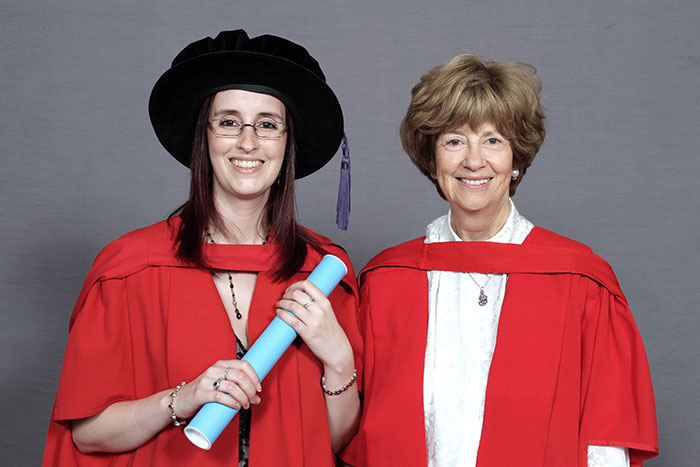 In the family: Dr Penny Driver at her graduation in 2014, photographed with her mother, Prof Kathy Driver of the Department of Mathematics and Applied Mathematics, and former dean of the Faculty of Science.
Penny Driver has a BSc Honours in Mathematics from the University of the Witwatersrand and an MSc in Mathematics from Louisiana State University. Before tackling her PhD, Driver worked in financial mathematics at Rand Merchant Bank, but a talk on climate change by world-renowned scientist Professor George Philander inspired a fascination for the topic.
"George Philander is a marvelous speaker, as were all the other presenters during the climate change workshop I attended at UCT while still working at RMB. I was taken by the enormity of the importance of climate change."
The PhD journey was not without challenges. Driver had never studied the subject before, which required some "catching up" before she could interact with her colleagues.
"I was determined to stay away from modelling and programming, so of course that's what I ended up doing and, inevitably, I enjoyed that aspect of my research the most!
"Coming from pure mathematics, the fact that everything I was now learning was orientated towards applications also took some getting used to. It was a steep learning curve, but very rewarding."
Driver also pays tribute to her mother, Prof Kathy Driver of the Department of Mathematics and Applied Mathematics, and former dean of the Faculty of Science.
"I got my mother's mathematical ability and my sister, an advocate, got her amazing memory. My mother had lots of great insights into the PhD process and was an amazing support for me during my studies. She also helped me to proofread my thesis – a true labour of love!"
[Penny Driver's main supervisor was Professor Chris Reason (oceanography) and her co-supervisor was Dr Babatunde Abiodun (Environmental and Geographical Science).]
Story by Helen Swingler
---
This work is licensed under a Creative Commons Attribution-NoDerivatives 4.0 International License.
Please view the republishing articles page for more information.
---