The Daily News caught up with two of 2013's top-performing matriculants, Sanele Mdlalose and Lwazi Shezi, both studying actuarial science at the University of Cape Town. They spoke to Nosipho Mngoma about student life, and how they cope with their demanding course.
Sanele Mdlalose
Achieving first and third place for physical science provincially and nationally respectively does not mean an easy ride when you get to university, says KwaZulu-Natal 2013 top matriculant Sanele Mdlalose.
The 18-year-old from KwaMashu achieved eight distinctions and full marks in physical science and mathematics, earning him a place in the University of Cape Town's actuarial science programme.
"It's different from other courses; it's very demanding, and I needed to adjust, as the requirements are very high," he says.
Mdlalose was the only pupil from JL Dube High School in KwaMashu to be invited to the national 2013 matric results announcement ceremony, at which he was named the third-highest achiever in physical science.
Mdlalose is the last-born of 11 children, orphaned when their mother died in 2006 and their father the next year.
He studied and wrote matric while living in a church cottage supported by welfare grants and his aunt. Despite his difficult circumstances, Mdlalose says, he decided to apply himself to school and excel in memory of his parents; and was inspired by his sister, Thembela, studying geology at UKZN.
Sanele Mdlalose
"Coming from a township school, I wasn't used to extracurricular activities anyway, so I never felt like I missed out; but I wouldn't spend time with other boys."
Mdlalose says there have been significant changes in his life since starting tertiary education.
"I can socialise more freely with my peers because here (UCT) we are all at the same level, no-one mocks you for spending weekends studying.
"There are a lot of smart people here. At school, I was known as the smart one; but when you get to university, you are one in a crowd. It's all about effort, and making sure you put in hard work to ensure your success," he says.
Mdlalose is coping well with his studies, working through the challenges. "I looked at where I lacked, identified the areas I found challenging, and worked on them. If I am stuck, I go to my lecturer for advice."
However, he does wish someone had told him what an adjustment university would be. "I wish someone had told me to develop a study plan, to revise daily. The way you did things - the way you study in high school - is very different. University study requires a lot of time; but it's doable."
Mdlalose dedicates so much time to his studies, he barely has time to talk to family. "They have always supported me and check up on me often, even when I am very busy. They supplement my bursary when I need extra money."
Mdlalose believes this is the next chapter of his self-discovery, and advises matriculants to prepare well for "life on your own".
Lwazi Shezi
Lwazi Shezi was a 2013 matriculant who was familiar with life on his own.
At just 16, at Velabahleke High School, Shezi - one of the youngest matriculants in the country - achieved 10 distinctions, including 100 percent in accounting and mathematics. He also obtained third place nationally for mathematics.
The pint-sized genius is also studying actuarial science at UCT. What attracted him to the course was his love for mathematics.
"My degree is about the science of money; it combines my favourite subjects - maths, accounting and economics," he says.
From his home in Port Shepstone for the holidays, Shezi says adjusting to life at university has not been too difficult for him. He had studied and lived in Umlazi on his own.
"I was used to living on my own; but in June, when I went back home for the first time since going to varsity, my parents asked me a lot of questions. It was like I needed to re-earn their trust that I was doing the right thing and applying myself to my studies," he says.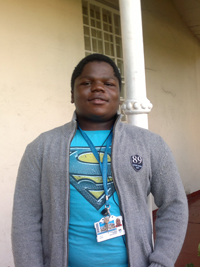 Lwazi Shezi
But even for this independent teenager, there were some challenges.
"At Velabahleke we had class time and study time; and if you were not there, you got into trouble. When I got here (UCT) all of a sudden, no-one notices if you're not in class, you have to manage your own time and exercise self-control," says Shezi.
So as not to be tempted to let his studies fall by the wayside in favour of the 'varsity life", Shezi keeps to himself: studying, reading or sleeping.
The 17-year-old says he also feels under pressure because his reputation preceded him. "My achievements in matric put a lot of pressure on me, and people - even my fellow classmates - expect a lot from me. That sometimes leaves me feeling insecure," he says.
Shezi has successfully completed his first year, but says that if he could turn back the hands of time, he would listen to, absorb and apply everything his high-school teachers had told him about life beyond matric.
"My principal, Mr (Mbongeni) Mtshali - that man is a national hero in my eyes. Besides teaching, he gave us a lot of great advice."
Shezi has advice for 2014 matriculants entering tertiary education. When choosing their course, he recommends, "it's very important to use all the support services at your varsity."
Shezi also urges the hundreds of thousands who will attend tertiary institutions to remember where they come from, and why they are there.
Story first published in the Daily News. Photo of students in lecture theatre by Michael Hammond.
---
This work is licensed under a Creative Commons Attribution-NoDerivatives 4.0 International License.
Please view the republishing articles page for more information.
---