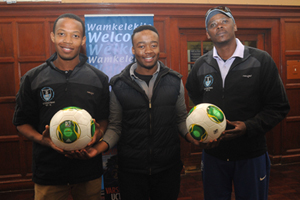 Eyes on the ball: (From left to right) Mcebisi Mtshali (captain, UCTFC), Velani Mboweni (vice-chair, UCTFC) and Monwabisi Ralarala (coach) at the launch of a new inter-varsity football competition on Upper Campus.
The Green Mile is accustomed to taking a beating from hefty rugby players, but, tonight, UCT's Groote Schuur fields will host a different game.
The UCT men's football team's clash with their counterparts from Nelson Mandela Metropolitan University (NMMU) is a milestone for the ground, being UCT's first home match in the inaugural Varsity Football Challenge.
Lukas Metzmacher, a UCT winger, was confident that he and his teammates could go one better than their 1-1 draw away to the University of the Free State in the first round of the competition last Monday (22 July).
"We're definitely going to be have to improve on Monday's performance in order to win our next match, but there is no doubt that we can do it," Metzmacher told varsitysportssa.com. "We've been training hard and we have the talent."
NMMU will be on a high after beating UCT's local rivals from the University of the Western Cape last week.
For a team that the official Varsity Sports SA website described as "dark horses", UCT would not be dissatisfied with sharing of the spoils at a venue as intimidating for visiting teams as Shimla Park in Bloemfontein on 22 July.
The deadlock left UCT in joint-fourth on the embryonic log, which did no harm to coach Monwabisi Ralarala's target of a semi-final spot. UCT's Wisy Namaseb had equalised for the Capetonians with a classy chip after UFS took the lead early in the second half through Unathi Mabandla, who scored a penalty.
The Varsity Football Challenge pits the country's top eight university football sides against each other in much the same way as the rugby, athletic and hockey versions of the competition do.
"This is a competition that is growing and that will pitch you against the best in university sport," said Jonathan Stones, head of sports and recreation at UCT, at a UCT-hosted media briefing on 17 July.
"This is it. This is the moment we've been waiting for," beamed Velani Mboweni, vice-chairperson of the UCT Football Club. "We're very excited. This is an opportunity to play against the likes of Tuks, Wits, NMMU ' it's an opportunity to get exposure."
While the team is considered underdogs by some, the players were "fit, strong and confident," said Mboweni.
Much of this fitness was achieved through gruelling pre-season training during the winter vacation, and the players were chomping at the bit to get going.
"All that's left is the most important thing: to represent the university and ourselves with pride," said team captain Mcebisi Mtshali.
"Every player on the team and every member of the football club wants to perform as well as we possibly can in order to promote this university. This is our chance as a football club to show that [UCT students] go beyond being elite students [academic-wise], and also be elite sportsmen.
Mtshali, while realistic about his team's chances, bullishly refuses to accept any underdog tag.
"No one enters a competition thinking that they're not going to win," he said. "We know that we're going up against top teams, but we've got confidence."
UCT head coach since 2011, Ralarala said the tournament presented opportunities for the development of both players and coaches.
"It's a good opportunity for the players because, to be honest, they're all amateur players, and this tournament helps them see why they play the game and brings a sense of professionalism. It's also an opportunity for us coaches to display what we can do.
"We are going to be competitive in this tournament," he insisted. "We've got the ability to do so, even against those universities that have full-time football programmes."
Ralarala said before the match that the team would be satisfied with a top six finish, but were keeping an eye on the semi-final places.
Kirsten Nematandani, president of the South African Football Association (SAFA), described the competition as a "very exciting initiative".
"The inaugural Varsity Football competition is set to unearth hidden talents at tertiary level and it carries the full support of SAFA," said Nematandani. "We are blessed to have so many top universities competing and look forward to the competition growing from strength to strength. We also await the addition of the women's version in the near future with great anticipation."
Story by Yusuf Omar, picture by Raymond Botha
---
This work is licensed under a Creative Commons Attribution-NoDerivatives 4.0 International License.
Please view the republishing articles page for more information.
---