'Don't take the city out of the food security question'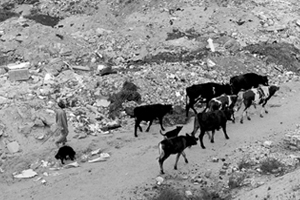 A man directs a herd of cattle along a dirt road in Nyanga Township. Nyanga, Cape Town, Western Cape, 1996.
The battle for access to food is often felt most keenly in African cities, yet traditional approaches to food security, with their focus on the production end, seem unable to respond to this challenge. So said UCT doctoral student Gareth Haysom, who presented his research at a recent seminar entitled Food Security and Place-Based Governance – Alternative food geographies and the city. He points out that solutions to the growing problem are spoken of in purely agricultural terms, without taking spatial issues into account – it's more complex than that.
"The discourse it is in is a reductionist paradigm; it's just about whether there is enough food or not," he said. The reality about why some people can pick and choose between various delicacies while others starve is far more nuanced and has much to do with the dominant economic and geographic system, he continued.
Instruments to measure food security ask questions mostly pertaining to who has food and who doesn't, he said, but none tackle questions of why people have no food.
Food, said Haysom, has become a commodity, with markets favouring the producer over the consumer. The focus is on growing 'enough' food, but the chain of how food gets to consumers and how consumers engage with products on the shelf is "very seldom" engaged with.
The places where food insecurity typically have the most devastating effects – cities, and particularly African cities – are thus overlooked in these traditional approaches to the problem. The local scale is the critical point at which food security needs should be addressed, Haysom added.
"How do cities engage with this problem when the food question doesn't vest with the city?" he asked. With many of the people affected by food insecurity residing in cities, the focus on the rural sector when addressing the problem limited cities' powers to bring about significant change.
Another obstacle to solving the food insecurity crisis is that the phenomenon is spoken about using a predominantly Northern discourse, which does little to appreciate the nuances of the challenge in the global South, said Haysom. While there are possible lessons to be taken from experiences in the North, these need to be adapted to Southern cities' unique contexts.
In addition, the problem is typically addressed in an 'aspatial' manner, and – with a few exceptions – the particulars of city living are not taken into consideration sufficiently when solutions are developed.
Alternative approaches
Different methods are needed to successfully tackle food insecurity, and Haysom described four of the dominant so-called 'alternative' food geographies. The first, informed by an "activist ethic", focuses on production issues, arguing that organic crops be favoured over genetically modified produce, and rejecting developments such as biofuels and "corporate agriculture".
An "end-user focus" typology that Haysom says is "best described as the food justice movement" prioritises food safety, sovereignty and quality, and favours small and family-run farms over globalised food corporations. Next, the "green focus" aims to ensure that consumers' rights to safe and nutritious food are protected, but tends to work within the "existing overall system" without questioning its basic logic.
Finally – and Haysom argued that this is the most useful – the "spatial focus" group is concerned mainly with the relationship between place and scale, and how food governance operates on a local scale. By focusing on food democracy and the "replacement of food within its social, cultural, economic, geographical and environmental contexts", this method "enables new and novel ways of imagining food systems", said Haysom.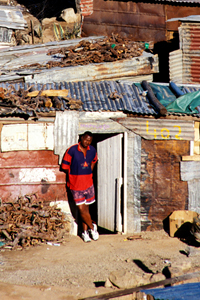 A resident stands in a squatter camp situated next to a grape farm in the Hex River Valley. The settlement developed because of employment opportunities on the surrounding farms. Hex River Valley, Western Cape, 1998.
Role of the state
After studying 176 such food policy structures in the United States and 64 in Canada, Haysom concluded that those systems offer opportunities for Southern cities to learn some lessons and then adapt them to local contexts. In the US, the city governance structures and independent actors both played a role, while in Canada, national legislation allowed cities to play a greater role in tackling food challenges within their boundaries. The focus in Canada was on the right to food and how cities react to their residents' right to food.
"They had started engaging with groups in the city that dealt with this issue," said Haysom, adding that this sparked wide-ranging discussions with various actors in the food production and distribution channels. "There was a really strong focus on the city doing more to ensure people had enough of the right kinds of food."
Ideally, he concluded, African states would play an active role, collaborating with other players in the food process, providing funding and observing their "legal obligation to take all reasonable means possible to uphold the right to food".
Story by Yusuf Omar
---
This work is licensed under a Creative Commons Attribution-NoDerivatives 4.0 International License.
Please view the republishing articles page for more information.
---