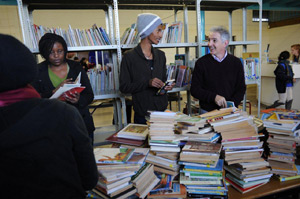 Book worms: VC Max Price joins UCT students and other staff to catalogue books in a library in Khayelitsha.
UCT students and various faculty members were sorting out library books, painting toilet walls, erecting a fence around a vegetable garden and picking up playground rubbish all in the name of Nelson Rolihlahla Mandela, who celebrated his 95th birthday this week.
The students enthusiastically participated in Mandela Day activities organised by SHAWCO in Nyanga, Manenberg and Khayelitsha. SHAWCO worked in collaboration with other student organisations like the SRC, UCT Radio and RAG, and the Green Campus Initiative, to get as many students as possible to give up 67 minutes of their day in service of those less privileged than themselves.
SHAWCO's Julia Norrish, who organised for students to help at the Walter Teka Primary School in Nyanga believes the "67 minute intervention is as much a service to the UCT students as to the learners at the school. The students get some first-hand experience of what goes on in the communities around them," she comments.
Lorne Hallendorff, SRC president, hopes students will be inspired to go beyond just giving 67 minutes of their time on Mandela Day. "The real value lies in awakening a desire to serve humanity more generally and in everything you do '" and not just for 67 minutes on Mandela's birthday," he adds.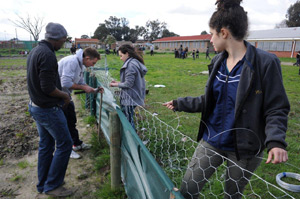 All out for Madiba: These UCT students did their 67 minutes of service at the Walter Teka Primary School in Nyanga. Students put up a garden fence and painted the toilet walls. This was one of the many Mandela Day initiatives organised by Shawco in collaboration with various other student organisations.
Dennis Duko, deputy principal of Walter Teka Primary School, believes that by coming out to the school and helping the students gives out a message to the 741 children at the school that they are valued. He is confident that the student's action will have an impact on his school.
The school's staff in turn gave of their own money to ensure that the food that the children are served at the school is given some extra spice and some of the teachers volunteered in the kitchen that prepared the food for the children.
Jonathan Humphrys (22), an actuarial science honours student, says he was motivated to come out and help after watching a youtube video in which Sir Richard Branson urged people to go out and serve their fellow human beings on Mandela Day. When asked what he would say to Madiba if he were to meet him, Humphrys says, "I won't have much to say. I'd thank him for what he did for us and just tell him how much I respect him."
Text: Abigail Calata
Picture: Michael Hammond
UCT students and staff joined hands on Mandela Day to contribute 67 minutes of their time to helping their fellow South Africans. For more on their experiences, see the videos below:
---
This work is licensed under a Creative Commons Attribution-NoDerivatives 4.0 International License.
Please view the republishing articles page for more information.
---