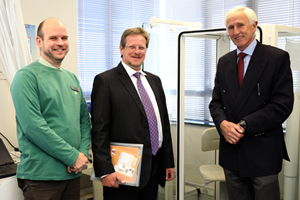 Calling for innovation, collaboration and partnerships in healthcare during his recent visit to the UCT Lung Institute, MEC for Health in the Western Cape Theuns Botha said the province aimed to become the best-run regional government in the world, with wellness-focused health interventions.
The fact-finding visit by the MEC was a first for the institute and followed the minister's request to learn more about the hub for pulmonary research in the country in order to tap into leading-edge work and foster closer relationships with the institute.
"You've succeeded in creating an international centre of excellence and this is what we want in different health disciplines: to ensure that we create the best in the province," Botha added.
UCT established the institute 13 years ago, under the helm of director Emeritus Professor Eric Bateman as a custom-built research facility that's part of the Faculty of Health Sciences' platform for teaching and learning, but also a separate company addressing community health needs.
The institute has been instrumental in changing the way asthma is monitored and managed worldwide, provided innovative training and task-shifting in the management of common lung diseases and HIV/AIDS in Southern Africa, and provided gold-standard consulting on allergies.
Following a brief overview of its activities and achievements Bateman took the minister on a tour of the facilities and its five clinical research units.
A National Research Foundation A-rated scientist and recipient of an Alan Pifer Award (2012) for research that benefits society, Bateman embodies the institute's goals: excellent research that uplifts society.
The community focus fits snugly with the MEC's focus on creating wellness centres and services in the province, where the spotlight will be on preventative measures, said Botha. These would include annual check-ups for the public, which would extend into schools.
"We want to hear from you where lung health would fit into these wellness centres,' said Botha.
Show and tell: (From left) Dr Richard van Zyl-Smit, head of the Lung Clinical Research Unit, Theuns Botha, MEC for Health in the Western Cape, and Emer Prof Eric Bateman, director of the UCT Lung Institute, view a body plethysmograph, used to measure lung function in studies of risk factors for lung disease in the South Africa, during the minister's fact-finding visit to the Institute.
Story by Helen Swingler, picture by Michael Hammond
---
This work is licensed under a Creative Commons Attribution-NoDerivatives 4.0 International License.
Please view the republishing articles page for more information.
---