As part of Africa Month, there was an exhibition of 70 hand-made bags by first-year students of the Michaelis School of Fine Art in the Richard Luyt Room (iKhaya Day House) whose creations sought to bring together three concepts:- African identity, health promotion messages, and sustainability.
The "Unibag" Competition, as it was known, emanated from a collaboration between the HIV/AIDS Institutional Co-Ordination Unit (HAICU) and the UCT Africa Month Committee under the chairmanship of Professor Thandabantu Nhlapo and Fabian Saptouw, a lecturer in Fine Art at Michaelis.
HAICU curriculum integration officer Sianne Abrahams explained the concept behind the collaborative creation of the Unibags was to allow students to come up with innovative ways of bringing together the themes of environmental awareness and health promotion in a way that marked Africa Month, and celebrated African heritage and culture in a positive way.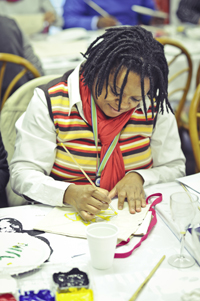 The Transformation Committee of the Office of the Vice Chancellor (OVC) hosted a workshop on 16 May. OVC UCT staff were invited to participate in creating of a Unibag to stimulate critical thinking around our identities, position and roles in Africa. Pictured here is Norma Derby (IAPO) creating her Unibag.
"We wanted students to learn about combining African iconography together with health promotion messages in a goal-oriented design task and thereby applying design theory in practice. The process of creating Unibags, using a variety of materials, enabled students to integrate their knowledge of health promotion theories and environmental issues in a tangible way," explained Abrahams.
Saptouw, who led the initiative, spoke on the plaza together with Nhlapo about the goals of the project, sharing the concepts with a wider UCT audience. Saptouw and first-year fine art students have previously collaborated with HAICU's project officer, Lucina Reddy, designing installations at UCT around HIV AIDS and sexual concurrency, and HIV/AIDS stigma.
"It was gratifying to see that students rose to the challenge in creative ways and were able to present messaging that promoted health in a way that did not just reproduce stereotyped images, but sought to provoke critical thinking about health and identities in Africa," said HAICU director Cal Volks.
Students used a variety of materials including barbed wire, plastic bags, animal dung and even mielie pap. Nhlapo, who judged the competition, reflected on the work saying: "This is Africa Month in a nutshell. These students performed beyond my wildest expectations."
---
This work is licensed under a Creative Commons Attribution-NoDerivatives 4.0 International License.
Please view the republishing articles page for more information.
---