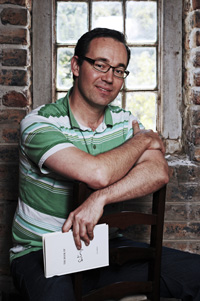 Unique voice: Thomas Minnaar's PhD explores the works of Jewish poet Olga Kirsch, who wrote in Afrikaans.
When Thomas Minnaar wasn't working towards a taxing PhD in Afrikaans, he doubled up as a copy editor on the tabloid newspaper, Die Son Op Sondag.
The two facets of his work with words may surprise on first meeting with the softly-spoken expert on the life and times of Olga Kirsch, the only Jewish poet to write in Afrikaans.
Kirsch was born and brought up in Koppies in the Free State. Her father had emigrated there from Lithuania, and though a Yiddish-speaker, brought his daughter up to speak English. Nevertheless, she wrote in Afrikaans, publishing several books of poetry in that language, as well as a volume of selected poems (she was only the second female Afrikaans poet to be published).
Minnaar says he chose Kirsch after reading an article about her in 1994, based on a new collection of her poetry.
"Her poems struck me, and I decided to do my PhD on her."
This German and Afrikaans major says Afrikaans has always been his passion. "It's my mother tongue, and the one I know best."
He says there is a purity to Kirsch's poems that appealed to him.
"She was an old-school poet, who stuck to tried-and-tested structures in her writing; and she is unique, in that she is the only Jewish poet to write in Afrikaans."
He talks of Kirsch's "yearning to be belonged", and says this comes through in her poetry. "She had an in-between voice. She was not quite an Afrikaner, but she spoke to the heart of Afrikaners."
Kirsch wrote some of the first protest poetry in Afrikaans, against the nationalism that was taking hold in South Africa at the time. Her second volume of poems was published in 1948, the year the National Party came to power, and she emigrated to Israel that same year, partly as a protest against the Nats, although several other factors also played a part in this decision. One of these was that she was a Zionist, and wanted to help build the fledgling country.
Kirsch also published a book of English poems about her granddaughter, who died at the tender age of 10. Minnaar describes these poems as "very personal, and very sad".
The most satisfying aspect of his research was the bits he translated from Yiddish. UCT was a clear choicei for his PhD.
"Joan Hambidge, the very famous Afrikaans poet, was my supervisor; and I chose her because she is formidable. She is the best there is."
Of his tabloid life, Minnaar says he finds his job at Die Son Op Sondag "very satisfying indeed".
"Working for a tabloid is a great escape."
---
This work is licensed under a Creative Commons Attribution-NoDerivatives 4.0 International License.
Please view the republishing articles page for more information.
---