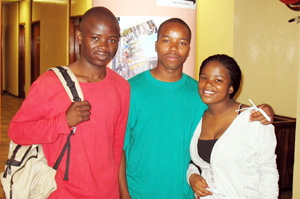 Good news story: Hlayisi Baloyi (left) graduates as a chemical engineer after his dreams of studying at UCT were almost scuppered four years ago. (This photograph taken four years ago with classmates.)
When Hlayisi Baloyi arrived in the big city from a dusty, nondescript village in northern Limpopo four years ago, sans an ID book, with nowhere to stay, no-one could have guessed just how well he was destined to perform.
His is a story of courage and determination, and of others' kindness towards a young man with not much except a fine intellect and dream to become a chemical engineer.
On 13 December, Baloyi will graduate with proud mom Asnath in the hall. Asnath has never been to a city before - and never flown in an aeroplane.
He hails from a tiny village called Mhinga, near Thohoyandou in northern Limpopo, and was the top student in the province when he matriculated at Basopa High School four long years ago, with 100% in maths and 99% in physical science.
Because he did not have a valid ID document, due to a problem at Home Affairs, he was unable to gain admission to a university.
Enter Jon and Hilary Kerr, from Claremont. Kerr got to hear about Baloyi's plight from a friend, former UCT graduate Garth Williams, who'd managed to get Baloyi a Mintek bursary and a place at UCT.
With only a week before the start of his study year - too late to get a place in residence - the Kerrs agreed to lodge the young man for a few weeks while Mintek sought permanent accommodation for him.
But how to fly him to Cape Town without an ID? Williams approached the office of the CEO of Kulula, who agreed not only to fly him to Cape Town without an ID, but to do it free of charge.(Kulula also paid for his and his mom's tickets to grad.)
"He arrived on Saturday 7 February 2009, tired, bewildered and lonely, but excited in a new city, a strange house, and over 1,700km as the crow flies from home," says Kerr.
A week's accommodation soon became a month, a term, a year; and now, over the past four years, the Kerrs "have had the pleasure of getting to know this quiet, studious and extremely hard-working young man".
Kerr says the family only realised in retrospect just how many challenges Baloyi faced in coming to study at UCT. "We did recognise early on, though, that he was very determined to succeed, and if that meant 16- to 18-hour days, seven days a week, he was going to get his degree no matter what. He just worked and worked."
But the last word goes to Baloyi: "From a rural school to UCT was a huge adjustment. The only town I had ever seen before was Pietersburg!"
Asked about the highlight of the past four years he says: "Being able to survive the intense pressure of studying, and being exposed to computers for the first time in my life. Now I am a master of computers!"
---
This work is licensed under a Creative Commons Attribution-NoDerivatives 4.0 International License.
Please view the republishing articles page for more information.
---