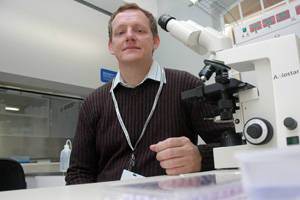 Lens on protection: SATVI director Prof Willem Hanekom will lead a Bill & Melinda Gates Foundation-funded project to determine how humans protect themselves against TB.
UCT's South African Tuberculosis Vaccine Initiative (SATVI) has secured a R41.6 million (US $4.7 million) grant from the Bill & Melinda Gates Foundation for a project to learn how humans protect themselves against tuberculosis (TB).
About half a million new cases of TB occur in South Africa each year. Worldwide, 1.4 million people die from TB each year. New vaccines are needed to prevent the disease, as are better diagnostic tools and new drugs. Progress toward these interventions requires a better understanding of how our bodies fight TB.
This is the goal of the funded project, which will be led by Professor Willem Hanekom, SATVI director.
"We are delighted about the funding, which will allow us to use the most modern and innovative laboratory tools to address our scientific questions," he said.
The researchers aim to discover "signatures of risk of TB disease" - in lay terms, indicators or markers that can be measured in blood long before a person develops TB, to indicate if that person is at risk of disease. Once these markers are known, it is anticipated that treatment programmes could then target persons at risk to prevent disease. Identification of the markers will also provide insight into mechanisms our bodies use to fight TB; in turn, this information may be used to develop new vaccines, diagnostics and drugs.
The project will be a collaborative effort between seven African and five European/US research groups. Over the past seven years, these groups have enrolled and followed persons from households of TB patients at multiple African sites. Blood samples were collected during this time. Persons who developed lung TB during follow-up were identified. Stored blood samples from these TB cases, and from matched controls (persons who did not develop TB), will now be retrieved to look for differences that may indicate risk of TB disease. UCT, Stellenbosch University, Seattle Biomed from the United States of America, and the Max Planck Institute for Infection Biology in Berlin, Germany will play prominent roles in the analysis of the blood samples.
The project will complement and build on two other projects already ongoing at SATVI: these studies aim to identify signatures of risk in different research populations. The Bill & Melinda Gates Foundation has already contributed at least R52 million (US$6 million) towards the funding of these projects.
---
This work is licensed under a Creative Commons Attribution-NoDerivatives 4.0 International License.
Please view the republishing articles page for more information.
---