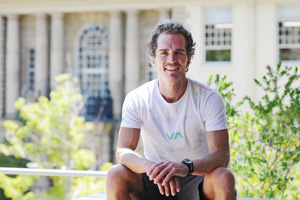 Nick Park Ross
I am about to graduate after six years of MBChB. I'm filled with anticipation as an era comes to an end. On brief reflection on my time at UCT, one theme pops to mind:
financial difficulty. Medicine is one of the most expensive undergraduate degrees at UCT. There are books, clinical equipment, new wardrobes (board shorts and slip-slops simply will not do!), housing fees, food and other day-to-day sundries. I'll let your minds venture to the six-digit region.
At first there were bank loans, but even the interest on those became too steep. There are many options available for students and I exhausted them all. I applied, year after year, to government and private funders, but was never successful. Perhaps it was the misfortune of being grouped in the 'previously fortunate' category on the application form. The truth is, I do consider myself previously fortunate. Another truth is that, regardless, I couldn't pay my fees.
That's when I found the Alumni Office at UCT. Joan Tuff called me one day to say that an 'anonymous' sponsor wanted to help. The only thing I knew about this sponsor was that she is a UCT medical school alumna. This wonderful Godsend whom I called 'Sponsor' saw me through to the end. For the past three years I have received a very generous and helpful contribution from my Sponsor, whom I have now met and know as Marge.
My gratitude runs deep. Her assistance was not only financial. Her generosity helped me psychologically and emotionally and gave me the space to enjoy the med school experience more than I could have in financial crisis. I had opportunities to go on electives that I wouldn't have been able to fund. I bought textbooks. I had the freedom to relax and not stress about cash. Those were the secondary yet important spin-offs of Marge's help.
I had the fortune of meeting Marge recently. She called me up and we went to watch the Sharks play the Stormers at Newlands. I will keep my comments on the game to myself so as not to offend Marge!
Some reading this may feel moved to help other students out in a similar way. I encourage you to do so. Thank you, Marge, for the opportunities you gave me and for being so generous.
---
This work is licensed under a Creative Commons Attribution-NoDerivatives 4.0 International License.
Please view the republishing articles page for more information.
---