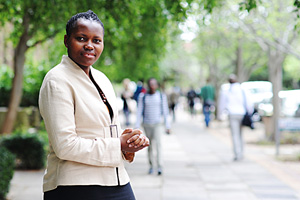 Long walk: Alice Wamundiya has earned respect and attention for her work on behalf of refugee and asylum-seeking students hoping to study in South Africa.
Liberation before education', read the oft-debated slogan of some anti-apartheid organisations. UCT master's student Alice Wamundiya demonstrates how, in a best-case scenario, the two - liberation and education - can dovetail to great effect.
Wamundiya, a Rwandan national whose family sought refuge in South Africa from the political violence in her home country when she was nine years old, has been using her hard-won opportunity for tertiary studies to advocate for those who find themselves in a similar boat to hers.
"We found that when we wanted to study [at tertiary level], refugee students in particular - so, students who were not from South Africa, and students who were not here on bursaries from their countries - were not being allowed to access tertiary education," she explains. "The law said, 'yes, people can study', but institutions weren't sure."
The absence of a clear policy on the status of such refugee and asylum-seeking students drove Wamundiya and her colleagues to begin lobbying on their behalf in 2004. Their activism eventually led to the formation of the non-profit organisation Unity for Tertiary Refugee Students (UTRS).
The fight for equal access, Wamundiya says, is particularly crucial for refugees and asylum seekers, who often arrive in South Africa entirely disenfranchised. "You are stranded, since you don't have any connections, most of the time you don't know the language; you're not sure how you're going to survive."
As an NPO, UTRS is not only able to lobby for entrance into tertiary institutions, but also to raise funds for tuition fees and accommodation, and to address the "traumatic experiences" that students often suffer. Wamundiya emphasises that UTRS does not strive for "special" treatment for a particular group.
"What we want is for this group to be fully able to access the resources that exist," she says.
Having proven her academic mettle at the University of the Western Cape, where she did her undergraduate studies, Wamundiya was rewarded with a Mandela Rhodes Scholarship in 2010, which allowed her to pursue postgraduate research in development studies at UCT. She took the opportunity to explore ways in which the different documents the South African government issues to refugees and asylum seekers - and which sometimes have contradictory implications - affect those groups' integration into South African society.
For her efforts, Wamundiya received the 2012 Inyathelo Award for Social Justice Philanthropy, presented by the South African Institute for Advancement, and recently featured in a documentary film about herself and the UTRS. Given her plans to register for doctoral studies at UCT next year, her displaced African brethren can breathe a sigh of relief knowing that the queues outside the Department of Home Affairs might soon appear less unwelcoming.
---
This work is licensed under a Creative Commons Attribution-NoDerivatives 4.0 International License.
Please view the republishing articles page for more information.
---