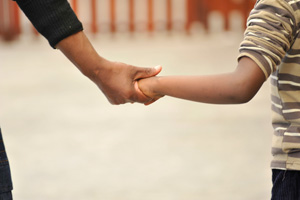 Cut off: Many grandparents caring for their orphaned grandchildren could see vital access to financial support denied unless government agrees to create a kinship grant, which would top up funds made available through the child support grant.
Advocates for children's rights from UCT's Children's Institute came out in favour of a kinship grant for children who are being cared for by relatives.
They were reacting to a recent High Court ruling, which may result in grandparents who look after their orphaned grandchildren no longer qualifying for foster child grants. The majority of grandparents, and siblings caring for orphans, would then have to rely on the child support grant amounting to R280 per month compared to the R770 per month available for foster care.
A kinship grant, they argued, would by-pass the foster care system, which was designed for just 50 000 children. However, by the end of April 2012 there were 544 000 children getting the foster child grant and hundreds of thousands in various stages of application.
Paula Proudlock, a child rights manager at the Children's Institute, believes that a kinship grant "will be in the best interests of all the children affected by the crisis in the foster care system".
Lucy Jamieson, a senior advocacy co-ordinator, adds: "Social workers and courts are currently swamped by foster care applications. And abused and protected children are getting inadequate protection services because the social workers and courts have such high foster care case loads. These problems could be prevented if a new kinship grant was created."
The Children's Institute is part of a joint government and civil society task team that is working on creating a kinship grant for orphans in the care of relatives. The task team met with the Minister of Social Development, Bathabile Dlamini, on 11 September to develop the proposal.
The kinship grant is likely to be created as a "top-up" to the child support grant therefore making it possible to put it into place swiftly simply by amending the regulations to the Social Assistance Act.
---
This work is licensed under a Creative Commons Attribution-NoDerivatives 4.0 International License.
Please view the republishing articles page for more information.
---