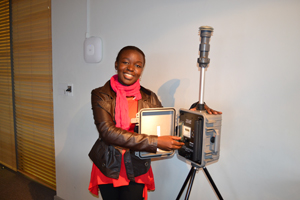 On fire: After struggling to settle in at UCT, Rissa Niyobuhungiro has gone on to conduct research that could save lives.
Professor David Cooper's recent book, The University in Development, highlighted the need for universities' research agendas to include a strong social development component. UCT students are taking that to heart.
Rissa Niyobuhungiro, who graduates from UCT this week with a master's degree in chemical engineering, focused her research on something that would literally benefit the women and men on the street.
Since the 1930s, chromated copper arsenate (CCA) has, globally, been one of the most popular chemicals used for the preservation of timber, aiding weather-resistance and keeping decay fungi and wood-attacking insects at bay.
But what happens when that timber is converted from furniture to fuel source? Today, for example, small businesses offering wood-fired culinary delights are a common sight alongside South African streets, and a significant number use CCA-treated wood to fuel their fires.
And as Niyobuhungiro's dissertation, titled Investigation of CCA-Treated Wood in Informal Caterers, has suggested, the smoke from fires fuelled by such wood poses a significant risk to people and the environment at large.
"[My research] has really opened my eyes to the environmental impacts of burning treated wood and the associated health hazards to those exposed to the smoke - who, unfortunately, are poor urban dwellers," she argues.
Niyobuhungiro arrived at UCT from Rwanda in 2010 via a scholarship from the Organisation for Women in Science in the Developing World; this after completing a bachelor of science in education at the Kigali Institute of Education. With English not her first or even her second language, she found the going tough at first.
She credits her supervisor, Associate Professor Harro von Blottnitz, and other colleagues at the university with helping her get into her stride.
And what a stride that was.
One of her dissertation's examiners reported that "the candidate has produced an excellent body of knowledge on an important topic; the dangers of CCA used as a preservative chemical".
Niyobuhungiro describes her impending graduation as a "dream come true", and - thankfully for the many who draw their livelihoods from street catering businesses - is currently planning her assault on a PhD at UCT.
She shared her winning secret: "I have learnt that all one needs for a victory is to focus and evaluate one's objectives, remain humble, pray, and draw support from friends."
---
This work is licensed under a Creative Commons Attribution-NoDerivatives 4.0 International License.
Please view the republishing articles page for more information.
---