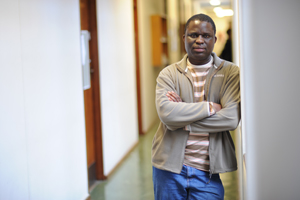 Looking back: Glen Ncube describes the tensions between medical innovation and colonialism in rural Rhodesia.
Even in the colonial-era Southern Rhodesia of the 1930s to 1960s, innovation in community-oriented health care was not unheard of.
But, says Glen Ncube, who graduates this week with a PhD in historical studies (with barely a correction to his thesis from his adjudicators), politics undermined whatever good could come out of that innovation.
For his doctoral studies, Ncube explored a theme that's close to home. Hailing from rural Zimbabwe - he would go on to study and teach at the University of Zimbabwe - he scrutinised what he terms a "unique experiment in community-oriented curative health care" in rural Southern Rhodesia between 1930 and 1960. (One of the reasons he chose to do his PhD at UCT, he says, was because of the track record of his supervisor, Professor Howard Phillips, in the field of socio-medical history.)
Ncube's protagonists included Irish doctor Dr Robert Askins and Dr James Kennedy, who had attempted to set up rural health care systems in rural Rhodesia akin to what Askins had seen pioneered in Gloucestershire in the UK.
Current interpretations of those early experiments in social health care in Rhodesia typically fall into two camps, explains Ncube. There are those who hail it as pioneering medical innovation; in contrast, others condemn it as decidedly racist and insensitive to the needs of the locals.
Like others, Ncube was looking for a middle ground. "I wanted to see if there was a tension between this biomedical vanguard on the one hand, and the broader ambitions of the colonial medical system and the colonial state on the other."
A tug of war there certainly was, Ncube found. Not only more focused than most approaches in place at the time, Askins and Kennedy also tried to set the tone for a genuine primary health care system in rural Rhodesia. But even then the better-than-thou colonial agenda would wear away at any advances - local practices and treatments were written off as superstition, for example, says Ncube.
"Obviously medicine continued to invent, it continued to investigate, it continued to conduct trials, and it continued to have some very progressive programmes developed by particular individuals and particular institutions. But those programmes were, in a way, watered down by the colonial, racist agenda."
The consequences of those early days would be felt for decades, he says.
---
This work is licensed under a Creative Commons Attribution-NoDerivatives 4.0 International License.
Please view the republishing articles page for more information.
---