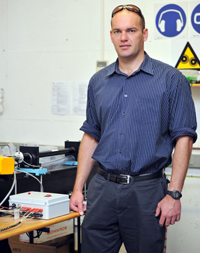 Braking records: Gavin Evezard has built what's considered the world's fastest rapid-compression machine, able to stop a piston at times well below those of any other such machine.
Mechanical engineering PhD graduate Gavin Evezard singlehandedly built the world's fastest rapid-compression machine, or RCM, a machine that could set the tone for improved fuel combustion in automobile engines.
Evezard, who graduates on 7 June, first explored the concept of a faster RCM in his final undergraduate year; built a prototype for his master's; and completed the real thing for his PhD. The machine investigates what happens when an air/fuel mixture is squeezed very suddenly.
"It reveals a lot about the fuel," explains Evezard's supervisor, Adjunct Professor Andy Yates, explains. "What happens is that it 'thinks' about burning for a moment, starts to burn, stops burning and then explodes. These timescales are crucial to extracting the optimal combustion performance from fuels."
The automated RCM Evezard built stops a piston that is moving at up to 40km/hr in less than one half of a millisecond (ie one half of a thousandth of a second). That's twenty times faster than a blink of an eye.
The best rapid compression machines elsewhere in the world are slow by comparison, needing at best two milliseconds to stop a piston.
Speaking from his office at specialised energy operation company Associated Energy Services in Cape Town, Evezard says that for all intents and purposes the machine is ready for use.
"The RCM is typically used in research facilities for fuel characterisation," he says. "Once fuel characteristics have been established and published, the data can be used for various new and existing combustion devices, normally with the intention of improving performance and efficiency."
And even if right now he's not pursuing any further work on the RCM, his study has paved the way for further research at UCT. "There are master's students currently working on the machine to see how hard it can be pushed."
Currently, piston speeds of 50km/hr have been achieved, with equally impressive deceleration times. As to the limits in terms of maximum piston velocity and minimum deceleration time? Only time will tell.
---
This work is licensed under a Creative Commons Attribution-NoDerivatives 4.0 International License.
Please view the republishing articles page for more information.
---