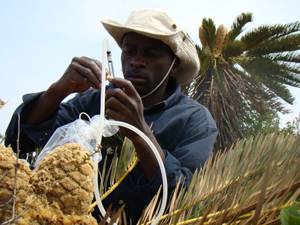 Fieldwork: Terence Suinyuy collects volatile compounds from female cones of Encephalartos friderici-guilielmi
It's not just, um, antsy humans who find the smell of others appealing.
It's long been known, for example, that the cone-shaped fruit of the ancient cycad plant uses smells and heat to attract and repel insect pollinators. The plants heat up and produce a nasty odour that drives pollen-covered insects out of the cones of male cycads, after which female cones attract those selfsame goggas with a milder, more alluring odour.
At UCT, Terence Suinyuy, who graduates with a PhD in botany this week, has been examining that 'mating' ritual - or "patterns of push-pull interactions", as botanists call it - and cone odours in 19 local cycads.
Suinyuy, who conducted his study from the South African National Biodiversity Institute, with funding from the Fairchild Tropical Botanical Garden, analysed the chemical composition of these cone odours, and traced the physiological and behavioural responses of the pollinators. His evidence is said to be the strongest yet obtained for a cycad-pollinator interaction.
He also came up with some game-changing findings, notably around some cones' self-heating mechanisms, or thermogenesis.
"Cone heating did not result in the mass movement away from male cones," he reports. "As a result, the function of cone thermogenesis remains unknown."
Equally interestingly, he found that cone odours are more variable than had previously been thought. Also, there were some striking variations in patterns of odour composition.
For example, his work on a plant known as the most common and widespread from that genus in South Africa, Encephalartos villosus, suggests that not all cycads from that same population smell the same.
And his (admittedly limited) sampling from the species Encephalartos natalensis (found from the northern borders of the Eastern Cape through most of KwaZulu-Natal) and Encephalartos laevifolius (found in KwaZulu-Natal and Nelspruit) also suggests that there may be geographical differences in odour between populations.
These features need to be explored further, says Suinyuy. Which means he and other botanists will have to keep their noses to the grindstone for some time still.
---
This work is licensed under a Creative Commons Attribution-NoDerivatives 4.0 International License.
Please view the republishing articles page for more information.
---