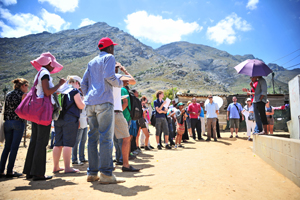 Nothing for us, without us.
This was a key message from the impoverished community in Langrug, Franschhoek, for UCT students and staff from the School of Architecture, Planning and Geomatics who visited the area in February. The students were in Langrug for their first official site visit and data gathering expedition as they began researching ways to improve living conditions in the informal settlement.
First-year master's students in city and regional planning and landscape architecture are collaborating with community leaders, residents, and municipal officials for the purpose of recommending a number of different spatial development options and housing upgrades for the area under study. The project also forms the core of the department's basic planning skills in situ upgrade course, which introduces South Africa's future planners and designers to the physical, social, economic, environmental and political circumstances that inform the current social structure.
Fact-finding: (Clockwise from top) It was a steep learning curve for students; students trek through Langrug, set against the picturesque backdrop of the Franschoek hills; sanitation is one of the concerns students hope to address in the community; UCT's Dr Tanja Winkler speaks to community members and other stakeholders.
Deputy director of integrated human settlements for the Stellenbosch Municipality, David Carolissen, said it was important for government and other partners to work with communities like Langrug instead of "talking down" to them, if they hoped to correct social ills. "Informal settlements in Franschhoek present a complex challenge," Carolissen said. "Langrug has 4,088 people. All have challenges such as access to water and electricity."
In the first of six formal visits to the area, hidden from view from the picturesque and wealthy Franschhoek town centre, students were taken aback by the physically and economically stifling conditions. Many agreed that the most pressing need was supplying running water and sanitation facilities to the settlement.
Professor Vanessa Watson, deputy dean of the Faculty of Engineering and the Built Environment, explained that the project stemmed from a 2010 memorandum of understanding signed by a number of African planning schools with Slum Dwellers International. The schools pledged to teach students to plan with communities, as opposed to for them.
"Planners have a very bad reputation worldwide, because they like to control things," Watson explained. "So now we're trying to train planners to learn from communities as well as from books."
---
This work is licensed under a Creative Commons Attribution-NoDerivatives 4.0 International License.
Please view the republishing articles page for more information.
---