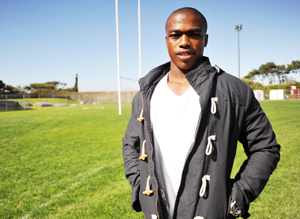 UCT Ikeys rugby captain Ntsolo Setlaba endured a baptism of fire as his debut season at the helm ended with just one victory in the 2012 FNB Varsity Cup. Monday Paper caught up with Setlaba as he and the team prepared for the crucial promotion/relegation playoff clash against Central University of Technology (CUT) on 9 April, which will decide if the Ikeys stay in the Cup competition or drop down to the Shield event. (The match is a curtain-raiser for the final between the Universities of Stellenbosch and Pretoria.)
MP: This Varsity Cup campaign didn't quite go according to plan. What went wrong?
NS: It was those little things that didn't go right for us. Our big concern was that we always played well in patches, but we never really put in 80 minutes of good rugby, and that's going to cost you.
MP: How are you going to improve for the Super League and for the playoff match?
NS: From here on it's just a case of each player improving, getting better. In terms of quality, the guys that we've got are good enough to come back and win the thing. We've still got the Super League, which we won last year. So it's disappointing to have lost the Varsity Cup, but also, there's a lot more until the end of the season.
MP: What's the mood in the camp like ahead of the Varsity Cup match?
NS: Obviously disappointment. It's not where we saw ourselves playing. But there's a job to be done, and we understand how important this game is to the club for the next two years.
MP: What will you say to the team before they run out against CUT?
NS: Just that we need to go out and play at a much higher intensity than they are used to, and just to have fun. Whenever we've played well in those patches, it's been when we were having fun.
---
This work is licensed under a Creative Commons Attribution-NoDerivatives 4.0 International License.
Please view the republishing articles page for more information.
---