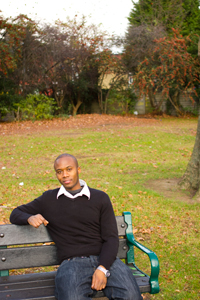 Watershed: David Ikumi wil graduate with a PhD for his work in the treatment of municipal wastewater.
At high school, David Ikumi took part in engineering-related projects, particularly water treatment exercises, out of curiosity. But that curiosity soon turned into a deep love for the subject, motivated mainly, he believes, by the role that water treatment holds in society.
"I'm glad to have chosen the wastewater treatment project as a subject for my postgraduate studies (water quality engineering was his topic for his master's, which was upgraded to a PhD) because it offered a great opportunity to contribute to the much-needed solutions for averting the current water crisis," comments Ikumi, who graduates with a PhD in civil engineering for wastewater treatment on 16 December.
Supervised by Professor George Ekama, the Kenyan-born Ikumi's project was to develop a three-phase (liquid-gas-solid) model for municipal wastewater treatment plants that could remove organic material, nitrogen and phosphorus from wastewater.
If it pans out, the model could be used to make cost-effective design decisions in choosing wastewater treatment plant layouts and the sizing of the equipment used in the process, Ikumi explains.
Furthermore, it could ensure the most optimal operation of wastewater treatment plants at minimum operation costs and lowest energy consumption, while maximising the recovery of resources (such as phosphorus) from the wastewater, and the improvement of effluent (or treated sewage) quality.
In addition, the model could monitor the various systems of the plant and predict their responses to various projected conditions, avoiding future breakdowns.
Ikumi and his team have started (at laboratory scale) a set of interconnected wastewater treatment plant (WWTP) unit operations that mimic three typical WWTPs. Via mass balances they also tracked all the elements and ions entering and exiting the plants in the aqueous, gas and solid phases.
The research team concluded that non-biodegradable organics remain the same all the way through the WWTP. They also found that with enhanced biological phosphorus removal in the activated sludge system, the phosphorus is released completely differently in aerobic and anaerobic digesters. In anaerobic digesters, for example, a large proportion of the released phosphorus separates as the mineral struvite, which affects operations with and control of the phosphorus.
The research was technically tricky, Ikumi noted.
"The project was quite demanding, with a large experimental set-up comprising three laboratory-scale wastewater treatment plants, and required us to put in a lot of late hours when testing these systems and calibrating their predictive models."
Ekama's "great supervision", coupled with the hard work put in by his fellow students, made the project a success, Ikumi observed.
---
This work is licensed under a Creative Commons Attribution-NoDerivatives 4.0 International License.
Please view the republishing articles page for more information.
---