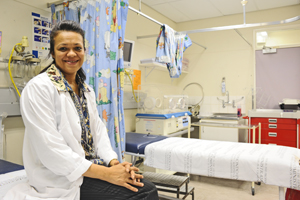 Empowered: Washiefa Isaacs believes that training nurses in sputum induction could help the early diagnosis of tuberculosis in children.
Somewhere in the world, someone is infected with TB every second, with a death from TB occurring every 15 seconds. South Africa has the highest prevalence of TB in the world, the flame of infection fanned by the parallel HIV epidemic.
One out of every three of those infected is a child.
So a study on nurses' experiences of performing the induced sputum procedure - getting a sputum sample by making children cough, in this case by getting them to inhale a salt-water (aka a hypertonic saline) mist - to diagnose childhood TB, research conducted by graduand Washiefa Isaacs, will prove useful.
Isaacs, who graduates this week with a master's in nursing sciences, is a research co-ordinator at UCT's School of Child and Adolescent Health, based at the Red Cross War Memorial Children' Hospital, and her project forms part of an international tuberculosis diagnosis study funded by the American National Institute of Health. The induced sputum procedure was pioneered under the guidance of Professor Heather Zar at Red Cross Children's Hospital, and has proven to be an effective method to diagnose childhood TB.
Microbiological confirmation with identification of drug resistance is increasingly important in the context of an emerging drug-resistant tuberculosis epidemic.
The induced sputum procedure was introduced in 2009 to replace the gastric lavage, a process that involved passing a tube into the stomach via the mouth or nose, usually requiring that children be admitted to hospital for two to three days. It's considered quicker, easier and safer than the lavage.
For her research, Isaacs first trained registered nurses working permanently in a secondary paediatric hospital on the new procedure, until they were comfortable performing it.
Then she used a demographic questionnaire and 'semi-structured' interviews with the nurses to look at the roles of mothers and caregivers in the procedure, and to assess and monitor the diagnosis.
Isaacs further investigated the importance of teaching and training, the costs saved on the procedure, and how the new system controls the spread of infection. The findings were encouraging, she observed.
The new procedure boosted the confidence of nurses and empowered them, as they felt more involved in the diagnosis and not just as if they had to take orders from the doctors, Isaacs found. The nurses also passed on that knowledge to fellow nurses and to mothers and caregivers.
---
This work is licensed under a Creative Commons Attribution-NoDerivatives 4.0 International License.
Please view the republishing articles page for more information.
---