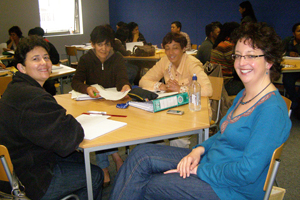 Lisle Lourens (left) will be the first deaf candidate to graduate from the Advanced Certificate of Education programme.
Lisle Lourens is in line to become the first person with a hearing impairment to graduate from the Advanced Certificate of Education (ACE) course offered by UCT's Schools Development Unit (SDU).
Lourens, a mathematics teacher at De la Bat School for the Deaf in Worcester, was born partially deaf. At the beginning of this year she lost all hearing.
Coming to UCT, then, proved to be a wise decision.
UCT is the first institution to arrange for an interpreter to help her through the courses. For this, she says, she is very grateful.
Previous studies had proven difficult because she had to go it alone, with no interpreter to aid her.
Lourens heaped praise on UCT's ACE programme. It has enabled her to make mind-set changes that will help her become a better teacher, she believes.
Of course, the programme presented its own challenges.
A native Afrikaans speaker, she found it difficult to lip-read the lectures taught in English.
She credits her lecturers for helping her arrange an interpreter, as well as for providing her with written notes if there was anything she didn't understand. "They were very good to me," she says. "I depended a lot on my interpreters."
Lourens also thanked fellow students for writing and sharing notes with her.
With UCT having launched its pioneering disability policy in October, Lourens says that persons with disabilities still face obstacles to equal access in the workplace.
"Deaf people have a lot of challenges. People don't understand deafness," says Lourens. "Most information is not deaf-friendly, like TV, radio, etc. We need more interpreters."
The SDU's Gary Powell, who lectured Lourens on the ACE course, waxed lyrical about her, commending her work ethic and effective teaching style.
"When she teaches, she focuses on the content," he says. "You find with some teachers that they get lost in the metaphors. Sometimes the mathematics gets lost in the conversation, but she remains focused."
Catering for someone who couldn't hear out of a class of 54 also forced Powell and his colleague Kaashief Hassan to rethink their lecturing style. Language use and positioning in the classroom became crucial aspects to consider.
"It was a learning experience for us, certainly," he says.
Lourens came third in the class, and Powell is clearly immensely proud of his student.
"Lisle is definitely an example to us all," he says.
---
This work is licensed under a Creative Commons Attribution-NoDerivatives 4.0 International License.
Please view the republishing articles page for more information.
---