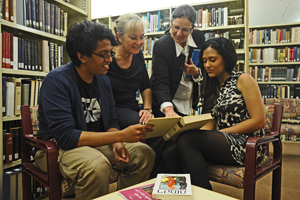 Cosmopolitan class: (From left) Uzair Ramjam, Dr Azila Reisenberger, Aviva Laskov and Carmel Rawhani.
Great things happen when you throw a highly diverse group of students into a small language class.
Dr Azila Reisenberger and Aviva Laskov told Monday Paper they have witnessed a unique bonding taking place between the students taking the Hebrew Intensive class this year.
"This semester we had five students, each from a totally different background - one is a progressive Jew, one an aspiring missionary, one is a Muslim, one is a Baha'i and one an orthodox Jew," said Reisenberger.
"They would not have met in any other place. They have now studied together for the whole year - and have become an unbelievably close group."
Said Laskov: "It's a strange and wonderful situation. Hebrew Intensive is a course for absolute beginners. In the old days, only Jewish people or Christian students who wanted to read the Bible in the original language would learn Hebrew.
"The sense of camaraderie among these students - each with their own reasons for studying Hebrew - has been unique."
The students worked closely together on orals and met regularly to practise the language.
"They have become such good friends and learnt about each others' cultures and religions, and have even had 'meals of peace' together," Laskov said.
"They would meet in the corridors and speak Hebrew. It didn't take too long before they were speaking and analysing poetry in Hebrew together. These are people who, 26 weeks ago, did not know what the Hebrew font looked like, or that Hebrew is written from right to left.
"They said that not only was it the class in which they learnt the most effectively, but the one in which they learnt the most about life."
Student Carmel Rawhani, who describes herself as half Arab and half Iranian, chose to study Hebrew because she wants to pursue a career in international relations.
"I lived in the Baha'i centre in Israel when I was younger and always wanted to learn Hebrew. I am neither Jewish nor Muslim so am not a solid stereotype, and have a neutral take on things," said Rawhani, who is fascinated by Middle East politics.
Rawhani described the course as "a lot of fun. I loved the small class size. We were like a family."
Uzair Ramjam, who has also studied Arabic, said it was fascinating to study the differences between the two languages.
"Thanks to the small classes, we got to know each other and our different cultures," said Ramjam, who intends to go into either linguistics or law.
The other three students in the Hebrew Intensive class are Veronique Kruger, Jacquelyn Maris and Debra Orolowitz.
"This is a great example of UCT bringing people together in the great South African melting pot," said Reisenberger.
---
This work is licensed under a Creative Commons Attribution-NoDerivatives 4.0 International License.
Please view the republishing articles page for more information.
---