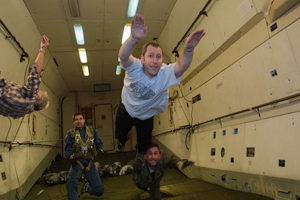 Lift-off: Prof Wayne Derman's career has had many memorable moments, such as when he (front) joined Mark Shuttleworth and Russian cosmonauts in a bit of zero-gravity training. Go to the inaugural lectures page to view the video and listen to the podcast.
Even after he'd finished his medical studies, Professor Wayne Derman was unsure in which direction his medical career was heading.
After a stint in the surgical pit at Baragwanath Hospital, he soon discovered that acute medicine (ie treating those who line hospital corridors) was not for him. But his professors didn't think much of at least one of the jobs he had lined up - as the medical doctor at a Club Med resort. (The other was ship's doctor on the ill-fated MS Achille Lauro.)
But he dodged those bullets (literally, in the case of the Lauro), and it all worked out pretty well in the end, as Derman explained in his inaugural lecture, Broken Hearts, Wattle Trees, Spacemen and a Man With One Leg: My extraordinary journey in medicine, delivered at the Sports Science Institute of South Africa on 5 October.
It all changed when Professor Asher Dubb, at Baragwanath Hospital (where Derman was based), suggested Derman fly to Cape Town and meet one Professor Timothy Noakes, and pursue a career in sports medicine. This, suggested Dubb, would allow Derman to marry his passion for sport with his passion for medicine.
It did - and in more ways than one, as Derman described in his four-stage lecture.
Broken Hearts. Initially, sports medicine was simply a byword for the treatment of sports injuries. That's changed. Sports and exercise medicine, as an increasingly reputable medical specialty, has a strong focus on the prevention and management of patients with chronic disease. Much of Derman's early work - with what was to become the Medical Research Council/UCT Research Unit for Exercise Science and Sports Medicine (ESSM)- was on the association between exercise and heart disease. That research spilled over into more 'holistic' studies on muscular damage, diabetes, cancer, peripheral vascular disease, psychosocial stress and a range of chronic diseases; with exercise, diet and stress management emerging as an important lifestyle intervention in the management of the abovementioned 'chronic diseases of lifestyle'.
Wattle Trees. Derman was chief medical officer for the South African teams that took part in the Sydney Olympics in 2000 and the Athens Olympics in 2004. He was also medical officer for the squad that travelled to the Paralympics in Beijing in 2008, and the medical officer for Cape Town at the FIFA 2010 World Cup.
And again, if anyone thought that injuries would account for most of the medical team's labours, Derman's studies show quite the contrary. Illnesses and allergy (particularly related to the respiratory and ear, nose and throat systems) were as much of a concern, he found. (That applied to rugby's Super 14, too, a later study showed.)
"These medical conditions are as important as injuries are," Derman said.
Take his experiences before and at the 2000 Olympics. Fearing that Sydney's wattle trees would be a major hurdle, Derman and colleagues at the UCT Lung Institute ran a series of tests with the athletes, and found that more than half of the SA team were atopic, ie prone to allergic reactions. Derman - along with ESSM colleague and good friend, Professor Martin Schwellnus - would eventually contribute those and other insights to the International Olympic Committee's Consensus Statement on Period Health Evaluation of Elite Athletes.
Spacemen. Here Derman described his role as flight surgeon to Mark Shuttleworth, on the latter's space flight to the International Space Station aboard a Russian craft in 2002. Over the months working with Shuttleworth, Derman would learn much about space science and medicine, from the Russian doctors - some of whom had worked with Yuri Gagarin, the first human to travel into outer space - and from his own experimentation with floating in simulated zero gravity.
A man with one leg: "My core passion" is how Derman described his work with South Africa's Paralympic athletes. If the world imagines the likes of Usain Bolt as the paragon of athleticism, the Paralympians have taught him differently, Derman said.
These athletes are able to bounce back from injury, logistical hiccups - even defeat - with unparalleled aplomb, he added. Similarly, they can embrace victory with self-deprecating humour.
It's work that has inspired papers that contain words you wouldn't normally expect to see in peer-reviewed scientific journals - transcendence, acceptance, integration and resilience, aka humour.
"I think how it works," said Derman, " is that if you can accept maybe some of the toughest hands that life can deal you, and truly are able to integrate that into your being, then the gift you're given is one of perspective."
Sports medicine isn't just about sport, Derman explained in conclusion. For example, he and Schwellnus are among the authors who penned a 15-part series of articles titled Healthy Lifestyle Interventions in General Practice - targeting chronic diseases - for the South African Journal of Family Practice, between 2008 and 2011. An important North American journal now wants them to update that series for publication in the US.
"We believe," Derman said, "that in the future, sports and exercise physicians will play a vital role in the form of comprehensive lifestyle change, which can make a very, very big impact on people's lives and on their health."
---
This work is licensed under a Creative Commons Attribution-NoDerivatives 4.0 International License.
Please view the republishing articles page for more information.
---