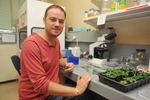 Dr Rob Ingle of the Department of Molecular and Cell Biology (MCB) graduated with a first-class BA honours in biological sciences and a PhD from the University of Oxford. He then moved to South Africa, and was a Claude Leon Postdoctoral Fellow in the MCB from 2004 to 2006. He now holds a Y1 rating from the NRF. Ingle is interested in the interactions between plants and their environment, particularly in the molecular mechanisms that help them cope with stresses imposed either by other organisms or by chemical/physical factors. "I am very honoured to receive this award from the UCT College of Fellows. It comes at a time when NRF funding is difficult to secure, and will help maintain the research momentum in my group at UCT by allowing me to take on new postgraduate students," he said.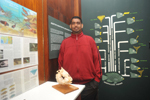 Dr Deena Pillay is a marine ecologist who joined the Department of Zoology in March 2008 after completing his PhD at the University of KwaZulu-Natal in 2006. He has broad research interests in intertidal and estuarine ecology, with a strong focus on understanding the role of biological interactions in structuring marine ecosystems. This area offers great opportunities to explore theoretical concepts in ecology while still contributing significantly to applied areas. He is interested in understanding the effects of human pressure and changing environments on the biological interactions that ripple through marine ecosystems ? and their consequences. "I am proud and honoured to recieve the College of Fellows Young Researcher award. Not only is it a recognition of my scholarly work ? it also serves as motivation to continue shaping young minds and pushing the boundaries of science," he said.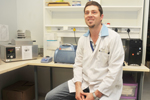 Dr Thomas Scriba of the South African TB Vaccine Initiative (SATVI) and the School of Child and Adolescent Health received his BSc, BSc Honours and MSc degrees from Stellenbosch University, and a DPhil from Oxford University. He joined SATVI as a postdoc in 2006, and took up a senior research officer post in 2009. His research focuses on understanding how the human immune system fights the TB bug, Mycobacterium tuberculosis, to prevent disease in children and adults, as well as in HIV-infected persons. He has led the immunology analysis approaches for five clinical trials of new TB vaccines. Scriba is centrally involved in postgraduate training, and in local capacity development and immunology training. "I am thrilled to receive this award, but want to emphasise that it recognises work done not by an individual, but by a whole team of people," he said.
---
This work is licensed under a Creative Commons Attribution-NoDerivatives 4.0 International License.
Please view the republishing articles page for more information.
---