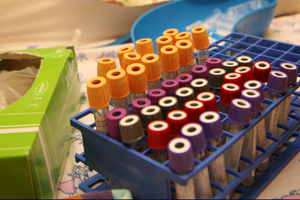 UCT is taking part in the Phase IIb proof-of-concept efficacy trial of a candidate tuberculosis vaccine, a study that will involve people living with the human immunodeficiency virus (HIV).
Researchers from the Institute of Infectious Disease and Molecular Medicine will screen and test patients living in Khayelitsha, using the vaccine known as MVA85A. The patients are HIV positive but have not been infected with TB.
This is the first proof-of-concept efficacy trial in people infected with HIV using MVA85A, which is being developed by the Oxford-Emergent Tuberculosis Consortium (OETC), a joint venture between the University of Oxford and Emergent BioSolutions, and Aeras, a non-profit partnership focusing on TB vaccine regimens.
The MVA85A vaccine candidate is intended to boost the response of immune-essential T-cells already stimulated by the Bacille Calmette-Guerin (BCG) vaccine, also used against tuberculosis.
Previous clinical trials of MVA85A in adults in the UK, Gambia, Senegal and South Africa have demonstrated consistently high cellular immune responses in those who received the vaccine candidate following vaccination with BCG.
People infected with HIV living in countries with high TB prevalence are 20 times more likely to develop TB than those who are HIV-negative.
The UCT-based South African Tuberculosis Vaccine Initiative (SATVI) recently concluded its own study with MVA85A, in which it ran clinical tests with almost 3 000 infants in Worcester and surrounding communities.
---
This work is licensed under a Creative Commons Attribution-NoDerivatives 4.0 International License.
Please view the republishing articles page for more information.
---