Career Service stages another sold-out af-fair | Long-serving UCT staffer honoured by her national peers | New internet marketing book goes free online (where else?) | EBE puts safety first | Film scribe joins cineastes around the world | Zimbabwean scholars visits for a while | Scholars write about writing centres | UCT-trained math whizzes match international rivals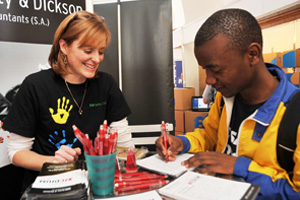 Based on the turnout at this week's events, it's not surprising that UCT's Career Service has increased its annual Career Fairs from four to five this year. Students packed the Jameson Hall for the fairs on 1 and 2 August, and the next one, scheduled for 15 August, is already fully booked, according to Nawaal Boolay, employee liaison manager at Career Service. And, as student Robyn Smith puts it, the fairs are the best platforms for students, in particular those who are close to graduating, to meet potential recruiters, and glean more information about available opportunities in the world of work.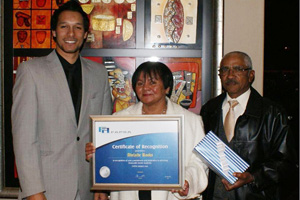 After 26 years of service in UCT's financial aid offices, Adelaide Rooks is retiring this year on a high note. Rooks was honoured for her long service in the field at the tenth annual Financial Aid Practitioners of South Africa (FAPSA) conference held in Bloemfontein in June. "I've known Adelaide since my student days," says student financial aid manager, Tasneem Salasa. "For many she has been like a mother figure and is an inspiration to all who know her." Attending the function were (from left) colleague Zahir Baker, Rooks, and husband, Wilfred.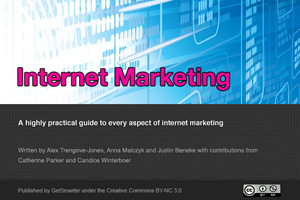 "Information wants to be free", as cyberactivists say, and many students would agree, given the price of the average textbook. But students and staff at UCT's School of Management Studies won't have to worry about the newly adopted textbook, Internet Marketing: A highly practical guide to every aspect of internet marketing by Alex Trengove Jones, Anna Malczyk and marketing lecturer Justin Beneke. Part of the online marketing course run in partnership with the online education company GetSmarter, the textbook is published under a Creative Commons license, making it entirely free to students and available for further adaptation by any lecturer who wishes to teach with it.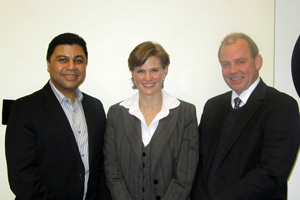 Industry visits, workshops, guest speakers and seminars were features of UCT's Faculty of Engineering & the Built Environment's annual safety week, which ran from 25 to 29 July. Sponsored by Anglo Platinum, who have partnered with the university to deliver a risk management course, the week was aimed at raising safety awareness, and the importance of safety as a core competence of engineers. Attending the event were (from left) EBE dean Prof Francis Petersen, Michelle Cilliers of Anglo Platinum and Prof Jack Fletcher.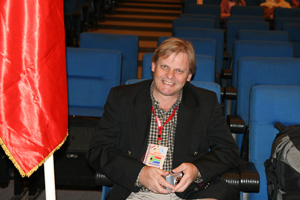 Assoc Prof Martin Botha of UCT's Centre for Film and Media Studies has become the first South African member of the prestigious Fédération Internationale de la Presse Cinématographique, which translates to the International Federation of Film Critics, but is better known around the world as FIPRESCI. The author of six books and over 200 articles on South African media, Botha joins critics and journalists from over 60 countries with the aim to promote the artistic development of cinema.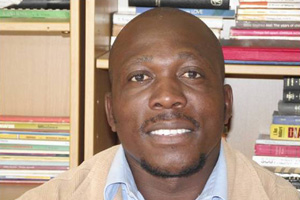 As part of a collaborative teaching and research exercise between UCT and the University of Zimbabwe, Dr Itai Muwati is on a month-long visit to teach undergraduate classes and to present a seminar hosted by the School of Languages and Literatures - the UCT equivalent of the African Languages Literatures Department, which he heads at the University of Zimbabwe. Muwati's visit is made possible by UCT's Visiting Scholar's Fund. The Fund has also allowed two staff members from Zimbabwe to register for PhDs at UCT from 2012.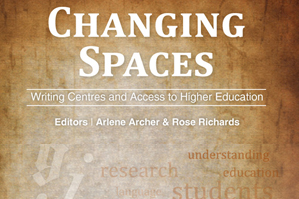 Dr Arlene Archer of UCT's Academic Programme Writing Centre is co-editor of and contributor to the first book ever written about South African writing centres. Changing Spaces: Writing centres and access to higher education, launched in July, is a collection of papers described as "explicitly transformative" in its approach to academic literacies research. In highlighting the importance of finding ways to design interventions to harness student diversity, the book's goal is to help writing centres re-engage with South Africa's history of remediation and to redefine writing pedagogy.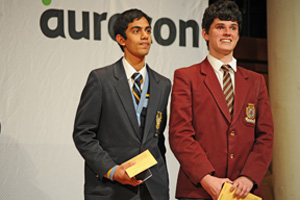 UCT's Mathematics Competition winners Sean Wentzel (in picture, right) and Kira Düsterwald have risen to even greater heights. They scored as South Africa's top performers in the 52nd annual International Mathematical Olympiad, held in the Netherlands in July. Both members of the UCT Mathematical Circle - a programme targeting talented high schoolers - Wentzel took a silver medal and Düsterwald a bronze. Circle members Ashraf Moolla (left) and Robert Spencer also shone at the Olympiad, with Moolla also bagging a bronze and Spencer an honourable mention. "This is the best performance by a South African team since 2004," said Emer Prof John Webb, organiser of the UCT Maths competition. "They ranked above more than a dozen European countries, and were the top African team."
---
This work is licensed under a Creative Commons Attribution-NoDerivatives 4.0 International License.
Please view the republishing articles page for more information.
---