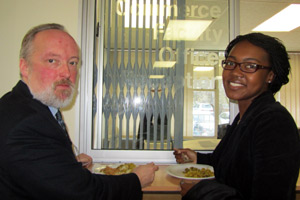 Food for thought: Fumani Mthembi (right), here with Prof Don Ross, dean of the Faculty of Commerce, spoke on education and affirmative action.
Alumna Fumani Mthembi pulled no punches when she returned to her alma mater on 27 July to address a Faculty of Commerce Transformation Committee seminar. Mthembi traced her path from a "working class" family to a BCom at UCT, to graduating first in her master's class at the University of Sussex in the UK.
Now teaching African history at Lekamoso Secondary School, Mthembi's talk, Born Free: Imagining and recreating our education system, laid bare the shortcomings of primary education, employment equity (EE) and black economic empowerment (BEE), and suggested how sorely lacking skills and enterprise development in South Africa could be boosted.
The inadequate returns of EE and BEE, Mthembi noted, means that white men continue to dominate in business, and this is why "young, gifted and black" people are more likely to be embraced as corporate employees than as innovators.
"The market makes better sense of blacks seeking equity than blacks seeking to create new productive assets," she said. This situation is exacerbated by the fact that entrepreneurship requires access to networks and funds to build profitable relationships, and many young black graduates don't have this.
Mthembi argued for a new type of education, specifically in the primary education system, which she described as a "cognitive no-man's land" that doesn't support creative thought, is lacking in synergy and agglomeration, and which is aggravated by the HIV/AIDS pandemic, a widening intergenerational divide and the non-co-operation of business.
The result, she said, is a deepening knowledge crisis. Mthembi's solution is systematic intervention. "Local research centres need to be established to generate knowledge about their surroundings, and come up with solutions. This is community knowledge generation, where people learn by doing."
---
This work is licensed under a Creative Commons Attribution-NoDerivatives 4.0 International License.
Please view the republishing articles page for more information.
---